Following U.S. President Donald Trump's personal Twitter account being temporarily deleted by an employee, the corporation may not be trustworthy with deception now going beyond previous reports, to include internal suppression of political Tweets, wherein Twitter CEO Jack Dorsey has actually lied directly to the public.

Archive
U.S. President Donald Trump's personal Twitter account was deleted by an employee for a brief period of time on November 2nd, 2017.
With the temporary deactivation and/or deletion of Trump's personal Twitter account — Dorsey seemingly endorsed his employee's decision: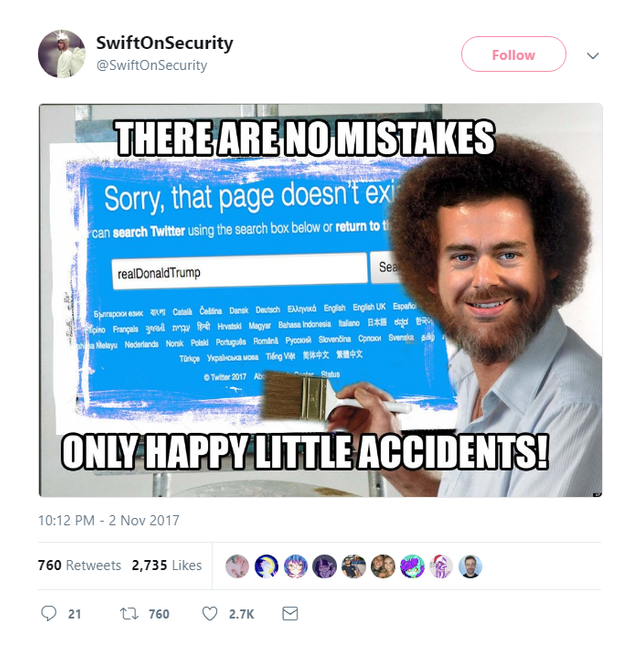 Dorsey liked a meme Tweeted by SwiftOnSecurity, which humorously showed the CEO as the late painter Bob Ross, wherein Trump's deletion was not a mistake but only a happy little accident.
Twitter blamed the incident—which took Mr. Trump's @realdonaldtrump account offline for 11 minutes late Thursday—on actions taken by a customer-support employee on his or her last day of work. Twitter said it was taking measures "to prevent this from happening again."
Inside Twitter, the brief deactivation elicited celebration or amusement even in the upper ranks. A couple of hours after the deactivation of Mr. Trump's account, Twitter Chief Executive Jack Dorsey liked a tweet with an image of his face superimposed on celebrity painter Bob Ross standing before a canvas depicting Mr. Trump's deactivated account. "There are no mistakes, only happy little accidents!" the caption said.
A spokesman for Twitter declined to comment.
The Tweet can be found under Dorsey's Likes & is archived for posterity.
This seemingly indicates that Twitter's CEO is endorsing the employee's decision to delete Trump's Twitter account, including the risk(s) involved, which subsequently means he is implying that he has no issue cutting off U.S. government communications.
It is also troubling because of inherent doubt cast on Twitter's official statement, due to Dorsey lying, where he has previously stated that Twitter did not alter hashtag propagation: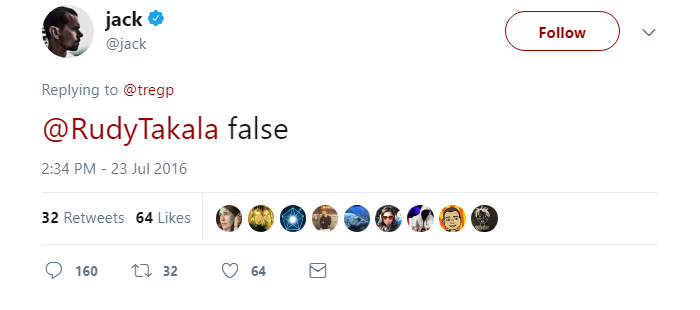 On July 23rd, 2016, Dorsey lied about Twitter preventing hashtag "DNCLeaks" from trending. Recently it has been revealed that Twitter actually suppressed 48% of the hashtag at the time. Nearly half.
With respect to #DNCLeak, approximately 23,000 users posted around 140,000 unique Tweets with that hashtag in the relevant period. Of those Tweets, roughly 2% were from potentially Russian-linked accounts. As noted above, our automated systems at the time detected, labeled, and hid just under half (48%) of all the original Tweets with #DNCLeak. Of the total Tweets with the hashtag, 0.84% were hidden and also originated from accounts that met at least one of the criteria for a Russian-linked account. Those Tweets received 0.21% of overall Tweet impressions. We learned that a small number of Tweets from several large accounts were principally responsible for the propagation of this trend. In fact, two of the ten most-viewed Tweets with #DNCLeak were posted by @Wikileaks, an account with millions of followers.
U.S. Senate
This was in response to a previous report, poised as a question, wherein Twitter had been accused of suppressing the WikiLeaks story.
✠ Anime Right News | Gab | Patreon | Twitter | WrongThink | YouTube