He is Seiichi Miyake.
You must have seen that yellow bumped blocks on the platform and at the crossings. what's that?
Read further to reveal what it's significance!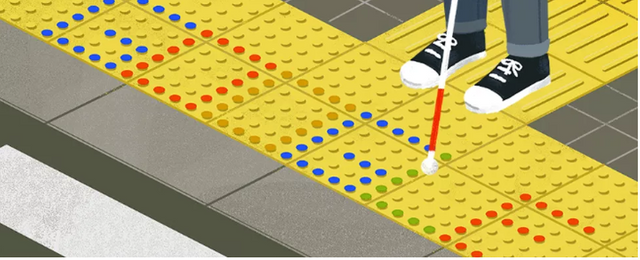 Source: https://www.google.com/
When he developed the idea of being that great?
His friend was loosing his eyesight so he was little worried about him as he wanted to help him. He thought of how this visually impaired people will navigate the city, especially the big ones.
In 1965, Miyake invented the tactile paving slab also know as "tenji block" in Japan, with his own money. It's been 52 years till now it is successful and used at almost every region.
The tenji blocks were first installed in all the Japanese railway platforms in 1970s and it rapidly expanded across various cities on globe. The pattern was so designed that it helped the visual impaired to detect the way with the help of cane or with the help of their feet.
One design featured a series of raised lines that indicated "forward".
The second design featured a small series of bump that indicated "stop". This is also known as "truncated domes design", which is typically used at the end of the railway platform.
Number of different patterns have been designed since that period. Smaller raised dots or more like pill-shaped bumps indicates different directional cues.
For instance, horizontal raised lines in the direction of travel means "look out for steps ahead".
We might not know the importance of this blocks, we think that it is just a design, but for the visual impaired and blind people it is a medium from which they can save their own lives and can roam in city hassle free.