Hai Steemians wherever you are...
As usual, my posts are always related to the world of digital currency, and that's all I offer to those of you who don't know it yet. I saw that in one of the well-known markets (Bittrex.com) there were very many people who were doing large sales transactions, for anyone who had saved the SBD.
Well, as you can see that yesterday was an interesting show from the SBD chart, suddenly SBD experienced a slight increase, but with these results it was enough to surprise SBD lovers.
This is not an event that does not occur frequently in Sbd, but beforehand it has also increased very suddenly, even the price is far greater than the current price. But here what I mean is not the price, but the strength of SBD is still there and still as before, it's just that the time is not maximal.

Here I have a picture that I monitored in the SBD market, there are many traders who are selling large amounts of SBD. They are patient enough to wait for the right time to make a transaction, and get a fairly large profit there.
You can see in the picture that I circled, the sales volume reached 230 BTC, even if we compare it with the purchase orders there only reached 5 BTC. The point is they still have large amounts of SBD, and are ready to sell it at the right time.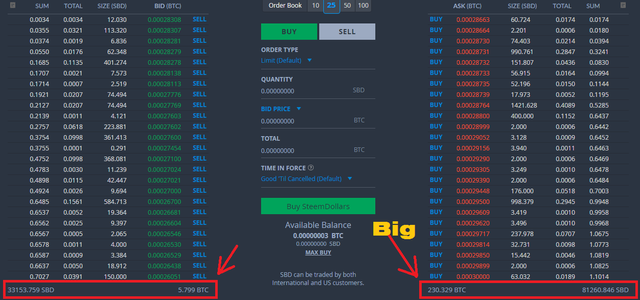 Under this transaction history they have done, I only keep a single page image, but in some other pages it has a large volume there.

I can't imagine if the SBD price returns to its heyday, maybe all SBD will be issued to the market. Oh, this volume is only in Bittrex, there are still many markets out there experiencing the same thing, I think so.
Well, that's just a little news or writing about SBD market activities, there are still many I want to write about in the other world of criptocurrency in the future. And before you close it is a good idea to support me by following and upvote this post, so that I will be more enthusiastic in providing information about Criptocurrency.
---
Thank you for your participation in this post...
Look forward to the latest updates about other Crypto currencies here, don't forget to follow @xoxois