Part 2: "Uncover the Truth Behind Spam"
What happens when you respond to spam messages sent to your smartphone. Our Special Mission News Crew decided to find out and responded.
"I received an email from this email address. I don't have it registered, but do I know you? My name is Yuko."
At the end of last year, one of our reporters received the above message from an ordinary, legitimate looking email address sent from an address @docomo.ne.jp. "I didn't send you a message. I think you have me mistaken for someone else," we responded.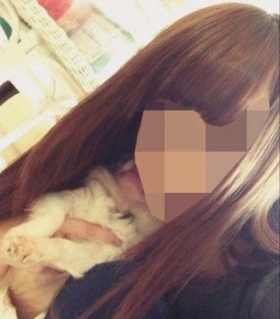 She attached a picture of "her face"
"Oh, I guess we don't know each other. I wonder how it happened. Well, it's an interesting coincidence. Do you mind if I email you?"
Yuko introduced herself as 22 years old who worked at a café. Yuko said her hobbies included becoming a better woman, and she attached a picture of her face. She mentioned that she was worried her father would sneak a look at her phone.
"If my parents find out, we won't be able to meet... Could you contact me on my personal profile website? I'd like to set a date through the website."
She included a link to a website. Should we click it?
Associate Professor Yushi Okajima from Chuo University is an information security specialist who is an expert on spam messages. "Don't click on the link," he says, "Most of these links are asking for money." It seems these links often lead to websites that are fraudulent or force-download viruses. "Attached pictures are profile pictures of models and actresses or pictures of bloggers," he added.
 
Our reporter responded, "Where do you live? Do you want to meet?" As soon as the reporter did, Yuko stopped replying.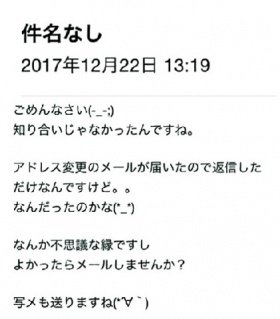 Mail from "Yuko". Trans. *I'm sorry, I guess we don't actually know each other.I had simply replied to an email I received. I wonder how it happened.. Well, it's an interesting coincidence. Do you mind if I email you I'll send a picture, ok? :)
■
New fictitious claims appear daily.
 
Our reporter received a message from a company claiming to be from Las Vegas named fc2 Service. The message read, "Please pay for your outstanding pay-per-view bill."
The message claimed that after having watched five free minutes, our reporter continued to watch pay-per-view videos online for three days at a rate of 100 yen per minute. If our reporter didn't pay the 513,600 yen within the next 24 hours, the company was going to take legal action.
 
However, the message further claimed, that if our reporter couldn't recall having watched such videos, he could settle the bill for a processing fee of 20,000 yen. Complying with the message, our reporter sent his sex, cellphone number, and residing prefecture to a company named Godo Uketsuke (trans. General Reception).
After doing so, our reporter received a second message that instructed him to pay the bill at a convenience store. The instructions told him to inform the convenience store clerk that he was paying an online bill, and he was given a 13-digit payment number to complete the transaction.
 
Our Special Mission News Crew carried out the instructions up until the actual payment of the bill. Going to the convenience store and providing the payment number, we were astounded to see the online shopping giant Amazon as the receiver of the payment.
"You are an embarrassment who doesn't keep his promises. You should face the music instead of causing people so much trouble. You are a horrible person."
After more than seventy messages, we were unable to unveil the identity of the sender.
The Ministry of Internal Affairs and Communications' Anti-Spam Consultation Center was provided with over 14.5 million spam messages in 2016. Although the Consultation Center would be able to act if they could identify the senders, "There are too many messages to process. We have a limited capacity," said one of the ministry officials.
---
迷惑メールを追う 記者が返信すると…詐欺の入り口巧み 「私、優子」サイト誘導 「コンビニ支払い」悪用
携帯電話やスマートフォンに届く「迷惑メール」。マジレス(真剣に返事)してみたらどうなるのか。読者に代わって、特命取材班がやってみると-。
登録してないアドレスでメールが来ましたけど私の知ってる人ですか? 私、優子といいますけど…
昨年末、記者のスマホに届いたメール。アドレスの@の後は「docomo.ne.jp」で一見、普通のアドレスだ。
「送っていません。何かの間違いではないですか」と返すと、すぐに返事が。
ごめんなさい、知り合いじゃなかったんですね。なんだったのかな。不思議な縁ですし、よかったらメールしませんか?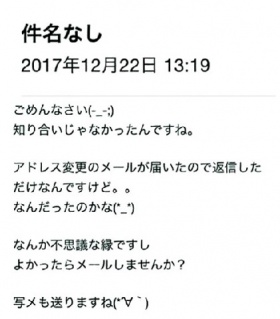 カフェで働く優子、22歳と名乗った。趣味はオンナ磨き。顔写真も添付されている。やりとりを続けていると、父親にスマホを勝手に見られる、という悩みを打ち明けてきた。
親にバレちゃったら会うことも出来なくなっちゃう。。。プロフ(自己紹介サイト)に連絡してくれませんか? 遊ぶ約束とかもそっちでしたい
サイトにつながるURLが添付されている。クリックしてみようかな…。
「お金目当てのケースが多い。やめた方がいい」。迷惑メールに詳しい中央大の岡嶋裕史准教授(情報セキュリティー)にたしなめられた。クリックすると、詐欺サイトや、強制的にコンピューターウイルスがダウンロードされるページに誘導される危険性があるという。添付写真は「タレントやモデル、個人のブログなどネット上の写真を拾った」と考えられるそうだ。
「どこに住んでいるの? 会いませんか?」。記者がそう切り出した途端、優子からの返信は途絶えた。
■
いわゆる架空請求も新手が次々と登場している。
「有料視聴分の未納料金をお支払い下さい」。米ラスベガスに本社を置くという「fc2サービス」を名乗る会社から、そんなメールが届いた。記者があるサイトで動画を5分間無料視聴した後、有料動画(1分100円)に移行する案内に了承、3日分の未払いが生じた。未納金は遅延損害金を含めて51万3600円。24時間以内に支払わないと法的手段を取る-とのこと。
ただ、身に覚えがない場合、支払わずに済む方法があるという。手数料は2万円。指示通りに「合同受付」という会社に性別、在住都道府県、携帯電話番号を送ると、新たな指示メールが届いた。(1)コンビニのレジで「インターネット代金支払い」を申し出る(2)メールに記載した13桁の支払い番号を伝えて支払う-。
取材班はコンビニ店員に、支払う直前までの手続きをしてもらった。支払先として表示されたレジの画面を見て、驚いた。ネット通販大手アマゾンの名が。
これは「コンビニ収納代行」を悪用した新手の詐欺。送信元がネット通販で何らかの商品を購入、コンビニ払いを選んだ際に通知される支払い番号を伝えてきたというわけ。つまり、送信元の買い物代を肩代わりすることになる。手数料と言いながら、そこには「二重のわな」が潜んでいた。
送信元に電話番号を聞くと、拒否された。「これは迷惑メールですか」と単刀直入に聞くと、今度は脅迫めいた返信が来た。
貴殿は約束を守らない恥ずかしい人間だと周囲に言いふらしますよ。人様に迷惑かけることばかりせず素早く対応しなさい。人としておしまいですよ
やりとりは70通以上。送信元の「正体」は分からないままだった。
総務省が相談業務などを委託する「迷惑メール相談センター」に提供された迷惑メールは2016年度、約1453万7千件。送信者が特定できれば警告できるが、「きりがない。対応には限界がある」と総務省の担当者は話す。