News Summaries from the WantToKnow.info Archive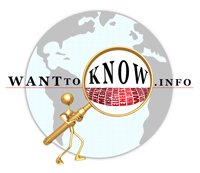 Mainstream media often buries important news stories. PEERS is a US-based 501(c)3 nonprofit that finds and summarizes these stories for WantToKnow.info's free weekly email newsletter and website. Explore below key excerpts of revealing news articles from our archive that were published on today's date in previous years. Each excerpt is taken verbatim from the major media website listed at the link provided. The most important sentences are highlighted. If you find a link that no longer works, please tell us about it in a comment. And if you find this material overwhelming or upsetting, here's a message just for you. By educating ourselves and spreading the word, we can and will build a brighter future.
---
Disturbing 9/11 film is work of Hoosier
Published on this day in 2006, by Indianapolis Star
Original Article Source, Dated 2006-09-07
Familiar, disturbing images from five years ago flash by in "9/11: Press for Truth." But the 86-minute documentary, directed by Ray Nowosielski of Indianapolis, also asks what warnings top government officials received before the terrorist attacks, and why so many questions remain unanswered. The limited-run movie, opening in 27 cities, premieres tonight in Manhattan. It will show in Indianapolis Friday through Monday. Nowosielski, 25, and co-producer John Duffy got the idea for the movie in 2003, during their last semester of film school at Columbia College Chicago. It was there they learned of Paul Thompson's "The Complete 9/11 Timeline," and went online to read the researcher's compilation detailing the events surrounding that fateful day. "We ended up reading until the sun came up," said Nowosielski, who recently opened a Massachusetts Avenue office. Nowosielski said he double-checked whatever they used. "We did everything we could" to ensure accuracy. The documentary prominently features Thompson; Bob McIlvaine, whose son died in the World Trade Center attack; and several 9/11 widows who became known as "the Jersey Girls." McIlvaine, after screening a rough version of the film, sent Nowosielski an e-mail signed "Forever grateful," thanking the filmmakers and saying, "Every high school, college and university should have a copy of this documentary."
Note: Read the complete summary and notes here
---
FBI releases more records on Richard Aoki
Published on this day in 2012, by San Francisco Chronicle/Center for Investigative Reporting
Original Article Source, Dated 2012-09-07
Revelations that prominent radical activist Richard Aoki was an FBI informant have prompted angry denials among his supporters, but newly released records confirm he was secretly providing information to agents during the period he gave the Black Panthers guns and firearms training. The documents from Aoki's FBI informant file - totaling 221 pages - were released after a court challenge under the Freedom of Information Act and show that Aoki was an informant from 1961 to 1977, with only brief interruptions. The records say that at various points, he provided information that was "unique" and of "extreme value." The records chronicle Aoki's 16-year career as an informant, including years in which he was a student at Merritt College in Oakland and at UC Berkeley, participating in the Black Panthers and other radical groups. They also cover years during which Aoki was a teacher at those universities. An early FBI report says Aoki was assigned the alias "Richard Ford" to use when signing reports, as well as a permanent informant number, which the FBI redacted. It notes his date of birth, his parents' names and his address. "Coverage furnished by this informant is unique and not available from any other source," the FBI report says. "Many activist individuals seek informant's advice and counseling since informant is considered as a militant who has succeeded within the establishment without surrending (sic) to it."
Note: Read the complete summary and notes here
---
Solid sightings cited in 'UFOs'; serious investigation needed
Published on this day in 2010, by MSNBC
Original Article Source, Dated 2010-09-07
When I wrote my book about officially documented UFO reports, I fully expected the skeptics to react. That's why I was careful to focus only on the very best evidence from the most credible sources in UFOs: Generals, Pilots and Government Officials Go on the Record. Since 95 percent of all sightings are eventually identified, the book is concerned only with the remaining 5 percent — those UFO events that have been thoroughly investigated, involve multiple witnesses and ample data, but still cannot be explained. As an example, Brig. Gen. Jose Periera of Brazil, commander of air force operations until 2005, reports on an "array of UFOs" observed over his country in 1986. Two pilots chased one of the objects for 30 minutes. Numerous other pilots saw the objects. Radar recorded them. Six jets were scrambled from two Brazilian air force bases to pursue them. Some of the pilots made visual contact corresponding to radar registrations. Both military and commercial pilots were involved. Onboard as well as ground radar systems confirmed the presence of the objects. "We have the correlation of independent readings from different sources," Periera writes. "These data have nothing to do with human eyes. When, along with the radar, a pilot's pair of eyes sees that same thing, and then another pilot's, and so on, the incident has real credibility and stands on a solid foundation."
Note: Read the complete summary and notes here
---
Navy Pilots Who Rescued Victims Are Reprimanded
Published on this day in 2005, by New York Times
Original Article Source, Dated 2005-09-07
Two Navy helicopter pilots and their crews returned from New Orleans on Aug. 30 expecting to be greeted as lifesavers after ferrying more than 100 hurricane victims to safety. Instead, their superiors chided the pilots...at a meeting the next morning for rescuing civilians when their assignment that day had been to deliver food and water to military installations along the Gulf Coast. While refueling at a Coast Guard landing pad in early evening, Lieutenant Udkow said, he called Pensacola and received permission to continue rescues that evening. According to the pilots and other military officials, they rescued 110 people. The next morning, though, the two crews were called to a meeting with Commander Holdener, who said he told them that while helping civilians was laudable, the lengthy rescue effort was an unacceptable diversion from their main mission of delivering supplies.
Note: Read the complete summary and notes here
---
An Opportunity for Wall St. in China's Surveillance Boom
Published on this day in 2007, by New York Times
Original Article Source, Dated 2007-09-07
Li Runsen, the powerful technology director of China's ministry of public security, is best known for leading Project Golden Shield, China's intensive effort to strengthen police control over the Internet. But last month Mr. Li took an additional title: director for China Security and Surveillance Technology, a fast-growing company that installs and sometimes operates surveillance systems for Chinese police agencies, jails and banks, among other customers. The company has just been approved for a listing on the New York Stock Exchange. The company's listing and Mr. Li's membership on its board are just the latest signs of ever-closer ties among Wall Street, surveillance companies and the Chinese government's security apparatus. Wall Street analysts now follow the growth of companies that install surveillance systems providing Chinese police stations with 24-hour video feeds from nearby Internet cafes. Hedge fund money from the United States has paid for the development of not just better video cameras, but face-recognition software and even newer behavior-recognition software designed to spot the beginnings of a street protest and notify police. Executives of Chinese surveillance companies say they are helping their government reduce street crime, preserve social stability and prevent terrorism. They note that London has a more sophisticated surveillance system, although the Chinese system will soon be far more extensive. Wall Street executives also defend the industry as necessary to keep the peace at a time of rapid change in China. They point out that New York has begun experimenting with surveillance cameras in Lower Manhattan and other areas of the city.
Note: Read the complete summary and notes here
---
Doctors accuse US of 'unethical practices' at Guantanamo Bay
Published on this day in 2007, by Independent (One of the U.K.'s leading newspapers)
Original Article Source, Dated 2007-09-07
More than 260 doctors from around the world have launched an unprecedented attack on the American medical establishment for its failure to condemn unethical practices by medical practitioners at the Guantanamo Bay prison camp in Cuba. In a letter to The Lancet, the doctors from 16 countries, including Britain and America, say the failure of the US regulatory authorities to act is "damaging the reputation of US military medicine". They compare the actions of the military doctors, whom they accuse of being involved in the force-feeding of prisoners at Guantanamo Bay and of turning a blind eye to evidence of torture in Iraq and elsewhere, to those of the South African security police involved in the death of the anti-apartheid activist Steve Biko 30 years ago. The group highlighted the force-feeding of prisoners at Guantanamo Bay last year and suggested the physicians involved should be referred to their professional bodies for breaching internationally accepted ethical guidelines. The doctors wrote: "No healthcare worker in the War on Terror has been charged or convicted of any significant offence despite numerous instances documented including fraudulent record-keeping on detainees who have died as a result of failed interrogations ... The attitude of the US military establishment appears to be one of 'See no evil, hear no evil, speak no evil'." The US introduced the policy of force-feeding, in which prisoners are strapped to a chair and a tube is forced down the throat into the stomach, after more than 100 prisoners went on hunger strike in 2005. "Fundamental to doctors' responsibilities in attending a hunger striker is the recognition that prisoners have a right to refuse treatment," the doctors wrote.
Note: Read the complete summary and notes here
---
Santa Clara, Stanford compete in Solar Decathlon
Published on this day in 2013, by San Francisco Chronicle (SF's leading newspaper)
Original Article Source, Dated 2013-09-07
Designed by students, the small blue house wedged onto a corner of the Santa Clara University campus generates all the electricity it needs. And it needs very little. Solar cells blanket most of the roof. A separate solar array heats water. Pipes in the ceiling circulate cold water to keep the house cool. A mobile phone app controls the lights and windows. Dubbed Radiant House, the building is the university's entry in this year's Solar Decathlon, an international student competition to create energy-efficient houses that run their systems and appliances on sunlight. To win, the houses can't just be a collection of technologies. They have to feel inviting and livable. Judges grade them on comfort and curb appeal in addition to innovation. This year's decathlon culminates next month in Orange County, when 20 university teams present their homes to judges drawn from the fields of architecture, development and renewable energy. First held in 2002, the Solar Decathlon runs in two-year cycles, giving teams enough time to design, finance and build their creations. This year, students from two Bay Area schools - Santa Clara and Stanford University - will compete against teams from as far afield as Austria and the Czech Republic. The contest rules require that the houses can't be larger than 1,000 square feet and must produce at least as much energy as they consume over the course of a week. Solar panels donated by Bosch Solar Energy coat the central room's tilted roof and can generate up to 7.14 kilowatts of electricity, more than a typical home array. The panels rest on a new type of rack, made by startup company Sunplanter, that is integrated into the structure of the roof.
Note: Read the complete summary and notes here
---
With best wishes for a transformed world,
Mark Bailey and Fred Burks for PEERS and WantToKnow.info