News Summaries from the WantToKnow.info Archive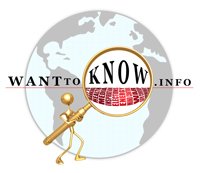 Mainstream media often buries important news stories. PEERS is a US-based 501(c)3 nonprofit that finds and summarizes these stories for WantToKnow.info's free weekly email newsletter and website. Explore below key excerpts of revealing news articles from our archive that were published on today's date in previous years. Each excerpt is taken verbatim from the major media website listed at the link provided. The most important sentences are highlighted. If you find a link that no longer works, please tell us about it in a comment. And if you find this material overwhelming or upsetting, here's a message just for you. By educating ourselves and spreading the word, we can and will build a brighter future.
---
Administration Seeks to Keep Terror Watch-List Data Secret
Published on this day in 2009, by Washington Post
Original Article Source, Dated 2009-09-06
The Obama administration wants to maintain the secrecy of terrorist watch-list information it routinely shares with federal, state and local agencies, a move that rights groups say would make it difficult for people who have been improperly included on such lists to challenge the government. Intelligence officials in the administration are pressing for legislation that would exempt "terrorist identity information" from disclosure under the Freedom of Information Act. Such information -- which includes names, aliases, fingerprints and other biometric identifiers -- is widely shared with law enforcement agencies and intelligence "fusion centers," which combine state and federal counterterrorism resources. Advocates for civil liberties and open government argue that the administration has not proved the secrecy is necessary and that the proposed changes could make the government less accountable for errors on watch lists. The proposed FOIA exemption has been included in pending House and Senate intelligence authorization bills at the administration's request. "Instead of enhancing accountability, this would remove accountability one or two steps further away," said Steven Aftergood, director of the Federation of American Scientists' Project on Government Secrecy. David Sobel, senior counsel for the Electronic Frontier Foundation, a privacy advocacy group, said the government has successfully used existing FOIA exemptions to deny requests for watch-list records. Rather than expanding the list of FOIA exemptions, Congress should pay more attention to improving the procedures for helping people who have been improperly included on the watch list, Sobel said. "There's a serious redress problem," he said. "That's the issue that needs to be addressed."
Note: Read the complete summary and notes here
---
Wall Street Pursues Profit in Bundles of Life Insurance
Published on this day in 2009, by New York Times
Original Article Source, Dated 2009-09-06
After the mortgage business imploded last year, Wall Street investment banks began searching for another big idea to make money. They think they may have found one. The bankers plan to buy "life settlements," life insurance policies that ill and elderly people sell for cash — $400,000 for a $1 million policy, say, depending on the life expectancy of the insured person. Then they plan to "securitize" these policies, in Wall Street jargon, by packaging hundreds or thousands together into bonds. They will then resell those bonds to investors, like big pension funds, who will receive the payouts when people with the insurance die. The earlier the policyholder dies, the bigger the return — though if people live longer than expected, investors could get poor returns or even lose money. Either way, Wall Street would profit by pocketing sizable fees for creating the bonds, reselling them and subsequently trading them. But some who have studied life settlements warn that insurers might have to raise premiums in the short term if they end up having to pay out more death claims than they had anticipated. In the aftermath of the financial meltdown, exotic investments dreamed up by Wall Street got much of the blame. It was not just subprime mortgage securities but an array of products ... that proved far riskier than anticipated. The debacle gave financial wizardry a bad name generally, but not on Wall Street. Even as Washington debates increased financial regulation, bankers are scurrying to concoct new products. In addition to securitizing life settlements, for example, some banks are repackaging their money-losing securities into higher-rated ones.
Note: Read the complete summary and notes here
---
Concierge medicine: Like having a doctor on speed dial
Published on this day in 2015, by Sacramento Bee (Sacramento, California's leading newspaper)
Original Article Source, Dated 2015-09-06
When Tamara Houston's daughter developed a painful eye condition – on a Sunday, during a high school rodeo competition – the Yuba City mom ... picked up her cellphone and called her family's primary care doctor, who met them two hours later at his Rocklin office. The cost of the weekend emergency visit? Zero, because it was already included in her family's monthly $200 fee. Houston's family of four is taking advantage of concierge medicine, a small but growing trend. Under a concierge-style practice, patients pay a monthly or annual fee ... in exchange for longer appointment times, same-day visits and round-the-clock access to their doctor by cellphone, text or email. Some concierge doctors even make house calls. "I would never go back to a regular practice," said Houston. "This takes all of the bureaucracy out of the equation. I don't have to deal with co-pays or insurance. And we get to see a doctor who knows us." Concierge medicine ... has gained more traction in recent years among both physicians and patients. "Mainstream medicine doesn't allow you to practice good medicine," said Dr. Chris Campbell, [the Houston family's primary care doctor]. In his old practice, the constant churn of patients "felt like assembly-line medicine." Dr. Marcy Zwelling, an internal medicine doctor in Los Alamitos, switched her practice nearly 15 years ago. "We've arranged for good, cash prices so patients can get their care and understand the value of what they're buying," she said. "It's huge. And it's absolutely cheaper."
Note: Read the complete summary and notes here
---
Hurricane Katrina - Our Experiences
Published on this day in 2005, by TruthOut/EMS Network
Original Article Source, Dated 2005-09-06
On Day 2, there were approximately 500 of us left in the hotels in the French Quarter. We were a mix of foreign tourists, conference attendees like ourselves, and locals. We were repeatedly told that all sorts of resources...and scores of buses were pouring in to the City. The buses and the other resources must have been invisible... Babies in strollers now joined us, people using crutches, elderly clasping walkers and others people in wheelchairs. We marched the 2-3 miles to the freeway. As we approached the bridge, armed Gretna sheriffs formed a line across the foot of the bridge. Before we were close enough to speak, they began firing their weapons over our heads. This sent the crowd fleeing in various directions. A few of us...managed to engage some of the sheriffs in conversation. We told them of our conversation with the police commander and of the commander's assurances. The sheriffs informed us there were no buses waiting. The commander had lied to us to get us to move. We questioned why we couldn't cross the bridge anyway. They responded that the West Bank was not going to become New Orleans. These were code words for if you are poor and black, you are not crossing the Mississippi River... Just as dusk set in, a Gretna Sheriff showed up...aimed his gun at our faces, screaming, "Get off the f... freeway". A helicopter arrived and used the wind from its blades to blow away our flimsy structures. As we retreated, the sheriff loaded up his truck with our food and water. The next days, our group of 8 walked most of the day, made contact with New Orleans Fire Department and were eventually airlifted out by an urban search and rescue team. This official treatment was in sharp contrast to the warm, heart-felt reception given to us by the ordinary Texans.
Note: Read the complete summary and notes here
---
Programmed to act
Published on this day in 2013, by San Francisco Chronicle (SF's leading newspaper)
Original Article Source, Dated 2013-09-06
Over decades and diverse administrations, justifications for the use of force - limited and full scale - have constantly revolved around weapons of mass destruction. Protection against them, real and imaginary, has served [as] justification for government excess and a curtailment of our freedoms. We stop everything because it is WMD and we fret about the consequences of both action and inaction because it is WMD. We do so because of a little known and little understood entity that truly drives American national security practices: It's called the Program. Founded in the darkest days of nuclear threat during the Eisenhower administration, the Program began as a limited system given responsibility for survival of the government. The nuclear arms race ended, but the Program never completely went away. And since 9/11, like everything else about national security, its mission and focus have expanded. The Program exists through a system of sealed envelopes - four dozen formal Presidential Emergency Action Documents more secret than anything that has been revealed about the National Security Agency of late, arrangements that instruct a surviving entity of what to do if a nation-destroying calamity befalls Washington or the United States. Because Doomsday is now thought by the experts in government to be any day, and because the potential battlefield is anyplace and every place, the work of the Program, and its power, have dramatically expanded. A survival apparatus operates behind the scenes as if survival is perpetually and instantly at stake.
Note: Read the complete summary and notes here
---
N.S.A. Able to Foil Basic Safeguards of Privacy on Web
Published on this day in 2013, by New York Times
Original Article Source, Dated 2013-09-06
The National Security Agency is winning its long-running secret war on encryption, using supercomputers, technical trickery, court orders and behind-the-scenes persuasion to undermine the major tools protecting the privacy of everyday communications in the Internet age, according to newly disclosed documents. The agency has circumvented or cracked much of the encryption, or digital scrambling, that guards global commerce and banking systems, protects sensitive data like trade secrets and medical records, and automatically secures the e-mails, Web searches, Internet chats and phone calls of Americans and others around the world, the documents show. Many users assume — or have been assured by Internet companies — that their data is safe from prying eyes, including those of the government, and the N.S.A. wants to keep it that way. The agency treats its recent successes in deciphering protected information as among its most closely guarded secrets, restricted to those cleared for a highly classified program code-named Bullrun, according to the documents, provided by Edward J. Snowden, the former N.S.A. contractor. Beginning in 2000, as encryption tools were gradually blanketing the Web, the N.S.A. invested billions of dollars in a clandestine campaign to preserve its ability to eavesdrop. Having lost a public battle in the 1990s to insert its own "back door" in all encryption, it set out to accomplish the same goal by stealth. The agency ... deployed custom-built, superfast computers to break codes, and began collaborating with technology companies in the United States and abroad to build entry points into their products [called "backdoors"].
Note: Read the complete summary and notes here
---
U.S. agency blocks photos of New Orleans dead
Published on this day in 2005, by Reuters
Original Article Source, Dated 2005-09-06
The U.S. government agency leading the rescue efforts after Hurricane Katrina said on Tuesday it does not want the news media to take photographs of the dead as they are recovered from the flooded New Orleans area. The Federal Emergency Management Agency, heavily criticized for its slow response to the devastation caused by the hurricane, rejected requests from journalists to accompany rescue boats as they went out to search for storm victims. "We have requested that no photographs of the deceased be made by the media," the spokeswoman said in an e-mailed response to a Reuters inquiry.
Note:
Though a
Washington Post
article mentioned this news a couple days later,
no major media picked up
this important Reuters story.
Note: Read the complete summary and notes here
---
Inspiration on wheels: Disabled dogs visit rehab patients
Published on this day in 2011, by MSNBC
Original Article Source, Dated 2011-09-06
Cruising in their custom wheelchairs, Chili and Arlo are the center of attention wherever they go. But for patients at the Baylor Institute for Rehabilitation in Dallas, these two canine caregivers are also an inspiration. "Many of the patients are new to wheelchairs," Linda Marler, the program's director [said]. "When they see Chili and Arlo, they say, 'If those dogs can do it, so can I.' " Chili and Arlo are the only dogs with disabilities among the 90 specially trained therapy dogs that participate in Baylor's Animal Assisted Therapy program. The canine volunteers make weekly visits to lift the spirits of patients who have suffered traumatic injuries or a stroke. "We use the dogs to create more of a home atmosphere and also to get a response," Marler said. She's found that animals will often elicit a reaction when every other method has failed. "For head injury patients, a dog has been the first thing they respond to when emerging from a coma," Marler said. "For others, being with a dog is what motivates them to speak or throw a ball." Or use a wheelchair. Marler says some of the patients who had been reluctant to use one are willing to give it a shot after spending time with Arlo and Chili.
Note: Read the complete summary and notes here
---
A Teen Who Sees With Sounds
Published on this day in 2006, by CBS News
Original Article Source, Dated 2006-09-06
At Sheldon High in Sacramento, Calif., 14-year-old Ben Underwood is a freshman like all the rest -- well not exactly like all the rest. In his first week at school, a lot of people at the school haven't guessed that Ben has a secret. You probably couldn't figure it out watching him in combat at karate class -- or hitting his mark in a pillow fight -- or zipping down the street on his roller blades. But in class, you'll notice that Ben takes his notes in Braille. He is totally blind. His piercing brown eyes are made of plastic. He says he lost his [sight] two weeks before his third birthday. Ben had cancer in both eyes. But he discovered a way to beat his blindness. When he was about 6, he started "clicking," and quickly realized that the sound he made with his tongue bounced off things around him, giving him an idea what was there. Ben has much the same talent as the dolphins he visited at Sea World: the ability to use echolocation -- returning sound waves -- to sense his surroundings. His mother, Aquanetta Gordan, insists he should have every opportunity -- but no pity. "To society he's blind, but that doesn't make him handicapped. He just can't see." Aquanetta has always told Ben he can do anything. "Once he said to be, 'Mom, I wish I could see.' And I said, 'But Ben, look at what you can do' I said, 'If we had a blackout right now, everybody would have to follow you.'" The more Ben manages to be ordinary, the more it's clear that he's extraordinary.
Note: Read the complete summary and notes here
---
With best wishes for a transformed world,
Mark Bailey and Fred Burks for PEERS and WantToKnow.info