News Summaries from the WantToKnow.info Archive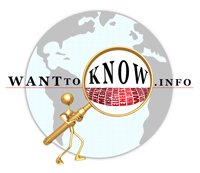 Mainstream media often buries important news stories. PEERS is a US-based 501(c)3 nonprofit that finds and summarizes these stories for WantToKnow.info's free weekly email newsletter and website. Explore below key excerpts of revealing news articles from our archive that were published on today's date in previous years. Each excerpt is taken verbatim from the major media website listed at the link provided. The most important sentences are highlighted. If you find a link that no longer works, please tell us about it in a comment. And if you find this material overwhelming or upsetting, here's a message just for you. By educating ourselves and spreading the word, we can and will build a brighter future.
---
Pentagon Employee Was Ordered to Destroy Data Identifying Atta As a Terrorist
Published on this day in 2005, by ABC/Associated Press
Original Article Source, Dated 2005-09-15
A Pentagon employee was ordered to destroy documents that identified Mohamed Atta as a terrorist two years before the 2001 attacks, a congressman said Thursday. The employee is prepared to testify next week before the Senate Judiciary Committee and was expected to identify the person who ordered him to destroy the large volume of documents, said Rep. Curt Weldon, R-Pa. Weldon declined to identify the employee, citing confidentiality matters. Weldon described the documents as "2.5 terabytes" as much as one-fourth of all the printed materials in the Library of Congress, he added.
Note: Read the complete summary and notes here
---
NASA engineer repairs bikes – and young lives
Published on this day in 2015, by Christian Science Monitor
Original Article Source, Dated 2015-09-15
Trent Griffin was concerned last summer when he saw a child riding a bike that was missing a front tire in his neighborhood in Huntsville, Ala. He bought supplies to make the fix and offered the boy a newly repaired bike. Soon, Mr. Griffin was visited by many young bike riders. Griffin went to thrift stores to get materials to repair the bikes. He even gave bikes away to children in need. When a child received a freshly fixed bike, he or she also received a life lesson. His sister, Nicole Griffin Fields, told ABC News, "He makes them sign contracts that require them to have good behavior, to maintain their good grades, and to obey their parents." Is a little life counseling from a NASA engineer a good price to pay for having a freshly repaired bike? At least 1,000 people and a NASA astronaut said it was. Griffin's friends and family nominated him for the "Above and Beyond" award from "Good Morning America." His prize was a field full of 50 relatives and 1,000 grateful participants at the US Space and Rocket station near the Marshall Space Flight Center where Griffin works. Griffin also met an astronaut at the International Space Station, Scott Kelly, via a NASA video chat. Commander Kelly told Griffin he would receive 50 bicycles from Schwinn and Mongoose that he can give to more children in his neighborhood. Kelly finished the video chat with a low-gravity flip. America has a rich tradition of active community involvement, and people like Griffin share that with children by example.
Note: Read the complete summary and notes here
---
Jim Simons: Billionaire hedge fund boss gives 800 teachers in the US a $15,000 pay rise
Published on this day in 2015, by International Business Times
Original Article Source, Dated 2015-09-15
A US billionaire is hoping to boost the morale of teachers in the US by increasing their pay packets out of his own pocket. Hedge fund manager Jim Simons is to offer an extra $15,000 (£10,000) a year to 800 mathematics and science teachers in the US. The founder of Renaissance Technologies, a company worth $22bn, said that the number of people being paid would increase. "We give them extra money, $15,000 a year. We have 800 math and science teachers in New York City in public schools today, as part of a core," said Simons, during a Ted talk interview. "There's a great morale among them. They're staying in the field. Next year, it'll be 1,000 and that'll be 10% of the math and science teachers in New York public schools." He said he hoped the scheme would incentivise good teaching. "Yeah — instead of beating up the bad teachers, which has created morale problems all through the educational community, in particular in math and science, we focus on celebrating the good ones and giving them status," Simons said. Teachers in the US are paid approximately $56,383 (£37,000) a year and Simons set up the Math for America 20 years ago with his wife, Marilyn, to promote mathematics teaching in the US.
Note: Read the complete summary and notes here
---
Peanut Butter Plan to feed the homeless spreads
Published on this day in 2009, by San Francisco Chronicle (San Francisco's leading newspaper)
Original Article Source, Dated 2009-09-15
The world is getting better, one peanut butter and jelly sandwich at a time. It's called the Peanut Butter Plan. Like many of the best plans, it's simple: Strangers get together, make peanut butter sandwiches and immediately pass them out to homeless people. No federal subsidy, no foundation, no vouchers. No official sanction from anybody. Just strangers, good will and peanut butter. Jory John, a San Francisco children's book writer, got the idea for the PBJ stealth campaign this spring. John put forth the idea on Facebook and, over the past few months, PBJ handouts have taken place in Los Angeles; Berkeley; Phoenix; Little Rock, Ark.; Grand Rapids, Mich.; Austin, Texas; and London. "People are joining from all over the place," John said. "I thought it was about time to use a social networking site to do some good." The monthly gathering took place the other evening around a conference table inside a publishing house that had donated its office for the cause. Some sandwich-laden volunteers [went] to the Tenderloin and some others to the Haight and South of Market.There was no shortage of people who found the idea of a complimentary peanut-butter-and-jelly sandwich to be just the thing. Outside the BART station at 16th and Mission streets, a dozen folks accepted sandwiches. When the sandwiches were gone, [the] sandwich makers retired to a nearby tavern for a beer. The camaraderie of doing something nice, along with the beers, made everyone feel pretty good and some of the strangers exchanged phone numbers. "The smallest actions make the biggest difference," [John] said. "There are some cynics who say it's not really curing hunger, and it isn't curing hunger. But it's curing one person's hunger. There's nothing wrong with that."
Note: Read the complete summary and notes here
---
Congress OKs Use of Force
Published on this day in 2001, by Los Angeles Times
Original Article Source, Dated 2001-09-15
Two of them were American-trained Saudi fighter pilots. One graduated from America's foremost flight university. One drank Stoli and orange juice and one advertised for a Mexican bride. The 19 men identified by the FBI as suspects in the World Trade Center and Pentagon hijack attacks ... studied flying, lived in nondescript suburban apartments and seldom called attention to themselves. Most lived for a time in Florida. Others were scattered in Massachusetts, New Jersey, Arizona and Southern California. Then, in the last several weeks, they began disappearing from their neighborhoods. They reappeared Friday on a list of suspects in the deadliest terrorist attack in U.S. history. The FBI said it did not know for certain where most of the men came from, exactly where they lived in the United States or how old they were. Several had names so common in the Middle East that tracking them down might never be possible. A defense official said two of the [9/11] hijackers were former Saudi fighter pilots who had studied in exchange programs at the Defense Language School at Lackland Air Force Base in Texas and the Air War College at Maxwell Air Force Base in Alabama.
Note: Read the complete summary and notes here
---
Sweden Boosts Renewables to Become First Fossil-Fuel-Free Nation
Published on this day in 2015, by Bloomberg
Original Article Source, Dated 2015-09-15
Sweden said it's targeting to become one of the first nations in the world to be free of fossil fuels and that it will invest 4.5 billion kronor ($546 million) in climate-protection measures next year as a step toward that goal. The government will increase support for solar, wind, energy storage, smart grids and clean transport. Investment in photovoltaics will rise nearly eightfold. Sweden got about two-thirds of its electricity generation capacity from clean and low-carbon sources last year. It plans to significantly reduce its emissions by 2020. It didn't set a target date for the nation becoming fossil free, though Stockholm may reach that goal by 2050. Sweden will also spend 50 million kronor annually on electricity storage research, 10 million kronor on smart grids and 1 billion kronor to renovate residential buildings and make them more energy efficient. The Scandinavian country will also increase its funding of climate-related projects in developing countries, raising its budget to 500 million kronor. The government hopes it will send an "important signal" before the United Nations conference in Paris in December.
Note: Read the complete summary and notes here
---
Free Money Day: what happens when you give money to strangers?
Published on this day in 2015, by The Guardian (One of the UK's leading newspapers)
Original Article Source, Dated 2015-09-15
Free Money Day, being celebrated today, is an annual event where people hand out money to strangers, two notes or coins at a time, asking them to pass half on to someone else. Using fun and intrigue, the day encourages conversations about our broken financial system and how its very design increases inequality. The Free Money Day project began in 2011 when a number of researchers at the Post Growth Institute were looking for a way to engage the broader population in a conversation on financial reform. Four years later, more than 200 Free Money Day events spanning 41 countries have been held, and more than US$10,000 (£6,500) has been distributed. In Moerewa, New Zealand, for example, buskers Emma and Derek handed out money to people listening to their music. In Mexico City, Axel gave his money to people living on the streets with a request that they in turn pass half on to strangers. In Utah, Roger handed out two $1 bills to each of his restaurant co-workers. Others have taken the experiment beyond money. In 2012, Gonçalo's video store in Lisbon, Portugal, for example, offered free movie rentals. In the same year, Layne and Patcharin in Chiang Mai, Thailand, were so inspired by the Free Money Day concept that they gave away half of their 14-acre land holding to begin a land trust for permaculture farmers. By exploring the real value of money, Free Money Day encourages people to consider how they can put it to better use.
Note: Read the complete summary and notes here
---
G.M.O.'s: Let's Label 'Em
Published on this day in 2012, by New York Times blog
Original Article Source, Dated 2012-09-15
It's not an exaggeration to say that almost everyone wants to see the labeling of genetically engineered materials contained in their food products. And on Nov. 6, in what's unquestionably among the most important non-national votes this year, Californians will have the opportunity to make that happen [by voting] on Proposition 37. It would require "labeling on raw or processed food offered for sale to consumers if made from plants or animals with genetic material changed in specified ways." And it would prohibit marketing "such food, or other processed food, as 'natural.' " Polls show Prop 37 to be overwhelmingly popular: roughly 65 percent for to 20 percent against, with 15 percent undecided. Nationally, on the broader issue of labeling, in answer to the question of whether the Food and Drug Administration should require that "foods which have been genetically engineered or containing genetically engineered ingredients be labeled to indicate that," a whopping 91 percent of voters say yes and 5 percent say no. This is as nonpartisan as an issue gets, and the polls haven't changed much in the last couple of years. Unsurprisingly, Big Food in general - and particularly companies like Monsanto that produce genetically engineered seeds ... have already thrown tens of millions of dollars into defeating Prop 37. In general, as California goes, so goes the nation.
Note: Read the complete summary and notes here
---
Silicon Valley 'well' backs world water charity
Published on this day in 2013, by San Francisco Chronicle (SF's leading newspaper)
Original Article Source, Dated 2013-09-15
At age 28, Scott Harrison felt he had spent a decade of his life selfishly. For 10 years he had been promoting nightclubs and wanted to give back to the world. So he volunteered with a group that exposed him to poverty and disease around the globe.Most afflictions, he found, started with water. "We would see people drinking from swamps and ponds and rivers, sources so unthinkable," said Harrison, now 38. "It seemed simple to attack the root cause by giving people clean water." He founded Charity: water in New York to tackle the world's water crisis after returning from a volunteer trip to Liberia in 2006. So far Charity: water has spent more than $55 million on more than 9,000 water projects in 20 countries, including Ethiopia, Rwanda and Malawi. Harrison recruits people to start their own fundraisers, and all of the money raised goes directly to the cause. Overhead costs are covered by "the well," which is made up of 100 donors who pledge anywhere from $24,000 to $2 million for three years. Well donors are largely Silicon Valley tech titans, like ... Matt Mullenweg, founder of Automattic, the San Francisco Web development platform behind Wordpress. "I've seen a lot of nonprofits and charities, and Charity: water continues to strike me as the most effective," Mullenweg said. "A dollar spent there goes a lot farther than anywhere else." Mullenweg has traveled to Ethiopia with Harrison twice since becoming a donor to "the well." "Every day was a rush of emotions and experiences," Mullenweg said. "We visited villages that didn't have wells yet and then those that did and it was night and day."
Note: Read the complete summary and notes here
---
With best wishes for a transformed world,
Mark Bailey and Fred Burks for PEERS and WantToKnow.info