Die letzten Monate ist es sehr still um voice.com, dem sozialen Netzwerk von Dan Larimer auf EOS, geworden. Dachte schon, dass das Projekt wegen dem Altcoin-Bärenmarkt nicht mehr starten wird.
Anfang Dezember gab es jedoch eine Ankündigung und der Starttermin wurde bekanntgegeben. Eine Beta-Version von Voice soll am 14. Februar 2020 (am Valentinstag) an den Start gehen.
Bin schon gespannt und möchte es mir auf alle Fälle anschauen. Was denkt ihr über Voice? Angeblich wird es auf Voice eine Klarnamenpflicht mit KYC geben. Dafür vielleicht weniger Bots. Andererseits hat sich Steemit seit dem HF20 auch weiterentwickelt.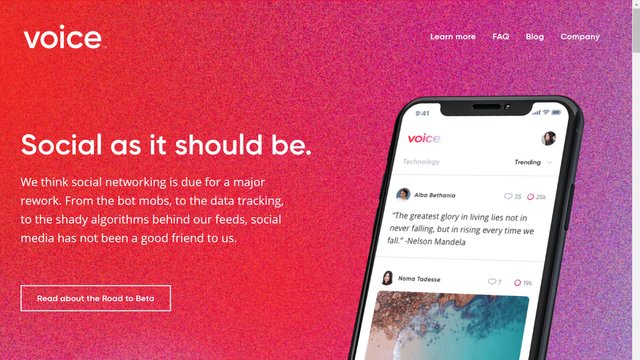 English
The last few months it has become very quiet around voice.com, the social network by Dan Larimer on EOS. Thought already that the project might not launch because of the altcoin bear market.
But at the beginning of December the launch date was finally announced. A beta version of Voice is scheduled to launch on February 14th 2020 (on Valentine's Day).
I am already curious and would like to test it in any case. What do you think about Voice? It is said that Voice will have a real name requirement with KYC. But maybe less bots. On the other hand, Steemit has also evolved since HF20.
Source
[1] https://voice.com/blog/road-to-beta/
Live your Secrets and Steem Prosper 🔥
xx Viki @vikisecrets