400 Followers!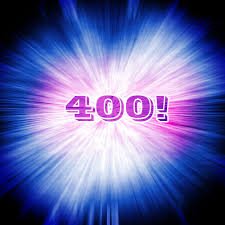 Wow, a nice little milestone for me. Thanks to everyone who is following me.
I never thought I would still be on this platform. When I first started, I jumped up pretty fast in rep. Then I got in a little disagreement with someone who was a lot bigger than me. He proceeded to downvote everything I had and sent my rep right back to the beginning. That gave me a very bad taste in my mouth for this platform. Fine, if you disagree with someone, state your opposing view. But this guy took away the few pennies I had coming from the work I did for the past week.
At that point, I said screw it. I gave up posting and just commented on whomever I wanted, however I wanted, not worrying about protecting my rep or income because I had none.
And so I went for a few months. But pennies started trickling in again and I found these guys. They are a nice little support community that helps people with no following get some upvotes. Now, because of these guys, I feel like posting a bit again.
I also ran across this UBI project. Its pretty cool. They created a cryptocurrency that they will distribute weekly to anyone who signs up. It was seeded by charity and volunteer work. So I am spreading the word about MannaBase. They seem like good guys trying to help the desperately poor. Check out the website.
Anyway thanks a lot for the follows, hopefully this will encourage me to post more often.