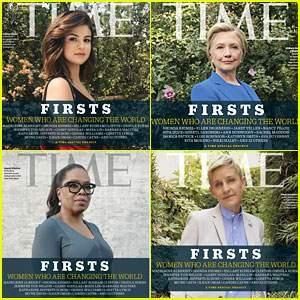 Time magazine has unveiled their brand new project, Firsts: Women Who Are Changing the World, and some recognizable faces are on the covers!
Hillary Rodham Clinton, Ellen DeGeneres, Oprah Winfrey, Selena Gomez, Ava DuVernay, Sylvia Earle, Nikki Haley, Ilhan Omar, Lori Robinson, Katharine Jefferts Schori, Mo'ne Davis, and Janet Yellen were all photographed by Brazilian photographer Luisa Dörr with her iPhone.
"Our goal with this extraordinary project...is for every woman and girl to find someone who moves them, to find someone whose presence in the highest reaches of success says to them that it is safe to climb, come on up, the view is spectacular.
We hope everyone, at every life stage, will encounter an insight here that will open a door to new ambitions," editor-in-chief of Time Nancy Gibbs said about the new project.
To read full article on Just Jared - http://v.duta.us/NOkf-gAA
kindly follow me @tymeless and upvote my posts and I will do same too ☺️