Introducing TIMM's Trading Pits!
Real Time Discussion & Collaboration
As TIMM's Steem-powered blogs mature, we thought it was about time to roll out our real-time discussion feature, the Trading Pits.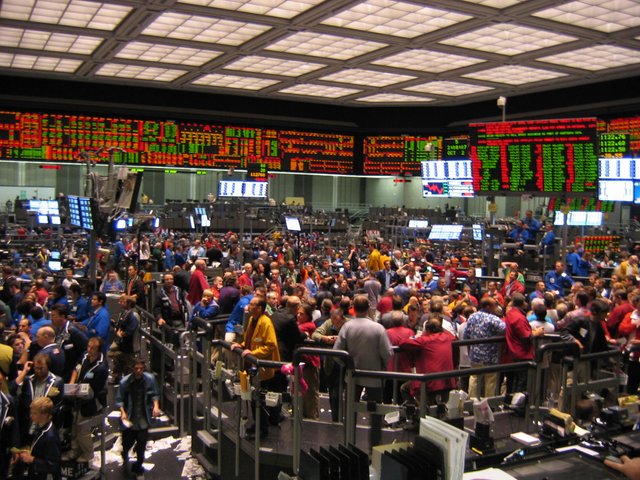 Source
When A Blog Is Too Slow
Blogs are great, right? After all, you're reading this on one. They can be an amazing way to share information, reach a specific group and provide various information services.
And we get to subscribe to specific blogs with follows or other services, in order to try to catch the information or authors we think are most important. To top it off, Steem provides us with a way to reward each other for providing information, insight or sharing experiences.
But TIMM isn't just about sharing information. TIMM is about building community around shared insight into what the market is doing - What makes it tick.
Often that insight is timeless. It may have something to do with how to read specific indicators or discussions about economics.
At other times it's time sensitive, but broad. For instance, it may be insight into an up and coming company or technology. You want to know early, but you don't really need the information today.
Then there are the day-trades and scalps - sometimes swing trades - when tomorrow is too late. In fact, for really active markets with lots of volatility, five minutes can be too late.
Welcome to TIMM's Trading Pits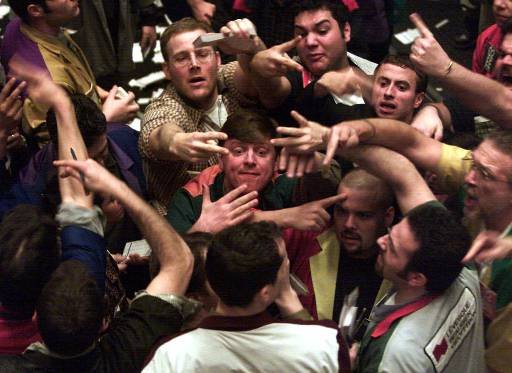 [Source](http://1.bp.blogspot.com)
This is exactly why TIMM is introducing the Trading Pits. Members are able to interact in real-time, examining markets, detailing analysis and sharing their current trades.
You're familiar with the famous trading pits of major exchanges, where buyers and sellers would shout out offers and negotiate with hand signals. It's fast! It's loud! And if you snooze, you lose.
When you enter TIMM's trading pits, you can post your findings, ask questions, respond to other posts or just follow those who earn your trust. Sometimes the banter is just noise. At other times it might be actionable insight. But you can't know if you're not there.
How it Works
First of all, you need a TIMM account. It's super simple to set up and very little personal information is required. There is no KYC nonsense, because TIMM doesn't store funds or maintain any sort of financial information. And, of course, it's free!
To set it up, simply go to https://mentormarket.io, click on the "Login" link in the upper right then choose the green "Sign Up" button. A form will open up asking for a little information, click "Register" and check your email for confirmation.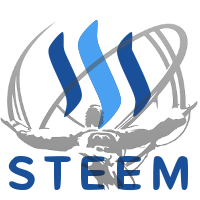 Link Your Steem Account
Once confirmed, you have several choices. If you want to post articles from TIMM, upvote content or comment on TIMM hosted Steem articles, you'll need to provide info through Steem Connect. This keeps us from needing your keys while providing access to the Steem network through TIMM.
To do so, once signed in, click on "Menu" in the upper right, then "Profile" in the dropdown. From there you click on "Link Steem" and follow the prompts. You'll need to provide your Active Key. Your Password will work, but we recommend taking the safer route and just using your Active Key.
While in your profile, you may want to input more details, provide an avatar, choose how your name is displayed and other options. Now, if you want to post, you can simply click on "Submit Post" next to "Your Username", and type away.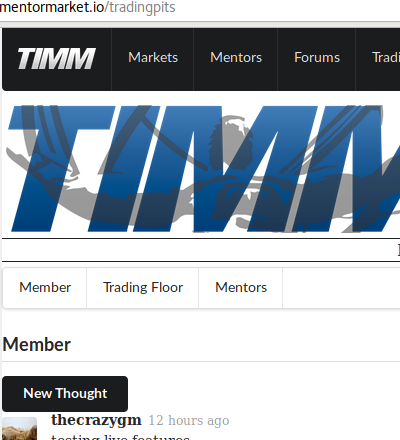 Trading Pits
All that really isn't necessary to engage in the Trading Pits though. For that, once you've registered and verified your email address, you can simply click on "Trading Pits" in the menu along the top and start engaging.
Right away you'll notice three initial tabs, Member, Trading Floor and Mentors. Each is available for a specific group of people.
Member
These pits are for registered Members. Any visitor to TIMM can see the content, but only registered Members are able to engage. We plan on having three main pits here soon, serving English, Spanish and Chinese speaking Members.
Trading Floor
The Trading Floor is for TIMM's Premium Members. For now, while we're ramping up, this is available to all Members. Once we get things dialed in and are receiving payment for services, the free access to the Trading Floor will be phased out, with only the Member Pits available for non-paying Members.
The Trading Floor will offer more actionable insights. While it isn't as busy as the free Member pits, the Mentors will know to focus on them more because it's where folks serious enough about markets to pay for TIMM's Premium features will have access. And TIMM will often make announcements to Premium Members earlier than the free Members.
Mentors
These pits are what really get our Mentors excited. Here you'll find direct access to the Mentors you subscribe to. They'll have the option of setting up their own service here, where you can interact with them regarding their services, analysis, etc.
How you access these is largely up to the Mentors. During our building phase, there will be various options we'll pursue, which will be announced later. Eventually the only access to the Mentors' pits will be to subscribe to their services.
Your Assignment, if You Choose to Accept it
But, for now, it's all available for you to use. We invite you to check TIMM out, kick the tires, take him for a spin around the block and see what you think of our features and the vision we've cast.
We can say that we already have some amazing analysts participating in testing features as they roll out and we're excited to grow with them and work together toward building a community like no other.
Uniting analysts and investors for mutual profit!
TIMM