Coca-Cola Rebrands to Promote the Drink's Dental Benefits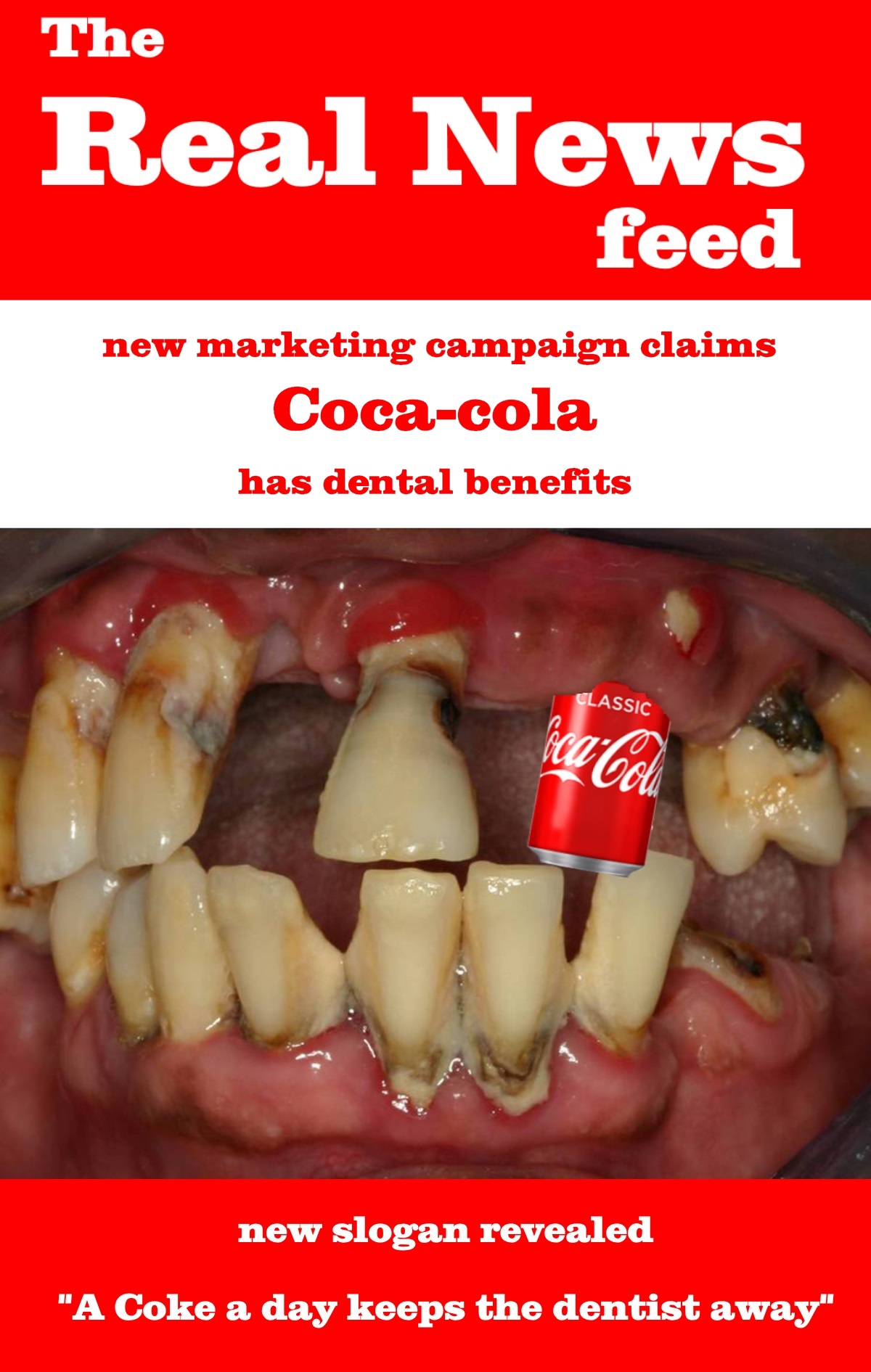 Coca-Cola has undertaken its biggest re-branding since the company was founded in 1892. In a brazen move driven by their newly-appointed PR chief Alastair Campbell, Coca-Cola has re-positioned their entire value proposition, to focus on the drink's dental benefits. Their new marketing campaign is headed by the catchy slogan:
A Coke a day keeps the dentist away.
"In America, the cost of having a tooth removed can fall between $200-$500" explains Campbell, the ex-British-politician-turned-soft-drink-marketing-guru. "I took a look at our product, and said to myself 'hey, this basically does the same thing, for less money, and it tastes OK too!'"
Before approving the re-brand, Coca-Cola's CEO funded in-depth research to find out if Campbell's claims were really true.
"The results of our studies were amazing" says Dr Cherry Boshangles, the expert researcher hired by Coca-Cola to study the effects of their sugary drink on tooth decay. "We tested 400 children, by asking them to drink a can of coke a day, for 4 months. We asked them to refrain from brushing their teeth. Every single child in the study lost every single tooth in their mouth! That's 20 teeth in children - adults would benefit from 32 teeth going missing. This means you could avoid the cost of a dental bill anywhere between $4,000 and $16,000. The cost of the cola for each trial participant was less than $500. The cost implications are huge."
Since launching their campaign just last week, sales have rocketed.
"I've always given my children Coca-Cola" says British mum-of-five Sarah. "I like the funky brown tinge it adds to their smile. And now I know there is medical research to back it up, I will be replacing water with Coca-Cola completely. The dental benefits sound amazing. Sure, we get free dental treatment on the NHS here in England. But it's the principle, right?"
Many people have taken to boasting on social media websites like Twitter and Steemit, with selfies of their toothless grins, and captions like "Coke helped me get the homeless look I've always wanted #SayNoToDentists #HomelessGrin"
Consumers have already started calling the drink 'Medical Miracle in a Can'. And new studies are underway to discover Coca-Cola's medical potential in other areas, for example, its ability to dissolve large pieces of fresh meat in less than 48 hours.
Pepsi is struggling to catch up, but an exclusive @TheRealNewsFeed interview, with one of Pepsi's marketing interns, revealed that they are working on a catchy slogan of their own: "Even cheaper tooth removal" is the only hint we can give. Stay tuned for updates.