Market update: Bitcoin BULLS are back with Vigorous energy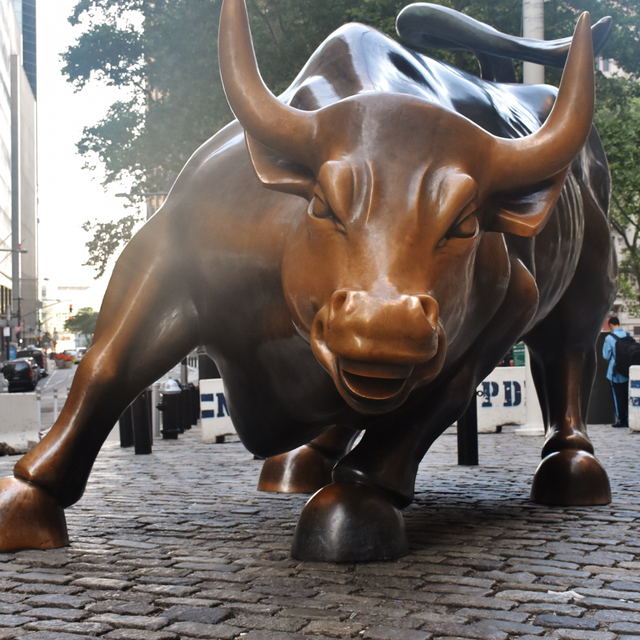 July 20 was an exciting day for bitcoin proponents as markets suddenly switched from a bear crawl to a full fledged bull charge. The price spike resulted with a high of US$2930 per BTC across many global exchanges, showing a huge price difference between the recent low into the $1850s last week.
Bitcoin Bulls Are Back
Bitcoin markets had a spectacular day on July 20 as the decentralized currency came real close to reaching $3K per BTC. At the time of writing, the price was hovering around $2750-2770. The digital currency has been experiencing a recent break-out since reaching a low of $1850 per BTC on July 16. The initial drop was attributed to fear and uncertainty concerning a possible bitcoin split on August 1. Now speculators are crediting the recent jump in price to the BIP91 lock-in and the possibility of Segregated Witness (Segwit) activation. Trade volume has increased over the past three days as bitcoin markets are now seeing 24-hour trade volumes cross over $2 billion. Moreover, bitcoin's market capitalization dominance against altcoin markets has risen to 48 percent.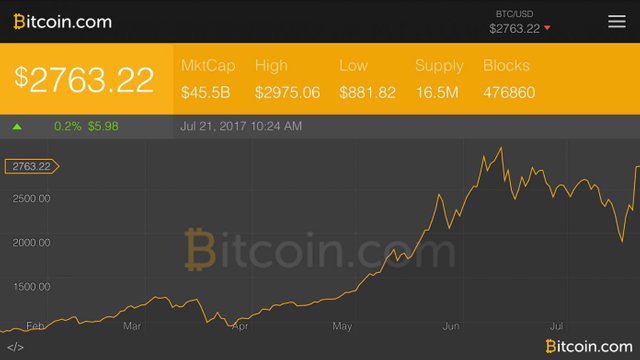 Technical Indicators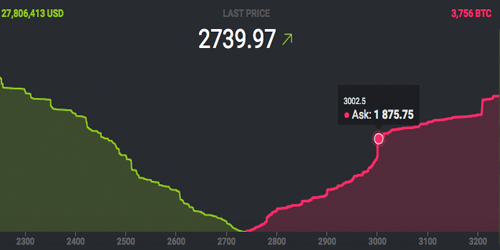 Bitcoin charts and order books across exchanges are looking healthy at the moment. Looking at the charts over the past 48 hours the 100 Simple Moving Average (SMA) crossed over the long term 200 SMA showing bulls will continue to try and push past resistance levels. The gap between these two averages on July 21 is pretty decent considering the price downfall five days ago.
Using Fibonacci retracement after yesterday's high above $2900 indicates we may see resistance points again above that price range. The stochastic and relative strength Index (RSI) reveal similar stories as both suggest more profit taking may occur, and there's likely to be more volatility. Further, on Bitstamp and a few other popular exchanges, there are gigantic sell walls around the $3K territory.



There's a decent gap between the green upper 100 SMA and long term white lower 200 SMA trendlines.
The Top Ten Cryptocurrency Markets
Overall cryptocurrency markets, in general, are all in the green as many altcoins are experiencing pumps from bitcoin's 20 percent price rise in the last 24 hours. Ethereum markets, which still hold the second largest market capitalizations, are seeing a less climactic rebound up only a few percentages. At the moment ethereum is $227 per ETH with a market cap of roughly $21B.
Ripple (XRP) is up about 3 percent at $0.18 per XRP after seeing a significant decline last week. Litecoin (LTC) is up 5 percent and has managed to hold a token value of over $45 per LTC. The number five position is held by Ethereum Classic (ETC) which is currently hovering at $16 per ETC at press time. The rest of the top ten is also seeing small percentage increases as well. Dash is $190 per token, NEM $0.14, IOTA $0.29, Monero $41, and Stratis is $5.80. Notably, Stratis markets have done just as well as bitcoin, increasing 20 percent over the past 24 hours.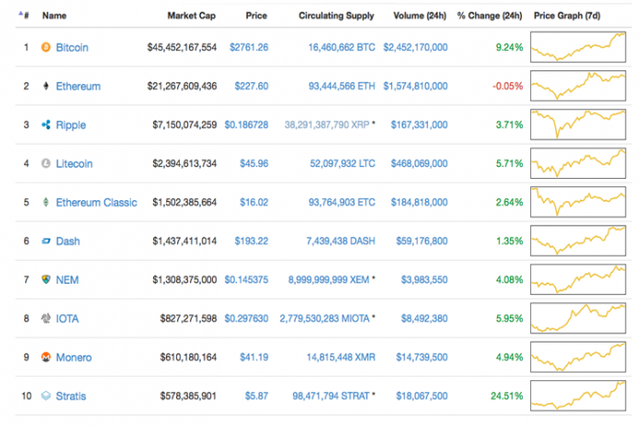 Top ten cryptocurrencies see a boost from bitcoin's performance. 7-21-17
The Verdict
For now, the cryptocurrency 'community' seems relatively optimistic due to the current market rebound and the progress happening with the Segwit2x roadmap. Since the network's mining pools joined together to enact BIP91, the price coincided with the approaching lock-in activity. However, the rise to $2930 as BIP91 locked-in was short lived as the price dropped to sub-$2700 about an hour and a half later. The price has also stayed resilient during the recent darknet markets busts as global law enforcement announced on July 20 the official takedown of Alphabay and Hansa.
Bear Scenario: The scaling compromise is not set in stone, and other less positive events could take place this coming week. It's likely the price will be quite volatile over the next few days, and day-traders should do quite well in this environment. Currently, looking at order books, there's a solid foundation in the $2400-2500 range that should hold for the time being. If these zones are broken due to negative news or some kind of market phenomena, then we could approach the $2000 levels again.
Bull Scenario: After Thursday's incredible bull run it's quite possible bitcoin could surpass $3K per BTC in the near future. However, there will be large sell offs in that price territory, but the price could go higher if buyers manage to chew through resistance. Bitcoin markets and overall trade volume is doing quite well, and BTC markets should continue to be very active this week. At press time bulls have to break the resistance past the $2800s and above to see some smooth sailing, and all-time highs once again.
Where do you see the price going from here? Let us know in the comments below.
Disclaimer: Bitcoin price articles and markets updates are intended for informational purposes only and should not to be considered as trading advice. Neither Bitcoin.com nor the author is responsible for any losses or gains, as the ultimate decision to conduct a trade is made by the reader. Always remember that only those in possession of the private keys are in control of the "money."