IS A GOTCHA?
I received this email two days ago that I share below.
Has anyone else received it or do they know if it is a scam ??? If so, where to report this type of mail?
So I leave the mail that came to me and capture my mail so they do not say it is plagiarism or that I take it from some internet site.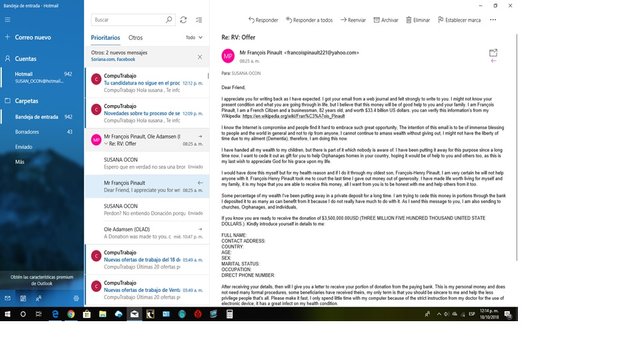 Dear Friend,
I appreciate you for writing back as I have expected. I got your email from a web journal and felt strongly to write to you. I might not know your present condition and what you are going through in life, but I believe that this money will be of good help to you and your family. I am François Pinault, I am a French Citizen and a businessman, 82 years old, and worth $33.4 billion US dollars. you can verify this information's from my Wikipedia: https://en.wikipedia.org/wiki/Fran%C3%A7ois_Pinault
I know the Internet is compromise and people find it hard to embrace such great opportunity, The intention of this email is to be of immense blessing to people and the world in general and not to rip from anyone, I cannot continue to amass wealth without giving out, I might not have the liberty of time due to my ailment (Dementia), therefore, I am doing this now.
I have handed all my wealth to my children, but there is part of it which nobody is aware of. I have been putting it away for this purpose since a long time now, I want to cede it out as gift for you to help Orphanages homes in your country, hoping it would be of help to you and others too, as this is my last wish to appreciate God for his grace upon my life.
I would have done this myself but for my health reason and if I do it through my oldest son, François-Henry Pinault, I am very certain he will not help anyone with it. François-Henry Pinault took me to court the last time I gave out money out of generosity. I have made life worth living for myself and my family, it is my hope that you are able to receive this money, all I want from you is to be honest with me and help others from it too.
Some percentage of my wealth I've been putting away in a private deposit for a long time. I am trying to cede this money in portions through the bank I deposited it to as many as can benefit from it because I do not really have much to do with it. As I send this message to you, I am also sending to churches, Orphanages, and individuals,
If you know you are ready to receive the donation of $3,500,000.00USD (THREE MILLION FIVE HUNDRED THOUSAND UNITED STATE DOLLARS.). Kindly introduce yourself in details to me:
FULL NAME:
CONTACT ADDRESS:
COUNTRY:
AGE:
SEX:
MARITAL STATUS:
OCCUPATION:
DIRECT PHONE NUMBER:
After receiving your details, then will I give you a letter to receive your portion of donation from the paying bank. This is my personal money and does not need many formal procedures, some beneficiaries have received theirs, my only term is that you should be sincere to me and help the less privilege people that's all. Please make it fast, I only spend little time with my computer because of the strict instruction from my doctor for the use of electronic device, it has a great infect on my health condition.
I wait your prompt response.
Yours Faithfully
Mr. François Pinault.