North Korea War with United States in 2018?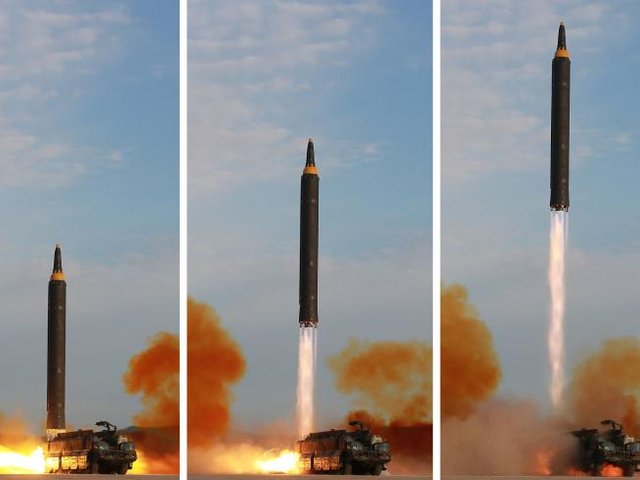 Is the writting on the wall?
---
In November North Korea had it's most successful ICBM launch to date reaching a distance of nearly 1,000km. While many don't think Kim Jong-un has the capability to reach the United States at about 10x the distance who really knows what he has in his arsenal?
Things do seem to be escalating with both sides amping up the threats, Trump stating that the US is "waging a campaign of maximum pressure" and "We need only look at the depraved character of the North Korean regime to understand the nature of the nuclear threat it could pose to America and to our allies,". Trump also calling Kim Jong-un "little rocket man" and tweeting he has a bigger nuke button on his desk!
What is more alarming however is Treasury Secretary Steve Mnuchin announcing sanctions against China's Dandong Bank for its dealings with North Korea. The Dandong bank is a gateway for North Korea to access the US and international financial systems. The US is prepared to deny China the the US dollar payment system which would effectively freeze over a trillion dollars of their liquid reserves if they don't comply and block North Korea.
If you liked this post please consider a small token of thanks
BTC: 1AAeFg41MuM7B9WbQDr1HR9h9yBbsojqWi
Ethereum: 0xA022bE55E15072593aDB4592332953cDBde7a116
LTC: LY8LVjf88GXb9ixgMiCbQCBA7wp4NgiFwx
Bitcoin Cash: 1KFGGFT132cV4r48VJnigGmeTyenPFBWuC
** FAIR USE **
Copyright Disclaimer under section 107 of the Copyright Act 1976, allowance is made for "fair use" for purposes such as criticism, comment, news reporting, teaching, scholarship, education and research.Fair use is a use permitted by copyright statute that might otherwise be infringing. Non-profit, educational or personal use tips the balance in favor of fair use.