Exclaimed Exploring Tea Garden Pagilaran Batang
Behind the warm beach of Batang, there are hills full of famous tea plants in foreign countries. Tea garden was a leading agro-tourism in the district through this Pantura Path. Its location in Pagilaran Village, about one hour from the center of Batang regency, to the south. With an area of ​​1130 hectares, Pagilaran Tea Garden is above 600-1,600 meters above sea level. No wonder, temperatures around 16 degrees "bite" KompasTravel in the morning before sunrise.
One of the agro tourism attractions you can enjoy here is the tea walk, tracing a six kilometer tea plantation path. In order not to miss the moment of picking tea, you have to leave at around 5:00 to 6:00 am. Cold air so a challenge in itself to enjoy the beautiful sunrise amid the freshness of the tea garden.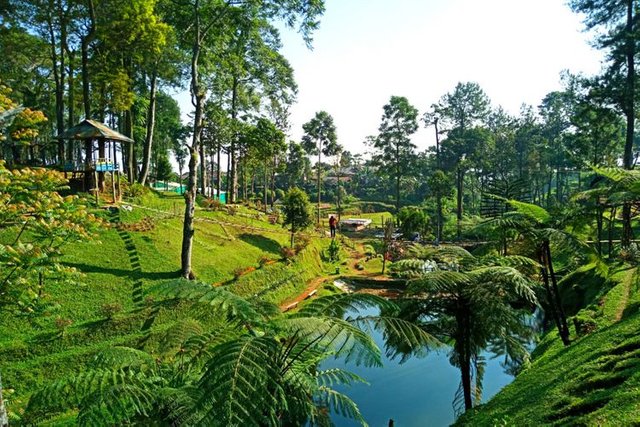 yes choose to join the truck group with a tour of the tea garden to Bukit Kamulyan. The truck used is a double truck, about a meter high. Travel steep climb up and down the contours of rocks will be passed by tourists. Falling due to shocks in the truck was so its own entertainment.
At some point that presents the scenery we can go down to take pictures. Peak after about three kilometers, looks a charming garden with a line of tea-picking moms. You can go down, take pictures with them and even learn how to pick good tea is what. Taking photos in the thick of tea trees with a mountain setting so things can not be skipped here. Not to mention the cool air and warm sunshine morning, so a special thing to enjoy. After tracing the garden and tea nursery, it's time for the tourists to the processing factory. Inside the factory, every year no less than 8,000 tons of tea are produced.
70-80 percent of our tea is exported out as premium tea. If in Indonesia there is no market, "said Rahmat Gunadi, President Director of Pagilaran, when visited by tourism journalists on Wednesday (3/5/2018) .The gardens managed by the University of Gajah Mada (UGM) send orthodox processed black tea and green tea premium quality to America, Britain, Russia and Japan In the factory area, you will be invited to see tea machines of very large size, average size of car.Start oxidation machine, drain to sortasi.Guide will be invited to the top, to see the production process of the glass screen.Because this plant is very hygienic, you can only see from above through glass, start drying tea, sorting, and other production process.You can also be brought back to see the tea leaves has been picked and dried in the first drying machine with blower.