Catholic sex abuse scandal widens after US bishop quits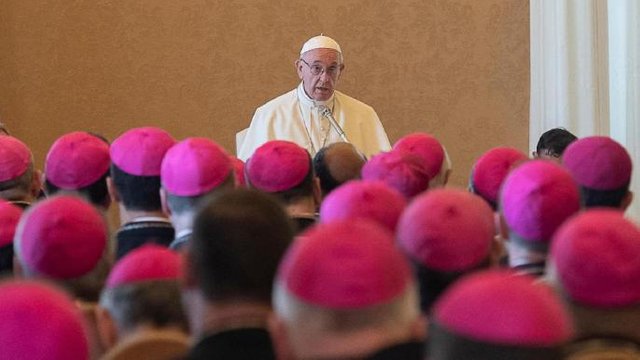 The Pope held an audience with bishops at the Vatican yesterday
EPA
The sex abuse crisis engulfing the Pope has escalated after he was forced to investigate a US bishop accused of molestation and a report said that there were thousands of victims of predatory priests in Germany.
The Vatican said that Michael Bransfield, a West Virginian bishop, who resigned yesterday, was being investigated for molesting adults.
The Pope held an emergency summit with a delegation of American bishops at the Vatican to consider a response to a US grand jury report in July that 1,000 children had been molested in Pennsylvania since the 1940s.
In an embarrassing coincidence, Bishop Bransfield's cousin, Father Brian Bransfield, was among those meeting the Pope.
https://www.thetimes.co.uk/edition/world/catholic-sex-abuse-scandal-widens-after-us-bishop-quits-z8z6bb0cf