Reasons Why Chinese Tourist Behave like Savages.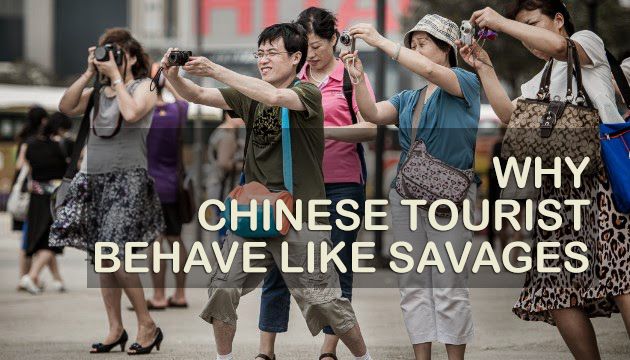 Many people in the whole world have bad impression towards Chinese Tourists, you can read tons of articles about their bad behavior in foreign coutries.
Even those of Chinese descent in Southeast Asia, Hong Kong, Taiwan, Singapore, and Malaysia are triggered by their behavior. These made alot of headaches toward foreign countries' tour guides, and local people.
Scarcity and lawlessness in their country has resulted in the need to prioritize one's interest to survive
One of the main reason why Chinese tourists have earned a bad reputation is due to their self-centered and lawless ways, disregarding the regulations of other countries. These behaviors developed due to the scarcity and immense competition which exists in the country. They have experienced and lived in a 150 years of non stop violence from political and social chaos. Things only stabalized in the recent decades. With this behavior in their DNA, whenever they go, Survival Mode is always on.
Living environment of the urban poor in China
Another key contributing factor of uncivilized behavior would be the living conditions of many of the poor people in China which results in them having almost no concept of personal space, modesty and privacy.

The lack of education
I would attribute some of the inconsiderate behavior such as environmental damage to the lack of education. Yes, China is now getting richer and many people are educated. However their social inequality is also very high which means that there are many people who are deprived of the opportunity to further their studies.
Lack of exposure to foreign cultures
China has only recently become rich and it is the first few times that many of the tourists are actually travelling out to visit foreign countries. As such, even the adults are often inexperienced and unfamiliar with overseas rules and norms.

Rise of the Noveau Riche 新贵
Besides rude behaviour, Chinese tourists also have a reputation of being very materialistic.
however, this has more to do with the fact that they are "newly rich" rather than the fact that they are Chinese.