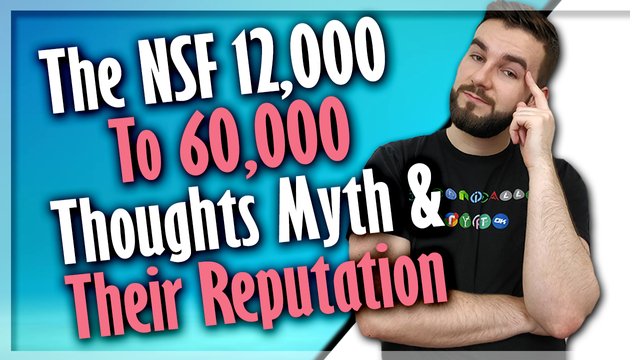 The government agency known as the National Science Foundation is the one that recently blew up by reporting on the first-ever black hole image. I thought it was interesting given I was just looking into the 12,000-60,000 thought experiment and figured I should point some things out. I will also point out that they never claimed this on their site so that's not that bad, but if people with millions of followers like several of the major Instagram influencers I follow, or the many neuroscience blogs and articles written about this were all mislead by this seemingly innocent lie. I don't know why people would make this up, but it, in fact, is not true.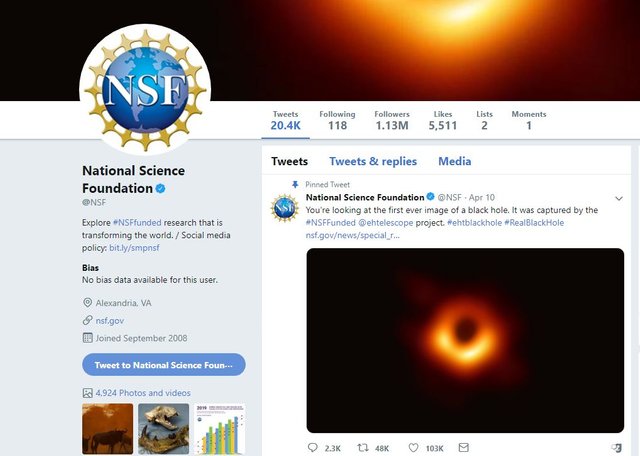 To find out that the thought myth was clickbait and I previously spoke on this is disappointing and that the "National Science Foundation" hasn't denounced this lie given it's a government agency is even worse. I mean luckily something like how many thoughts we think is pretty frivolous and I only spoke on it from a motivational perspective, but it makes that science that backed that invalid and thus focusing on the thought count isn't the best route to change your mindset. They're described on Wikipedia as:
"The National Science Foundation is a United States government agency that supports fundamental research and education in all the non-medical fields of science and engineering."
Interesting that they have an annual budget of 7.8 billion USD. Actually, their latest article instead says $8.1 billion. Wow.
"The National Science Foundation (NSF) is an independent federal agency that supports fundamental research and education across all fields of science and engineering. In fiscal year (FY) 2019, its budget is $8.1 billion. NSF funds reach all 50 states through grants to nearly 2,000 colleges, universities and other institutions. Each year, NSF receives more than 50,000 competitive proposals for funding and makes about 12,000 new funding awards."
You might be thinking Scott who cares about how many thoughts you think a day?
Maybe, but they are the same organization that has everyone bedazzled at the first black hole image. The same organization strawmanned, used to spread the lies and hasn't said otherwise. Come on when they have an $8.1 billion budget and can't even claim all their information is accurate or tell people that they're bad actors falsely using their organization to promote misleading and factually incorrect information or at the very least know about it and address in some way, don't tell me they don't know what's going on. What is interesting too, is that they link their policy: https://www.nsf.gov/social/policies.jsp and they say:
"NSF does not guarantee that any information posted on its social media platforms is correct, and disclaims any liability for any loss or damage resulting from reliance upon such information. NSF does not guarantee, and assumes no liability for, anything posted on our social media platforms by any person, employee or otherwise. Comments posted on NSF's social media platforms are considered to be expressions of the posters' opinions rather than fact or NSF's views, and therefore they are NOT subject to NSF's Information Quality Guidelines."

I'm not saying the black hole isn't an accurately generated image by any means, but I am asking why are they the authority on this when they are doing such a poor job like many government agencies that have an insane amount of funds and horrible infrastructure? Their site is awful by the way, but on their site in their data quality standards it plainly states that they do not believe they produce or sponsor "influential scientific information" thus they are not held to a high standard and they are cleared of having "no agenda." That's interesting I would say you would think an 8.1 billion tax money annually funded organization would be able to claim what they are posting is accurate and be held to a high standard, wouldn't you?
"Based on the review it has conducted, the National Science Foundation believes that it does not currently produce or sponsor the distribution of influential scientific information (including highly influential scientific assessments) within the definitions promulgated by OMB. As a result, at this time NSF has no agenda of forthcoming influential scientific disseminations to post on its website in accordance with OMB's Information Quality Bulletin for Peer Review."
By simply using their search for 10 minutes searching "average thoughts", "thoughts", "thoughts per day", "thoughts per hour", "human thought", and even worse, the only thing they had was "From dino brains to thought control--10 fascinating brain findings" which was full of fun facts more so than any serious findings that would be largely impactful.
From that, I can find that anyone who did mention this has clearly not done their work including many famous influencers online that I've seen talk about this and sadly myself included. It seemed like a simple thing to believe, but the truth is we know a lot less about the mind than we want to admit. Scientists still don't have a completed part list according to the National Science Foundation, if you trust what they say at least.
"Experts estimate that the mind thinks between 60,000 – 80,000 thoughts a day. That's an average of 2500 – 3,300 thoughts per hour. That's incredible. Other experts estimate a smaller number, of 50,000 thoughts per day, which means about 2100 thoughts per hour."
This person does an amazing job of pointing out more of these instances - https://www.exploringtheproblemspace.com/new-blog/2017/1/1/counting-thoughts-part-i
https://faithhopeandpsychology.wordpress.com/2012/03/02/80-of-thoughts-are-negative-95-are-repetitive/ - There are no sources and this is a religious website talking about negative self-talk, not neuroscience related.
https://neurocritic.blogspot.com/2017/06/what-is-thought.html - lead to a tweet about a link that leads to another random article that was completely different from a random author about training your brain for happiness.
I actually enjoyed digging this up and sharing the truth on this. I wanted to make a motivational post about changing your thought process and dove into the proverbial rabbit hole of this lie. If you enjoyed reading about this let me know because I am basically trying to be the Canadian version of Tim Pool, but not seriously. Tim is one of the hardest working journalists out there without a doubt. If you did enjoy this thought let me know and I'll be sure to do some more like this and do a video perhaps. I really enjoy uncovering lies and it will help that I'm going to get my private investigator's license too. Anyways cheers, hope you enjoyed this!
Sourcing
https://www.nsf.gov/
https://www.nsf.gov/social/policies.jsp
https://www.nsf.gov/policies/infoqual.jsp
https://www.nsf.gov/discoveries/disc_summ.jsp?cntn_id=130442