What do cryptocurrencies, psychedelics, and philanthrophy have in common...?
Well, there's probably a few answers to that.
However, one in particular has been a great source of inspiration recently...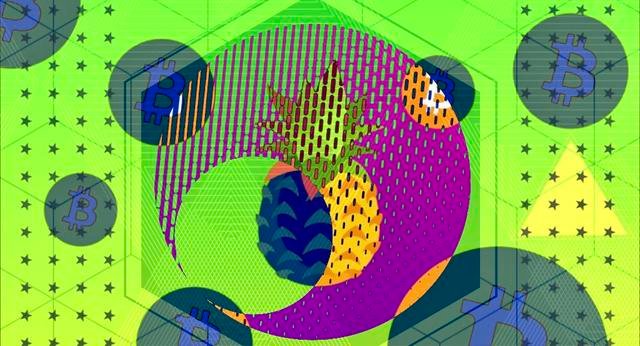 Apparently, someone made a shit-ton of money with Bitcoin, and committed to giving away $86 million worth through The Pineapple Fund.
One particular donation that got some worthy attention was $1 million given to MAPS (Multi-Disciplinary Association For Psychedelic Studies) - which even got coverage in Forbes.
As some may know, psychedelic substances first started getting significant attention in the 60's, with leading psychologist Timothy Leary being a key figure at the time, though there were many studies done finding all kinds of positive results of psychedelic use for everything from PTSD, depression, anxiety, and a wide variety of psychiatric and emotional disorders. Unfortunately, despite the profound success of many trials, the party-pooping government shut down the research and began a new inquisition to demonize and jail users of such substances. Fortunately, times have been changing, and there's been a resurgance of research getting back up again, slowly but surely.
In the U.S., MAPS has been doing some awesome work the last few years with therapeutic psychedelic treatments. And whoever the person (or people) behind The Pineapple Fund is/are, they have clearly recognized it - and showed their support.
And not only did they pledge $1 million to the organization, they also recently pledged to match the next $4 million worth of donations to [MAPS]((http://www.maps.org):
As to whether there's a time limit on that pledge and another $4 million will flow in - for a total of $8 million - we'll see. However, it's pretty damn cool to see such wealth, created in the cryptosphere, flowing into such awesome projects with great potential to impact lives for the better.
As for some of the other organizations The Pineapple Fund has given donations too, here's a snapshot: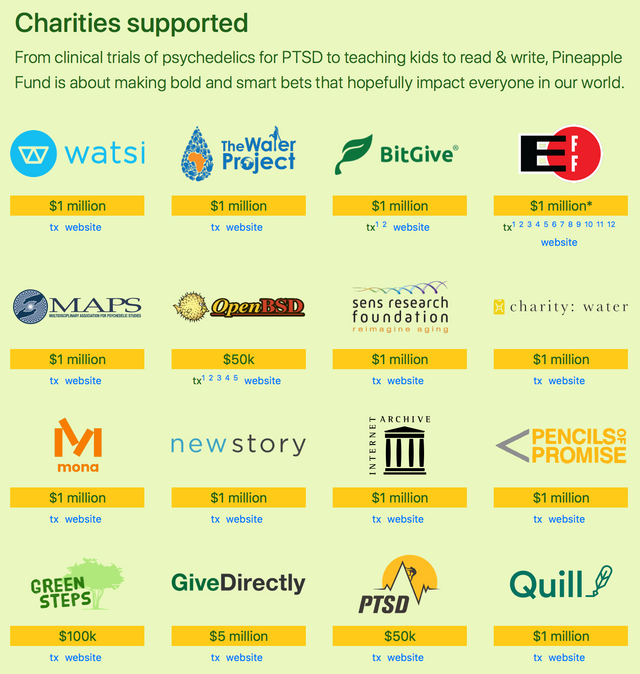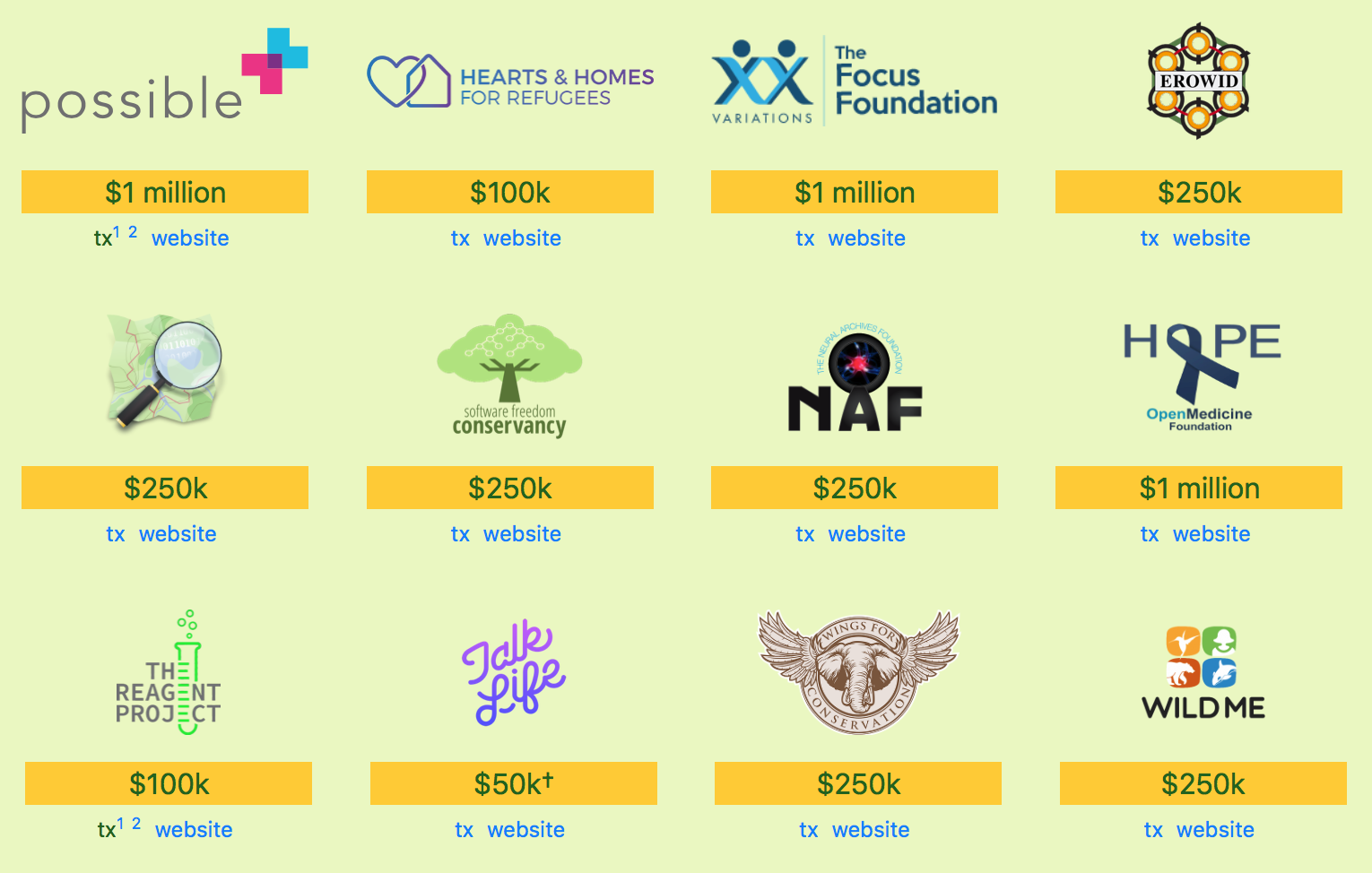 Having shown such support for [MAPS]((http://www.maps.org), one might wonder the origins of The Pineapple Fund's founder and own involvement in psychedelics.
It's no secret that many of the early Bitcoin adopers were patrons of the Silk Road, and tales have been told of several people into cryptocurrency also experimenting with DMT and other psychedelics.
Whatever the case, it may be more than just mere coincidence that such wealth created in this new digital frontier is being directed to advance mainstream research into responsible psychedelic use. As anyone who's tripped knows, both realms share some interesting overlaps - though that may be a topic for an entirely different discussion.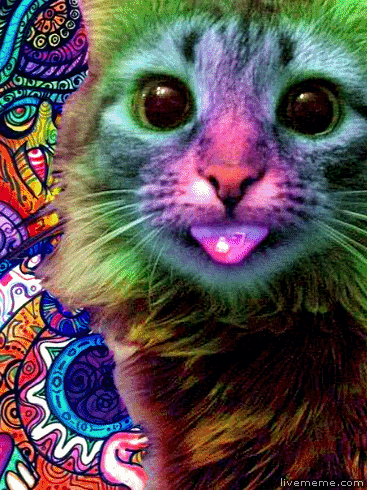 Parting food-for-thought...
Whoever's behind The Pineapple Fund is setting a wonderful inspirational example. And as they've devoted such a huge chunk of their wealth to give away towards worthy causes, we may reflect:
Were we to make hundreds of millions in crypto (or when), how might we choose to redistribute it?
Having 10 or 11 figures sitting in a bank account or digital wallet might provide a nice temporary ego boost. However, it's realistically way more than any single person needs. And, allocated to organizations already doing great work to make a difference in the world could be a far greater use of such wealth than hoarding it entirely for ourselves.
So yeah, there might be a few Lambos and world travels in private jets that happen during the come-up. Though, may The Pineapple Fund support for [MAPS]((http://www.maps.org) be an excellent reminder of the spirit of giving and inspire us to consider what legacies we'd like to contribute to with our crypto wealth...