Covid-19(84) Vaccines CAUSE BLOOD CLOTS AND DEATH While Trudeau ADMITS THEY DON'T EVEN WORK!!!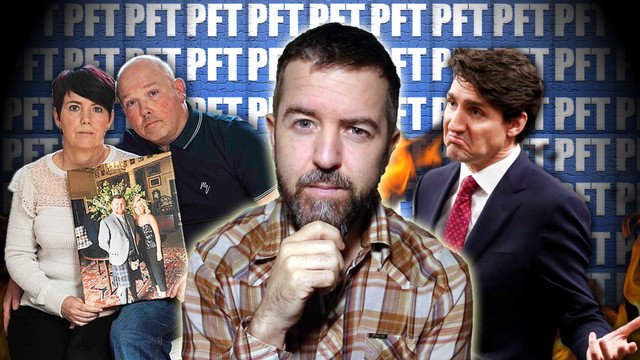 People are dying from taking the Covid-19(84) vaccines
while doctors, scientists and politicians claim there is nothing to worry about! One person has died and another is in critical condition after getting the Johnson & Johnson vaccine and a 20 year old in South Ayrshire died just 12 hours after receiving a Pfizer jab!
In this video
Dan Dicks of Press For Truth counters the dangerous propaganda that suggests that the vaccines are "safer" than the virus while explaining exactly why any rational thinking individual after doing their own research, should reject the Covid-19(84) shot lock stop and barrel.
WATCH ON ODYSEE ➜ https://odysee.com/@PressForTruth:4/Blood-Clots-And-Death:7?r=C457cfbK5297LafoLDGTsCVsJMC4Ykjx
WATCH ON BITCHUTE ➜ https://www.bitchute.com/video/0KSqRPb0MlAh/
WATCH ON FLOTE ➜ https://flote.app/post/c6c4068e-fbc0-410b-a0c0-008b8022f8f5
WATCH ON MINDS ➜ https://www.minds.com/newsfeed/1229146251728035840?referrer=pressfortruth
WATCH ON RUMBLE ➜ https://rumble.com/vfo5kj-covid-1984-vaccines-cause-blood-clots-and-death-while-trudeau-admits-they-d.html
Support independent media:
Patreon ➜ http://www.patreon.com/PressForTruth
Patreon Alternative ➜ https://pressfortruth.ca/donate
Paypal ➜ https://www.paypal.me/PressforTruth
Cryptocurrencies:
Bitcoin ➜ 13oNiHUNGn9vdfv7MT5kjwe7np9bwf5ccv
Ethereum ➜ 0xEce2AEf1F26373a00BDC7243d1201a98578CC67e
Bitcoin Cash ➜ 1MxgFpQdMujLYRTkSTw4PGDmL99s83PFKR
Dash ➜ XirLdVdyaW9rXvhKic78ruc2X39HjNhdTV
EOS ➜ 0x2BBB00605730feA136623CA366979705293DA659
Litecoin ➜ LVVaVCfNN25AuU1Ex2s4tX2Ze3iCig2kRo
ARK ➜ ALLDoYdZTSo2G79Rn9RizzAes2bLwK2VVx
Lisk ➜ 6851060122493388407L
Verge ➜ DGx3kPjZmiYpsZfEePjEpT6sStsNXS1vK2
Reddcoin ➜ RkMCsv5mtMpKaQZRuQFE5fzadse2G2DNfp
Nano ➜xrb_3rc4uthr5ahyxxzhu1riihcmudiefr4qxzpoq9tq3brbaqpxe6wn8twzb3pq
Cardano ➜ DdzFFzCqrhsrGjJqD8F8NuPvhevcDkonwv3UfGwWxveZ5QQZ9ujtjmXpGxhrSXFa3AsxK94qdi8w2pq289FLqhgQVDyuUN3zxwd4g5M9
QR Codes for all the above cryptos ➜ https://pressfortruth.ca/top-stories/donate-cryptocurrencies/