San Francisco, CA (PT) – Body camera footage from a shoot out involving a homicide suspect and multiple San Francisco police officers surfaced this week. At about 3:50 into the video below is when the shots were fired.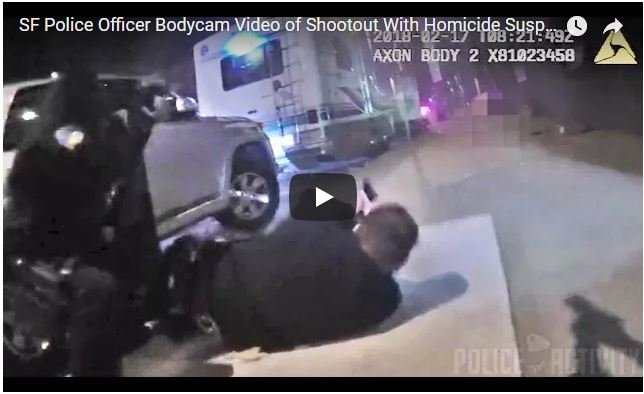 https://www.youtube.com/watch?v=_al0rp9f3Vo&feature=youtu.be
The situation was obviously tense. A few people from inside the RV surrendered, and are seen and heard being ordered to the ground by officers. There was a dog among those that surrendered, that while threatened by one officer, was not harmed. After the occupants that wanted out of the RV are detained, the suspect appears, and fires two rounds. It's at that point, one of the officers hit the deck firing, and the rest of them followed suit. In all, 65 rounds were fired down San Francisco streets.
Luckily, not a single person… Not even the suspect that initiated the shootout, was hit by a bullet. 
These officers are just increasingly more brazen. Those detained on the side of the road with them are fortunate to not have even been grazed. The officer's names have been released;
The officers identified are Glennon Griffin, Anthony Sharron, Robby Wilkom, Matthew Nazar, Gregory Buhagiar, Steven Oesterich and Christopher Cotter.
Joel Armstrong, a 31 year-old transient from the area, was reportedly arrested after surrendering from the RV.