The President of the Philippines has called Obama a son of a whore.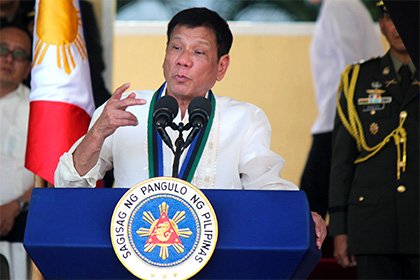 The President of the Philippines Rodrigo Duterte called his American counterpart Barack Obama a son of a bitch and advised him not to go with the lectures on human rights. Such statement the President made at a press conference on Monday, September 5, on the eve of the East Asia summit in Laos, according to 
"You have to show respect. Do not throw questions and statements. A son of a bitch, I'll curse you to the summit," he said.
August 30, CNN reported that on the sidelines of the forum, Obama and Duterte will hold a conversation, in which the U.S. leader plans to raise the issue of human rights in the Philippines. The meeting between them will be the first since Duarte won the presidency.
What the new President of the Philippines do not like human rights activists and the Catholic Church
In early August, the President of the Philippines called son of a bitch and a homosexual American Ambassador Philip Goldberg, whom he suspected of meddling in the internal Affairs of the country.
Duterte became head of state in may this year. One of his campaign promises was to conduct a violent struggle with drug addiction. He, in particular, said that will kill the traders of prohibited substances and throw their bodies into the Bay of Manila. After the election of Duterte promised the citizens medal for killing a drug dealer, and also announced the intention to restore the death penalty.
CNN notes that since the entry of the head of state office in the Philippines died nearly two thousand people, at least 700 of them were killed in police operations.
71 - year-old Duterte, who at the beginning of 2000-ies of the mayor of Davao city was nicknamed the Punisher for methods of dealing with crime. During this period, thousands of criminals were killed by law enforcement agencies and the human rights organization Human Rights Watch called it "mayor's battalion of death."