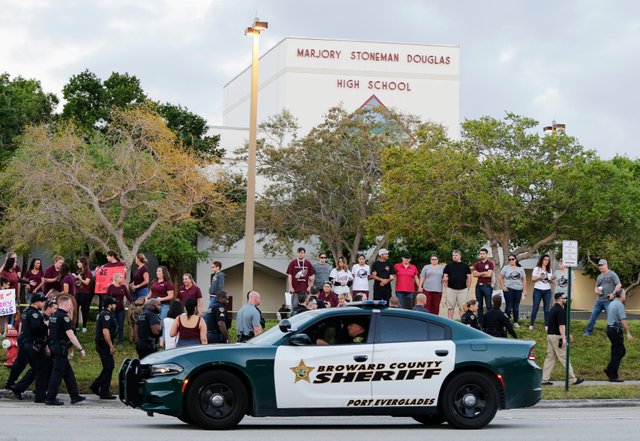 One point we've made over and over is that most Americans are terrible at appraising risks, and the media makes it worse. Certain kinds of risk are newsworthy (shootings) while other kinds of risks don't get much mention (dying in a fall), if any.
Thanks to media reports some kinds of risks seem to be much bigger than they actually are and people demand attention be paid to small risks while ignoring significantly larger risks. In spite of what you think, driving to work is more a threat than terrorism, bathtubs are more dangerous than school shooters.
David Ropeik, of Harvard, writes in the Washington Post looks at the risks of dying in a school shooting:
"The Education Department reports that roughly 50 million children attend public schools for roughly 180 days per year. Since Columbine, approximately 200 public school students have been shot to death while school was in session, including the recent slaughter at Marjory Stoneman Douglas High School in Parkland, Fla. (and a shooting in Birmingham, Ala., on Wednesday that police called accidental that left one student dead). That means the statistical likelihood of any given public school student being killed by a gun, in school, on any given day since 1999 was roughly 1 in 614,000,000. And since the 1990s, shootings at schools have been getting less common.
The chance of a child being shot and killed in a public school is extraordinarily low. Not zero — no risk is. But it's far lower than many people assume, especially in the glare of heart-wrenching news coverage after an event like Parkland. And it's far lower than almost any other mortality risk a kid faces, including traveling to and from school, catching a potentially deadly disease while in school or suffering a life-threatening injury playing interscholastic sports. "
Yes, school athletics is more dangerous than school shooters, but it's particular good for television ratings.
Ropiek emphasizes points we've tried to emphasize. These wrong assumptions can push people into making policy decisions that increase risks. For instance, "rare plane crashes scare travelers into their cars and trucks (a statistically riskier way to get around.)"
I read reports of teachers who are terrorizing children by having drills to duck and cover and how to hide from the gunmen. The number of children traumatize by gun drills vastly exceeds the number who were present during a shooting. Ropiek writes:
"Think about the psychological effects on kids from all those lessons about when to run, how to hide, directions from their parents to call home if a shooting occurs. A few children have even brought guns to school, saying they wanted to protect their classmates . What happens to children's ability to learn if they spend their time in the classroom wondering, even if only occasionally, who's going to burst in and open fire? What does the chronic stress of such worry do to their health? What do constant messages of potential danger in a place that's supposed to be safe do to their sense of security in the world? Across the population of public school children in the United States, fear of this extraordinarily rare risk is almost certainly doing far more overall harm than have the shootings themselves, horrendous as they are."