How much longer is this going to continue ?
Is this what Trump meant with "bombing the *** out of ISIS"?
Is this still the price of "freedom" ?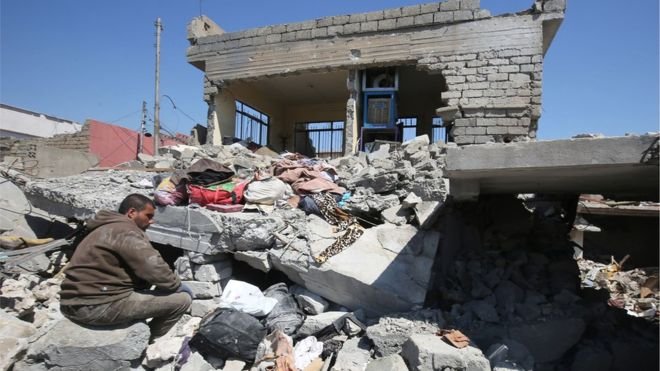 "The United States has admitted that at least 105 Iraqi civilians were killed in an air strike it carried out in Mosul in March."
"In another incident, 35 civilians were killed on Thursday in US-led coalition air strikes in an eastern Syrian town, monitors said."
The West cannot continue to do this, and expect no wrath to come back, or act shocked when another terrorist attack happens in the West.
The only way to stop terrorism dripping out of the Middle-East is to stop selling arms to Saudi Arabia- the nation that continues to arms Wahhabi and Sunni radical groups with weaponry, including ISIS.
Trump said he would stop all this nonsense in the Middle-East, but it seems like he has fully surrendered to the deep state with his latest arms sale to Saudi Arabia.
Meanwhile, the refugee influx continues. There is no end in sight.
Where it will lead to? Will Paris, Berlin and London one day too look like Damascus right now in Syria, or Mosul in Iraq; smoldering ruins? For over 20 years now, the West, including Israel, has been arming radicals and toppling relatively stable regimes.
In turn, these radicals rebel against their masters and cause destruction and extremism in the Middle-East and in the West. Once they have done their thing in the Middle-East, they join the refugee flux and settle somewhere in a nice Western city, planning their next attack. Time is ticking.