Only a few days without food or water would cause chaos.
The balance of society is not as stable as you think.
When desperation hits... animal instincts come out.
Imagine one day, for any reason, our grocery stores close and the city shuts the water off. Where does the public turn next? You think people will farm or create their own food. Fuck no. They are going to their neighbors house after they run out of food or water. Obtaining these essentials is life or death so they would put nothing past their own lives.
Humans will go back to their roots. Survival. And that means a ton of death would happen and the only thing that holds the balance together is the fact that we have available food and water at our disposal. Its certainly food does thought. How long do you think it would take for society to collapse? Let me know in the comments.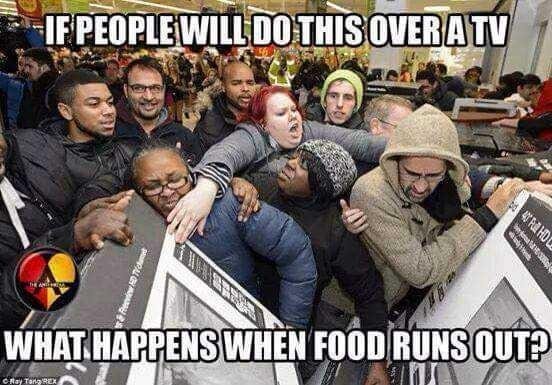 Governments fall. Societies collapse. It happens. Dont be naive
Read your history books and dont repeat history. This is certainly an issue that humans seem to have. We do not learn from mistakes made in history books.
Follow me for more @johnroomusic
Thanks for checking out my shit rant.