Fire
Hasil Telusur
Hasil Terjemahan
Indonesia
Inggris
Kebakaran besar merebak hari Rabu (30/10) pagi di California selatan, sehingga para pegawai perpustakaan Presiden Ronald Reagan dan penduduk didekatnya terpaksa mengungsi.
Pejabat pemadam kebakaran kabupaten Ventura Brian McGrath mengatakan kebakaran yang disebut Easy Fire itu dimulai tidak lama setelah jam enam pagi dan telah memusnahkan 165-hektar kawasan semak belukar dalam waktu dua jam.
Badan cuaca nasional mengatakan, kebakaran yang terjadi di Lembah Simi itu, kira-kira 64 km dari pusat kota Los Angeles, disebabkan angin Santa Ana yang sangat berbahaya dalam beberapa tahun terakhir.
Para pejabat tidak tahu berapa banyak penduduk yang diperintahkan mengungsi.
Pelajari pengucapannya
Large fires broke out Wednesday (10/30) morning in southern California, so that library staff of President Ronald Reagan and residents nearby were forced to flee.
Ventura district firefighter official Brian McGrath said the fire, called Easy Fire, began shortly after six o'clock in the morning and had destroyed 165-hectare bushland within two hours.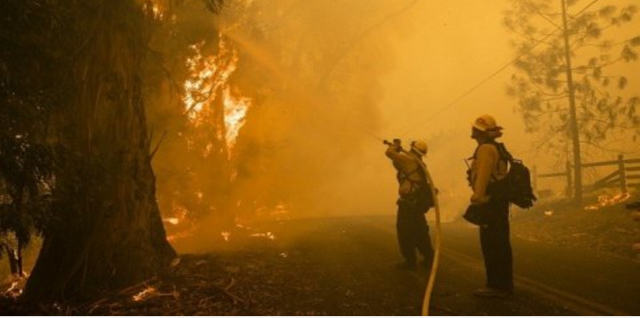 The national weather agency said the fire that occurred in the Simi Valley, about 64 km from downtown Los Angeles, was caused by Santa Ana's wind which was very dangerous in recent years.
Officials do not know how many residents were ordered to flee.