Just stop, Jim Carrey!
Jim Carrey came on the show real time with Bill Maher and it was the most politically correct thing I've ever seen. Jim Carrey didn't even say hello to the panel before he showed his new shoes. His new shoes were Nike and he gave a special shout-out to Colin Kaepernick as well and gave his full support to him. Colin Kaepernick for those of you that don't know was one of the initiators of kneeling for the national anthem amongst NFL-players.
So, before Jim Carrey's even saying hello to the panel on the show he slams his foot up on the table to show off his new Nike shoes and saluting Colin Kaepernick. Jim Carrey apparently loves Americans kneeling for the national anthem. Jim Carrey loves to see people kneel for the American flag that so many people have died for, very brave Jim Carrey! A flag that stands for life, liberty and the pursuit of happiness is apparently something that is bad and should be kneeling in front of, according to Jim Carrey.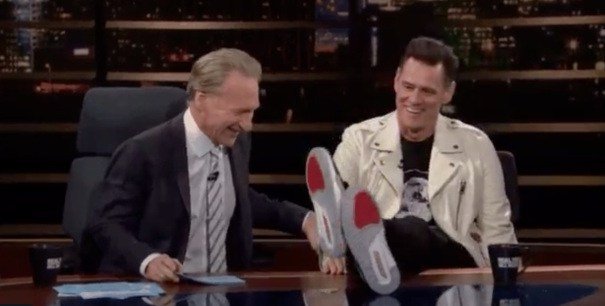 For a Canadian to come on a show of Americans with millions of people watching and preach a guy like Colin Kaepernick that kneels for the flag is actually disgusting. If an American would come on a Canadian show and encourage people to kneel for the Canadian flag, I'm sure people in the audience would protest. That's not the case in the little happy liberal wonderland of Hollywood though. The audience were clapping their hands and making loud cheering noises. Kneeling for the flag that so many people have died for is something brave and amazing in Hollywood.
After some bashing and bad impressions of president Trump, the show moves on and they start talking about socialism. Jim Carrey is saying how good free health care is and the panel is giving Alexandria Ocasio Cortez loads of compliments. Preaching socialism and on the same hand saying there's no risk with it is dangerous. Especially if it's someone like Ocasio-Cortez that is saying free health care, free college, and free housing. Promising everything to everyone will cause problems because everyone cannot have everything. That will lead to disappointment and outrage versus the political elite.
The political correctness in Hollywood is insane. You have all the wealthy and famous people saying false stuff that makes them feel good about themselves. They want to look like they care about the poor and sick while in reality making millions of dollars, living in big mansions and driving sports cars. These elite class is living as far away as possible from poor and sick people. This double standard and their life far away from society are insane and not trustworthy. Hollywood is where the richest and most successful people live their narcissistic life but say stuff on television to feel good about themselves when in reality they don't care at all.