XEMs Volume Rises For Another Month, Will Price Follow?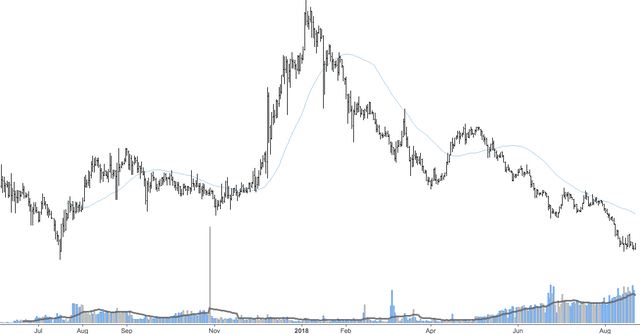 NEM (New Economy Movement) or XEM as it is traded under, the Japenese based Cryptocurrency has been steadily rising in volume since the start of 2018.
Nem supports token creation through it's Mosiac functionality, much like Ethereum it presents entrepreneurs with a easy option to create tokens for they requirements.
Volume has been steadily growing on exchange HitBTC through the whole of the past quarter, with total volume now up 30% since April.
With meet-ups happening in Europe, South Africa and Australia in the past month it seems a buzz about NEM is certainly growing.
Recap of the #BlockConscious event in #Brisbane where @NEM_Australia @NEM__NZ officially launches the #NEM Blockchain Hub. https://t.co/IoRU8u9vWK pic.twitter.com/uXYh8pHbii

— NEM (@NEMofficial) 21 August 2018
Photos from the #NEM101 meetup last August 15 in Mosselbay, #SouthAfrica with #BusinessFinder as one of the sponsors.

👉https://t.co/6TTbObZlwx pic.twitter.com/8SCHomxcMc

— NEM (@NEMofficial) 22 August 2018
Nem offers merchants with the ability to essentially be their own paypal with the Nempay solution.
There are also numerous interesting offerings for enterprises and private blockchain implementations. The NEM software written in Java and C++ itself has been around since 2015, and utilises a Proof-of-importance algorithm rather then proof-of-work meaning stake holders are rewarded instead of mining, NEM is being used by several financial institutions in Japan and internationally, as commercial blockchain Mijin
Source: XEMs Volume Rises For Another Month, Will Price Follow?