An event in the world
1099 - THE CROSS EXPEDITION: THE FIRST CRUSADE.
The First Crusade (1095–1099) was the first of a number of crusades that attempted to recapture the Holy Land, called for by Pope Urban II at the Council of Clermont in 1095. Urban called for a military expedition to aid the Byzantine Empire, which had recently lost most of Anatolia to the Seljuq Turks. The resulting military expedition of primarily Frankish nobles, known as the Princes' Crusade not only re-captured Anatolia but went on to conquer the Holy Land (the Levant), which had fallen to Islamic expansion as early as in the 7th century, and culminated in July 1099 in the re-conquest of Jerusalem and the establishment of the Kingdom of Jerusalem.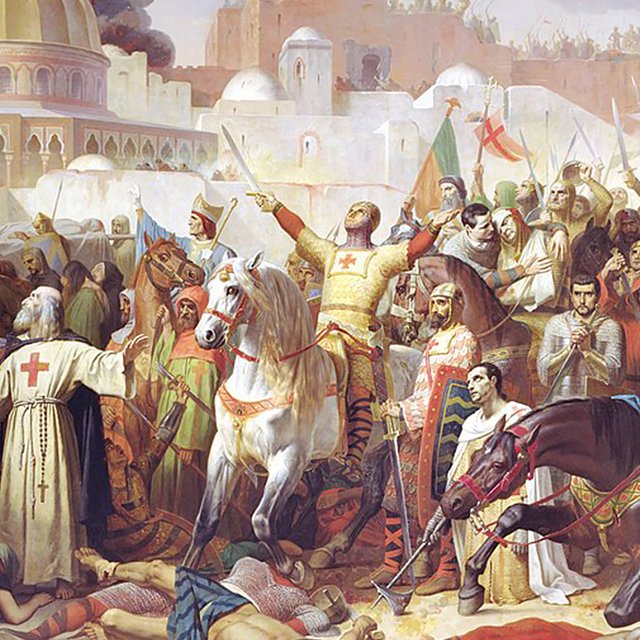 The expedition was a reaction to the appeal for military aid by Byzantine Emperor Alexios I Komnenos. Urban's convocation of the Council of Clermont was specifically dedicated to this purpose, proposing siege warfare against the recently occupied cities of Nicaea and Antioch, even though Urban's speech at Clermont in the testimony of witnesses writing after 1100 was phrased to allude to the re-conquest of Jerusalem and the Holy Land as additional goals.
The successful Princes' Crusade had been preceded by the "People's Crusade", which was a popular movement gathered by Peter the Hermit in the spring of 1096. It moved against the Turks in Anatolia, on its way attacking populations of Jews in the Rhineland, and being decisively defeated in October.
The Princes' Crusade, by contrast, was a well-organized military campaign, starting out in late summer of 1096 and arrived at Constantinople between November 1096 and April 1097. They marched into Anatolia, capturing Nicaea in June 1097 and Antioch in June 1098. The Crusaders arrived at Jerusalem in June 1099 and took the city in an assault on 7 July 1099, massacring the defenders. A brief attempt to recapture Jerusalem was repulsed by the Crusaders at the Battle of Ascalon.
During their conquests, the Crusaders established the Latin Rite crusader states of the Kingdom of Jerusalem, the County of Tripoli, the Principality of Antioch, and the County of Edessa. This was contrary to the wishes of the Eastern Rite Byzantines, who wanted the land that the Muslims took from them returned, rather than occupied by Latin Catholics. After the retaking of Jerusalem, most of the crusaders returned home. This left the crusader kingdoms vulnerable to Muslim reconquests during the Second and Third Crusades.
more here:
https://www.history.com/topics/crusades
2011: BRAZILIAN RONALDO FINISHED HIS FOOTBALL CAREER.
The best of Ronaldo:
1989 - 176 PEOPLE DIED IN THE PLANE CRASH OF DOUGLAS DC-8 IN SURINAME.