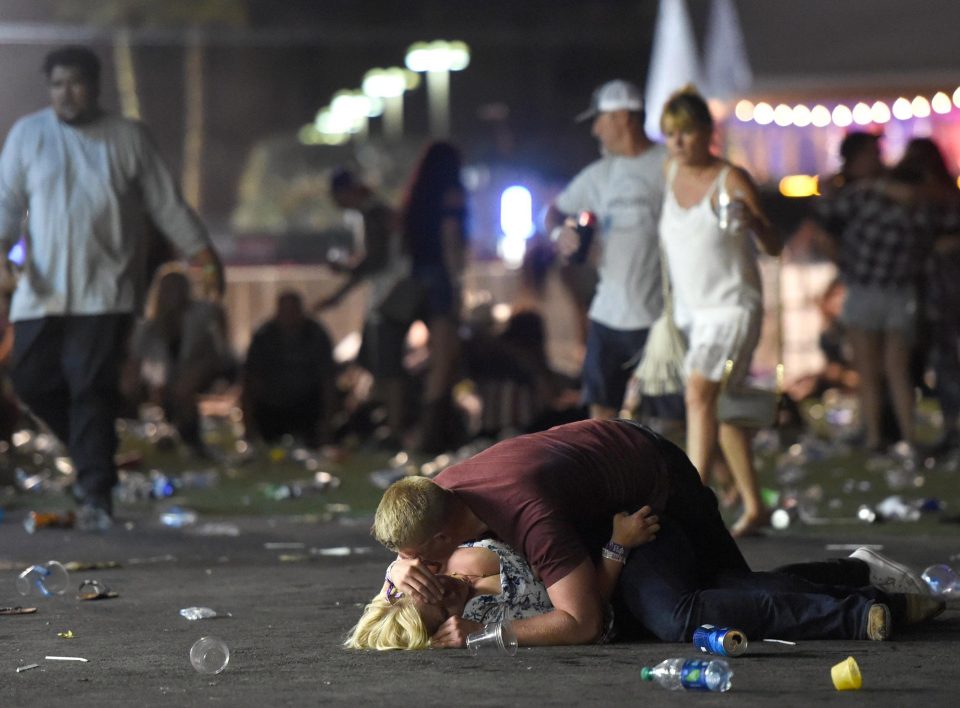 There is an expression that was used in Roman times, when investigating political murders and assasination plots when looking for the guilty ! Its " CUI BONO " which translates to " who profits or stands to gain ?
Well in the case of the recent Las Vegas Shootings, where 59 innocent people are reported to have died and hundreds seriously wounded ! 4Chan social media web site users have been as ever hard at work and slowly a very ugly picture begins to emerge ! One which is further substantiated by an anonymous commenter under the name of " John " ! It seems he came online there three weeks before this horrendous event, to warn all there to avoid large public meetings in Las Vegas !
How did "John " know ?? As clearly he did, as his warnings were not of an empty nature as we have clearly seen !
I am posting this video which breaks down very clearly the information being released now on "johns " warnings of the shootings and also of the reasons he also gives up for these shootings to happen. As apparently it was to back up a plan of a Security Scanner company OSI SYSTEMS to push this same technologies already present in all of our airports into every public space imaginable, hotels, train stations and shopping malls to name but a few examples !!
The company OSI Security Systems owned by Michael Cherttoff who was one of the people incidently, to write and promote the " Patriot Act " to the Bush Administration ! His company then went on to be chosen of course, to supply all metal detectors and body scanners to our Airports ! A deal worth Billions of Dollars to him and his investors, One of the biggest being George Soros who has put his billions into Chertoffs compnay ! Should we be surprised ?
But it gets worse, as it seems now that Chertoff had contacted Sheldon Adelson a very shady Casino and Hotel Chain owner to press for the need to install his dangerous raditation producing machines into all of his hotels in Las Vegas. Citing that the already extremely tight security imposed there was for him, not enouugh !?! Well since the attack at Mandalay Bay, Chertoff,s rather prophetic statement has been proven to be correct ! How Convenient is that ?? Indeed where is all the CCTV footage that should by rights exist of the " shooters " movements too and from his room carrying lots and lots of heavy equipment ? But perhaps the fact that the owner of the Mandalay Hotel " Murren" is a good friend of Adelson and more than likely Chertoff too. As they are all known huge benefactors to the Democratic party, handing over millions of dollars to Hillary Clinton in her last Presidential run ! I think we can expect to see nothing at all from his top dollar video security system surely installed everywhere possible in Murrens Hotel ! So I think you begin to see now what we are all seeing, or at least I hope so !
Who stood to Gain from the killing or " Qui Bono ? "
I am supplying the video below that breaks down the rather complex, yet plain to see connections between the Democratic Party and these three "moguls" of a " tolerant yet security hungry " world that aims to remove more of our rights due to this horrendous act that quite possibly they themselves organised and stood to gain from !
the following text is taken from this amazing piece of detective work composed by the collective works of 4Chan users and is put online by " Squawker.org ", well done to them for this amazing work again ! The link to the site is at the end of my post is you would like to read it yourself !
" If nothing else, the two men in question, Michael Chertoff and Sheldon Adelson are certainly powerful men with a history of shady financial and governmental dealings. If you were going to pick two people who would simply have the connections and resources to arrange an incident like the one in Vegas, you couldn't cast a better pair. Let's keep in mind though its not like these two were called out to fit the narrative only after the fact, but rather singled out weeks ahead of time, along with the target location of Vegas. "
Here is a thread I took from a comment section inside Infowars where some posters had copy pasted the mysterious "smoking gun " informations given up by "John" on all of this Evil doing by this clear collusion of rich and powerful men for their own profit and at our own loss of Life and Liberty !
Kiesermeister • an hour ago
Someone using the screen name "john" on 4chan warned of an event in vegas before the shooting happened..
Coincidence.. maybe not ??
Kiesermeister • an hour ago
Here's another 4chan from "john"
if their plan is successful state of nevada will pass a law in the future making all casinos have mandatory metal detectors and backscatter machines. soon after a federal law will be passed to put these machines in universities, high schools, federal buildings, you name it. osi systems and chertoff are the main producers of these machines. sometime around 2020 chertoff and osi will merge into a single company. after they merge the owners will sell off all their stock and make billions in profit. mr chertoff has been in contact with sheldon adelson. mr adelson will become a huge sponsor of these machines and he will be the first to put them in his casinos when the law passes. this is my last message for now. don't expect me to return anytime soon -john
Ben Franklin Kiesermeister • 36 minutes ago
Cui Bono? Who benefits from this Las Vegas tragedy?
Mike S Kiesermeister • 42 minutes ago
People ask the question "who benefits from the attack?". This certainly does add to the list of potential motives.
Kiesermeister Mike S • 41 minutes ago
People gotta look into these 4chan posts..
Obviously, this "John" fellow knew something that others didn't
Kiesermeister • an hour ago
Here's another 4chan post from "john"
"it's called the "high incident project". they want to make the american public think that places with extremely high security aren't safe. they are trying to create more regulations. you will see laws proposed within the next few years to put up more metal detectors and other security devices. media and politicians will be saying places with lots of police need even more police. i can't guarantee anything will happen tomorrow but las vegas is on their minds.
-john"
Kiesermeister • an hour ago
Here is original 4chan post from "john" I have provided this as I know a lot of folks dont like to click links.
look i feel bad for some of you on this website. so i'll let you in on a little secret. if you live in las vegas or henderson stay inside tomorrow. don't go anywhere where there are large groups of people. also if you see three blacks vans parked next to each other immediately leave the area. you're welcome -john
I am now supplying a link to this great article talked about in the video above that was written based on the information shared on 4Chan and the more than startling revelation of this " John " ! So that you too can read and understand these damning details which connect the dots and show the most likely "perpertrators " of this the most hidenous and murderous mass shooting ever in American History !!
Please leave me your thoughts and reactions to this information below in my comment section below, thanks
STEEMON4TRUTH !