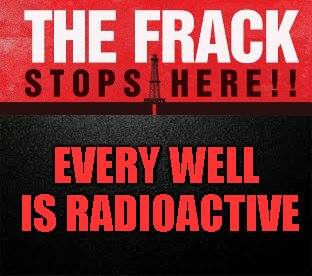 In 2013 my husband died of cancer. He had been ill for almost 30 years before he lost his fight.
Please listen to this interview conducted by The Richie Allen Show on Thursday 1st November 2018.
Listen to the 2nd hour.
Taking the issues as raised, one by one, I provide here as much background evidence as possible.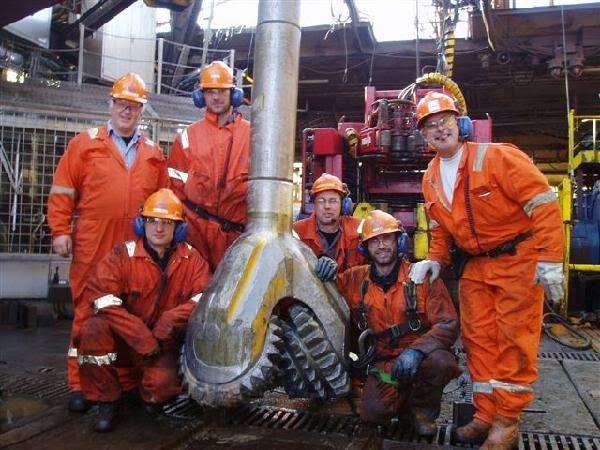 This is a typical rig crew, dressed in their supplied workwear. Little has changed since the early 70s. There is no awareness among the crew of how radioactive the oil and gas rigs are. They are not told.
Fracking was invented for the purpose of disposing of the waste from the nuclear energy business.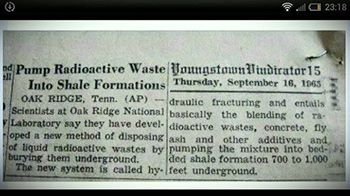 Further proof of newspaper articles during the 1960s which celebrated the invention of "fracking" for the purpose of disposing of nuclear liquid wastes:
https://www.globalresearch.ca/shock-fracking-used-to-inject-nuclear-waste-underground-for-decades/5435114?fbclid=IwAR3OUWlhEykZBB7jmFAF7LIOj9b-GX1sxaC92_H1aSvwSMYnOcnwjbo17qk
Halliburton Perforation Charges patent:
https://patents.google.com/patent/US20110000669
"After the horizontal leg of a HVHHF well is drilled, cased, and cemented, the final step before fracking is to lower in a "perf gun", which is loaded with some of the highest explosives developed, with a blast pressure on the order of 10 million PSI. These extreme pressures are necessary because the hydostatic pressure at 7,000' is already ~10k 3,500 psi. So not only this must be overcome, but also the yield pressure of steel pipe." ~ extract from:
http://williamahuston.blogspot.com/2013/03/finally-proof-of-use-depleted-uranium.html
I am grateful to Gas Vets in America for substantial information, they can be found on facebook page:
https://www.facebook.com/GasVets/
I have also gleaned a great deal from my association with the Lock the Gate organisation in Australia:
https://www.facebook.com/groups/gas.alliance/
Richie Allen, mentions in the interview the terrible effects of the use of depleted uranium tank buster weapons during the Iraq war and I have found several articles to support his statements, here is one:
https://shadowproof.com/2012/04/29/the-children-of-fallujah-the-nightmares-never-end/
But here is an article that simply blows my mind, I recommend that you make a point of reading this one even if you do not open any other:
http://www.sxolsout.org.uk/zreal1.html?fbclid=IwAR0UQ8D86DzlAyat8CMXh2ua1JtjtJ37CHSsl1mSlOTCOsfqySWi7MTZcXE
We then moved on, in our conversation to discuss the present situation at Preston New Road, Little Plumpton in Lancashire where between the 15th and 29th of October there were 30 seismic events caused by the attempts to frack the drilled well by Cuadrilla.
The public and Protectors who have mounted a camp there have been closely monitoring the British Geological Survey:
https://earthquakes.bgs.ac.uk/earthquakes/recent_uk_events.html?fbclid=IwAR02zzfGJ1G_MmRJk8iM08wIqXCpkhe5mXAmO_lnJ7sHqf7kM61z6C8AX00
Livestream from the gates of the site and lots of up-to-date information and articles can be found on our group:
https://www.facebook.com/groups/543602242428219/
Richie and I then went on to discuss the interesting location of this first frack in the UK since 2011. The very first was abandoned because the integrity of the well was compromised and by continuing to frack Cuadrilla caused two earthquakes of 1.8 and 2.4 on the Richter scale. That was at Preese Hall not very far from the nuclear substance manufacturing works, known as Springfields. This factory has recently been purchased by a Canadian company:
https://www.blackpoolgazette.co.uk/news/business/fylde-nuclear-fuel-plant-gets-new-owner-in-4-6bn-deal-1-8940744
I mentioned that the geology of the UK is highly unsuitable for fracking because of the multiple faulting. Here is a detailed collection of maps covering the entire country and clear explanations by Ian West.
http://www.southampton.ac.uk/~imw/Geology-Britain.htm
Richie then mentions that fracking does not seem to be financially viable and I counter his assumption by saying that if the wells are intended, post depletion, for the storage of radioactive nuclear waste materials then the drilling companies are actually onto a long term earner, paid for by the British government. Those wells will require regular monitoring and maintenance.
http://knowledge.wharton.upenn.edu/article/will-fracking-industry-debts-set-off-financial-tremors/
https://www.theguardian.com/environment/2018/may/12/incentive-compensation-nuclear-waste-boreholes-communities
I refer to a web site called the List of the Harmed which can be accessed here:
https://pennsylvaniaallianceforcleanwaterandair.wordpress.com/
Richie makes the obvious connection between United Nations Agendas 21 and 2030 and the way that people are being driven off the coastal land and vast areas of the world. I have written at length about those two Agendas in the past and this is the link to my latest article:
https://steemit.com/life/@francesleader/agenda-2030-no-escape
We then moved on to consider the effects of fracking on the land and water of USA and Australia. I mentioned sinkholes in Texas:
https://www.independent.co.uk/environment/fracking-oil-gas-drilling-blamed-sinkholes-threatening-swallow-texas-earthquakes-a8281281.html
And the fugitive methane bubbling up in the Condomine River in Australia:
https://www.independent.co.uk/news/world/australasia/australian-mp-sets-river-on-fire-and-then-blames-fracking-a6998221.html
The occasion I went to visit my MP, Annette Brooke, was in respect of the Infrastructure Act 2015 which concerned me greatly because it was obvious that the MPs would be agreeing to something that they could not possibly fully understand. It was a huge document and rambled over many issues. I drew her attention to Articles 40 - 45 within it and explained that leaving any substance down a well, all of which deteriorate in time, was unconscionable.
https://assets.publishing.service.gov.uk/government/uploads/system/uploads/attachment_data/file/490997/Infrastructure_Act_2015__Energy_Bill_2015-16_Keeling_Schedule_.pdf
I stated that UK imports nuclear waste and has done for a very long time. We even threatened the EU that due to their uncooperative nature we could send it back!:
https://www.theguardian.com/environment/2017/jul/19/uk-threatens-to-return-radioactive-waste-to-eu-without-nuclear-deal
So, having established that the UK is replete with radioactive materials that are in need of permanent disposal I then researched the arrangements that are being made to do that.
I came across some very interesting connections between the nuclear and fracking corporations: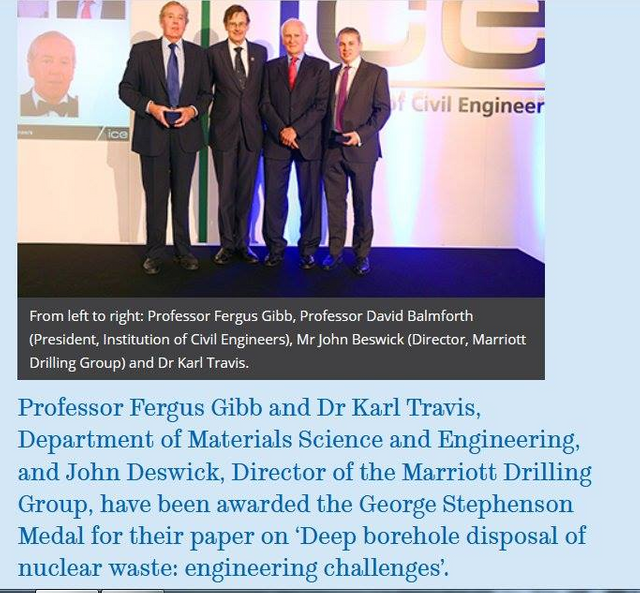 https://www.sheffield.ac.uk/news/nr/nuclear-borehole-sheffield-university-1.456716?fbclid=IwAR2iAJ9EasnpO4SwnWsYNA6sytpsUT1FHe0xOSoUQZkMl2jXRajAlP-Li2I
"6. We favour the proposal of Dr Fergus Gibb of Engineering Materials Department, University of Sheffield, which involves drilling a deep shaft, on land or offshore, 18 inch diameter through impermeable rock geology, for four kilometres below the land surface to reach a point where the heat is sufficient to melt both the land surface and the content of the containers of high-level nuclear waste, and melt the rock at the bottom end of the shaft. This rock subsequently resolidifies, totally sealing the already sealed containers. Clearly the fission products will never be retrievable, but scientific opinion within this project asserts that this extremely long-lived high-level waste would be too dangerous to retrieve in the foreseeable future (thousands of years). The Joan Pye Project is satisfied, after discussion in details with Dr Gibb by telephone, that the required drilling technology is proven." ---- quoted from:
https://publications.parliament.uk/.../584/584we64.htm
-----0-----
I then moved onto a highly disturbing development that the police are using against the Protectors who are protesting against fracking at sites all over the north of England.
Thankfully I wrote a very full account of the events that happened to Sadie Love and the ramifications of that:
https://steemit.com/news/@francesleader/politicalabduction-britain-s-shocking-secret
Find me on twitter: https://twitter.com/2013Boodicca
and on facebook: https://www.facebook.com/franceselaineleader
Please don't be shy, come and join our group. We welcome all new members because everyone deserves a voice and the best information available on fracking! We share news from every continent and all our members are genuine activists or supporters.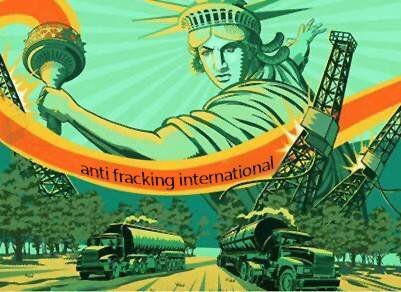 https://www.facebook.com/groups/543602242428219/