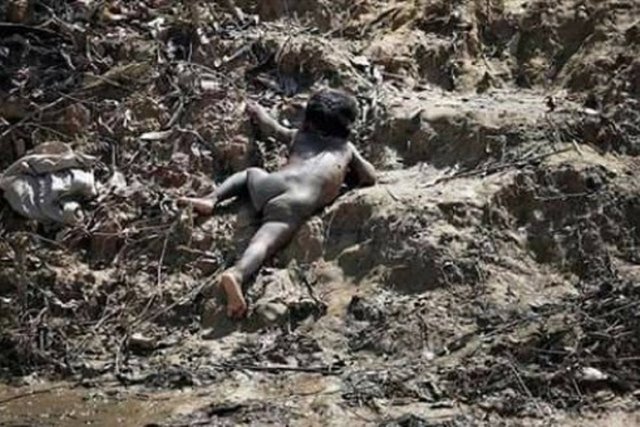 The following picture shows that a fierce militant is going on for an attack by commando style crawling.
This is a Rohingya militant, this militant child is Muslim, its name is publicly proclaimed as militant. This militant has created turmoil in Burma, so the Nobel Laureates in peace in Myanmar's peace pigeons and former Amma Aung San Suu Kyi of the world's humanity have succeeded successfully in fighting the militants. He has succeeded in ousting this kind of militant body from his country.
Although the Reuters talk is different, the child will not be more than two years old. There is no clothes on the child. The child is moving ahead with the mood of mood He is lying on the high bank of the reservoir, using two hands and two legs together in a lot of trouble. Just like the soldiers 'crawls'.
The child is Rohingya My relatives fled from Myanmar to save lives. Now the child is trying to reach the high level to save lives. If you reach the beach, maybe the meal.
The color of the small nude baby has become uniform with the muddy color. Trying to catch something upside down with the left hand. The left leg knees pushing the small body through mass. Sunlight lighting on a small nude back and hip.
A shirt is lying beside me. There is no way to know if the shirt does not belong to him. But the border is a bit taller. There should be more trouble to reach the Rohingya children
The picture taken by Reuters from a mountain ridge in Cox's Bazar.