Big News.....WAVES signs deal with Deloitte!
Waves is a platform tailored towards issuing new tokens fast and easily. The Waves team has been trying to attract developers to hold their ICOs on their platform. Their interface is clean and easy to use. They also feature a marketplace tab in their wallet to exchange the various tokens that launch on the Waves platform. I wrote a post 3 weeks ago about how Waves is targeting small teams of developers and not really focusing on Enterprises, that just changed with the Deloitte announcement.
Who is Deliotte?
For those that haven't heard of Deloitte, it's one of the companies referred to as the "Big 4". The Big 4 is comprised of Deloitte, Pricewaterhouse Coopers, Ernst & Young, and KPMG. These 4 firms are the leaders in the consulting industry. Deloitte representatives have historically provided consultation services in accounting, audit, finance, risk management, and tax.
Waves and Deloitte Partnership
With this deal, Deloitte will now add blockchain and ICO services to it's portfolio. Waves now gets Enterprise exposure that it didn't previously have. ICOs have been huge lately, with Ether and Bitcoin dominating as the coins used to invest. Waves has had some small ICOs on it's platform, with the largest being MobileGo (raised about $50 million in Ether and Waves).
In addition to that, one of our objectives is to develop the legal mechanisms for regulating ICO projects. Curently no such mechanisms exist in the market. This will help the companies to safeguard themselves from project risks and challenges after they complete the initial offering of tokens.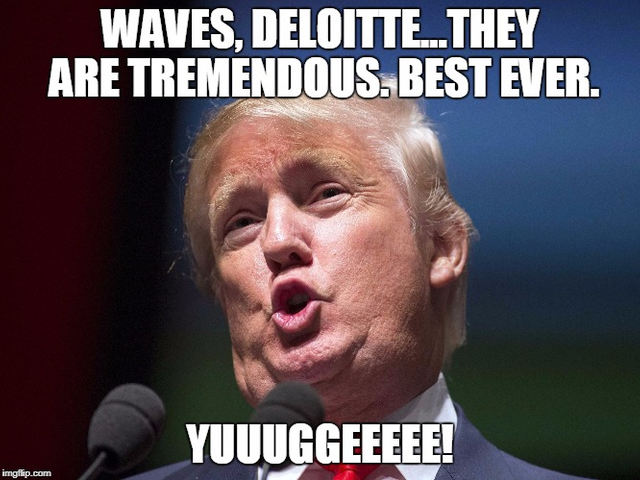 This is YUUGGEEE
The Waves hype had started to fizzle. Prices had spiked to about 250k satoshi, before gradually falling down to 140k satoshi this past week. Volume had also fallen off the cliff. Last week I analyzed daily trading volume of top 100 market cap coins on my
post about Veritaseum
. Waves was ranked around 80th in volume. That's bad...really bad. And so many competitors have popped up in the ICO platform field to take advantage of the ICO hype.
It's easy to see why Waves was being overlooked. This announcement brings Waves back into mix. Their team has now proven that they can develop a good product AND they can form strategic partnerships. Waves has also been running contests to win money towards ICO launch for developers. If that's not enough, Waves provides a nice chunk of change as a return just for holding Waves in their wallet. See my post on my personal results from leasing and holding Waves coins in the wallet.
How do the charts look?
If you have been following my posts, you know I don't just jump in without looking at both fundamentals and the charts.

We can see the triangle pattern, and we were nearing the end of it. I wouldn't have been surprised if we broke to the downside. But, after this news broke, you can see we have broken out from the triangle to the upside.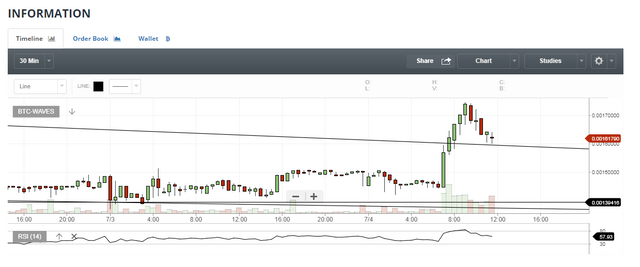 This is a zoomed in view, take a look at the resistance level that we just broke through. The RSI spiked and is calming down a little. It'll be really important we stay above that resistance line. If we fall through, then the chart gods are not with Waves. It doesn't mean you don't invest...but I like to wait until both the charts gods and fundamentals give me a green light.
If you do invest in Waves, don't dump all your money into it. Invest in increments. It's very hard to time bottoms and tops perfectly, but if you buy/sell in increments you will reduce your risk.
Link to the Waves blog if you want to read more about the announcement: https://blog.wavesplatform.com/deloitte-cis-and-waves-platform-to-shape-the-future-of-blockchain-674e17c3b067