North  Korea's military is "examining the operational plan" to strike areas  around the US territory of Guam with medium-to-long-range strategic  ballistic missiles, state-run news agency KCNA said early Wednesday  local time.
Specifically,  the statement mentioned a potential strike on Andersen Air Force Base  designed "to send a serious warning signal to the US." 
The  base is one of two on the Pacific island, which are the closest bases  on US soil to North Korea, and represent westernmost tip of the  country's military might.
The North Korea comments were published after US President Donald Trump  warned Pyongyang that if it continued to threaten the US, it would "face fire and fury like the world has never seen." 
However, the statement was dated Tuesday, suggesting the text was written before Trump's latest spray. 
Guam's governor, Eddie Baza Calvo,  released a video address Wednesday, reassuring the island's residents  that there was no escalated threat. 
"I want to reassure the people of Guam that currently there is no threat to our island or the Marianas," he said.
 He added that there was no change in the threat level resulting from North Korea.
"I  also want to remind national media that Guam is American soil and we  have 200,000 Americans in Guam and the Marianas. We are not just a  military installation."
Guam's Homeland Security Advisor George  Charfauros told CNN that despite Guam's strategic importance and the  North Korean threats to strike it, he remains confident of the island's  defenses. 
"They've slowly  developed their capabilities but we stand in high confidence with the US  (Defense Department's) ability to not only defend Guam and the  surrounding areas but also the continental US... There are several  layers of ballistic missile defense."
One of these systems, he said, is THAAD,  the Terminal High Altitude Area Defense system, which is designed to  shoot down short, medium and intermediate ballistic missiles.
"Two years ago a permanent deployment of that missile system was placed on Guam," he said. 
He  added that the US "routinely uses" Aegis-equipped warships around the  island chain of the Marianas, of which Guam is the largest. 
The US Department of Defense reiterated its capability to counter North Korean aggression.
"We  always maintain a high state of readiness and have the capabilities to  counter any threat, to include those from North Korea," spokesman Johnny  Michael told CNN.
Source: CNN http://edition.cnn.com/2017/08/08/politics/north-korea-considering-guam-strike-trump/index.html
![northkoreanmissiles_032417getty.jpg](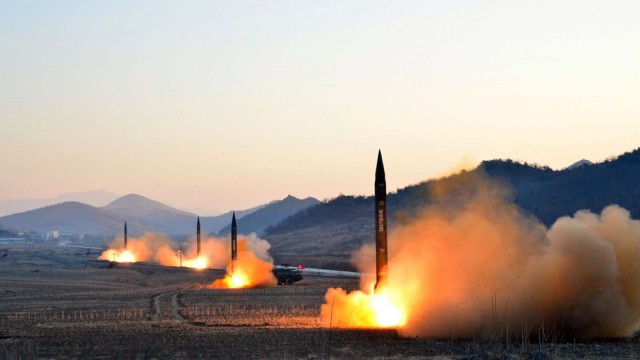 )