Yesterday evening one of the most interesting art auctions of all time happened at a Sotheby house, in London. A famous painting by Briston-born artist Banksy (famous for his grafittis, but not only), just self-destructed shortly after the final price of the auction, a bit over 1 million pounds, was established. The painting literally started to go down through a shredder hidden in the frame. Still unclear how that happened, and some speculate that Banksy was in the room and activated the shredded with a remote control.
Shortly after this, Banksy posted this on his Instagram account:
---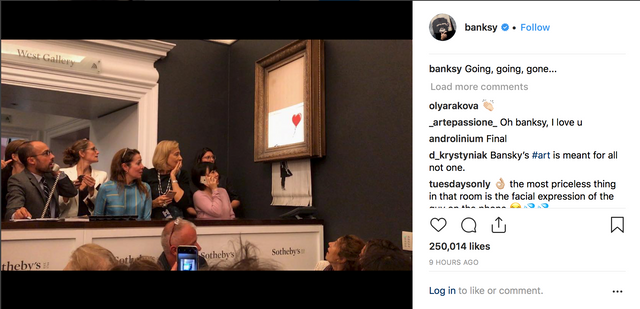 ---
A Sotheby representative declared that they are still in talks with the buyer and no specific action have been yet taken.
The most hilarious comment I've seen about this story on all social media is this one:
It's unclear now if the shredding of the picture increases or decreases the value of the art object.
---
I'm a serial entrepreneur, blogger and ultrarunner. You can find me mainly on my blog at Dragos Roua where I write about productivity, business, relationships and running. Here on Steemit you may stay updated by following me @dragosroua.


---
Wanna know when you're getting paid?
I know the feeling. That's why I created steem.supply, an easy to use and accurate tool for calculating your Steemit rewards
It's free to use, but if you think this is a useful addition, I'd appreciate your witness vote.
Thank you!
Psst: new to Steemit? Start Here