| | |
| --- | --- |
| | "The professor's Facebook likes include convicted cop killer Mumia Abu Jamal, former U.S. Communist Party leader Angela Davis and Beautiful Me(s): Finding our Revolutionary Selves in Black Cuba." (Eric Owens) |
Abraham Miller's examination of the cesspools our universities have become is a must read:
But practitioners of virtue and moral certainty never have enough time or opportunity to disseminate their propaganda. Those who sought to convince the progeny of the racist, sexist, and homophobic society of the evil of their prior political and cultural socialization—not to mention their white privilege—seized upon the residence halls to further indoctrinate students.
This lead to compulsory sensitivity sessions that would have made the creators of the Soviet-style workmen's circles jump with joy. Instead of being made to confess one's mechanistic thinking, as was necessary in the workmen's circle, it now became necessary to confess one's white privilege or other aspects of oppressive and privileged behavior.
In other words, the Left wasn't getting the results they wanted in the classrooms of America, so they assaulted the dorms, too. Lest you think this process of Marxist indoctrination begins at the college campus, Todd Starnes reports of an "art project" within New York's Shenendehowa Central School District that encouraged Shen High School students to denigrate President Trump. (No, it doesn't start there, either - elementary schools are not immune to Marxist brainwashing.)
Bernard Goldberg echos a similar theme:
"As for the grownups on campus: Some of them are just as radical as their illiberal students, and too many others tolerate liberal intolerance because they're afraid to speak up, fearing a backlash. They are the real cowards of academia."
Two stories out of DePaul University, both underscoring the university's continuing assault upon the First Amendment while the administration pimps their "support" for free speech.
Meanwhile, back at the ranch, New York high school kids are encouraged to "express themselves":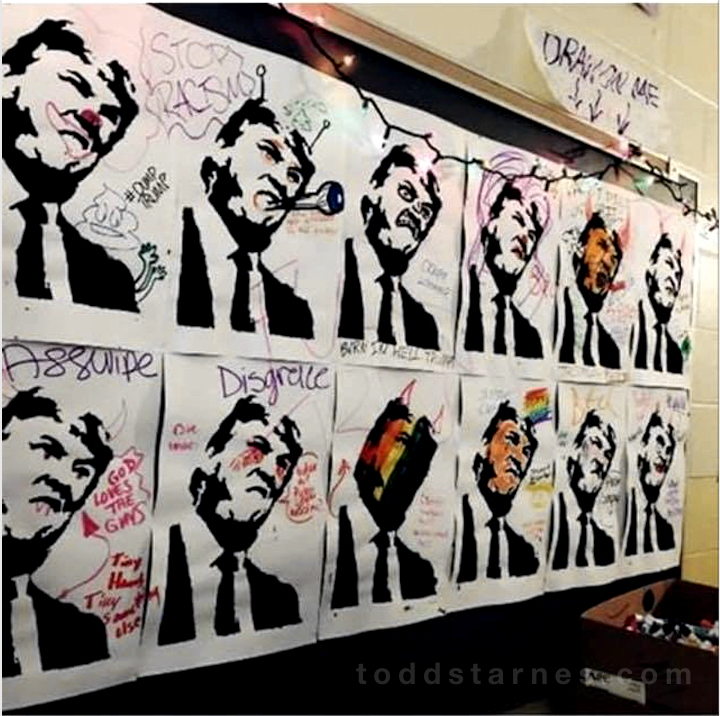 Todd Starnes has the story...

"Among limits on free speech listed in the free speech guidelines are the needs for a respectful learning environment, civil discourse, amplifying marginalized voices, social justice, university business, and an unlisted 'variety of circumstances,'" he explained. "In light of that, I don't think any student should feel safe under these guidelines. If anything, the guidelines flat-out tell you the university thinks lots of things are more important than your speech rights."

"The administration's frequent boastings about how much the university values open discussion is entirely at odds with its suppression of conservative speakers and ideas. We wholeheartedly reject the notion that the university is worried about large protests at our proposed Shapiro event and believe that the administration is using the guise of ensuring safety to cover up its ongoing crusade against DePaul conservatives."


"Respected" only after mandatory indoctrination, that is.

"We can see here at Harvard how our inattentiveness to the power and appeal of conservative voices left much of our community astonished, blindsided by the outcome of last fall's election," she said. "We need to hear those hateful ideas so our society is fully equipped to oppose and defeat them."

Get it? One of the reasons liberals should listen to conservative voices is because they're hateful and need to be vanquished -- by warm and welcoming liberal ideas.

All of this intolerance has been building toward the war against freedom of speech. Within the last year, we have witnessed several notable demonstrations of the Left's refusal to tolerate the existence of differing opinions. Such refusal is a rejection of the constitutional structure of our politics, a refusal to play by the rules to which we all agreed. These examples of "principled" moral stands rest on the claim that the other side's opinions are simply beyond the pale.

The assault on free speech has become so commonplace in U.S. universities that CNN's Fareed Zakaria felt compelled to speak openly about the obvious: conservatives have been shut out of the marketplace of ideas on American campuses. Of course, it is not just conservative speakers that are shut down on many campuses; it is also conservative ideas in the classroom, or any ideas with which the Left disagrees.

Rodriguez is the author of two books including "Suspended Apocalypse: White Supremacy, Genocide, and the Filipino Condition."

The professor's Facebook likes include convicted cop killer Mumia Abu Jamal, former U.S. Communist Party leader Angela Davis and Beautiful Me(s): Finding our Revolutionary Selves in Black Cuba.

"There are some pretty ugly things on those pictures," Marnie Messitt told me. "It's all about hate speech and division and indoctrination. There's no place for that in the school."

She said people are getting sick and tired of public schools disparaging the president.
Background Reading
Ken McVay OBC
@dragon40, Certified Curmudgeon

If you found this article of value, please consider re-steeming.