Mangaluru: Security concerns - Dr Kalladka Prabhakar Bhat shifted to Bengaluru
Daijiworld Media Network – Mangaluru (RJP)
Mangaluru, Jan 13: RSS ideologue Dr Kalladka Prabhakar has been shifted to Bengaluru from his residence in Kalladka near Bantwal due to security concerns.
The information about a conspiracy having been hatched to eliminate three Hindu leaders from the region including Dr Kalladka Prabhakar Bhat had spread last week. Since then these three leaders had taken abundant precautions relating to their safety, it is learnt. Other leaders are Jagadish Shenava and Sharan Pumpwell.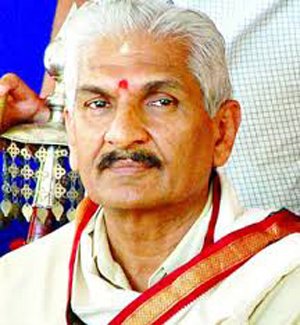 The police took Dr Bhat to Bengaluru and provided the security, it is gathered. A top official from Bengaluru had directed a senior police officer in Mangaluru to lead Dr Bhat to Bengaluru. Dr Bhat was asked to get ready immediately. Then he traveled to Bengaluru by flight, it is said.
It was claimed that four unidentified miscreants had left Kerala some weeks back and entered Dakshina Kannada district with the intention of creating unrest in the area and also to eliminate three Hindu leaders.
Security has been also provided around the residence of Dr Bhat at Kalladka. Previously he had a gunman as security.
https://www.daijiworld.com/news/newsDisplay.aspx?newsID=552971