Videos of Massive Crowds in Breakaway Republics in Former Ukraine and Crimea Prove Western Media Lied about the War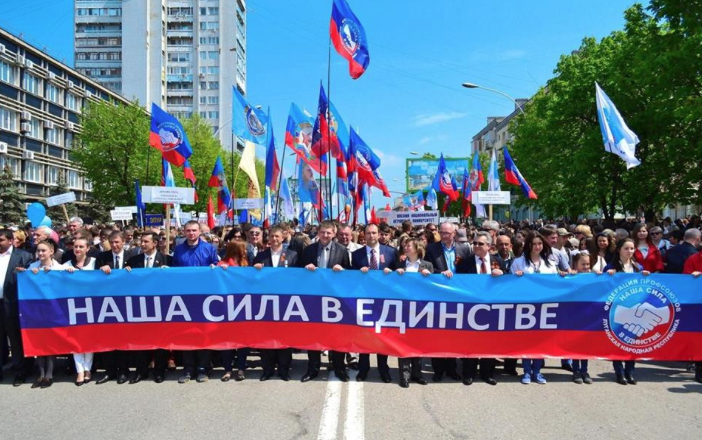 This "best of" compilation of huge crowd videos clearly shows that the people of the breakaway regions chose their own path of independence away from the Kiev regime that came violently to power in the February 2014 US and EU backed illegal coup.
You will not see these massive crowd events reported in western media which repeatedly lied about the war and the local support from the 4 million strong ethnic Russian Ukrainian population in Donbass who have been relentlessly bombed by the Kiev regimes fascist battalions (which still continues to this very day).
Parade of Youth in Lugansk in 2015 -
One year anniversary of Dontesk Peoples Republic -
Crimean's celebrate Russia and sing the Russian National Anthem in 2015 -
(360 degrees) Christmas Tree Opens in Donetsk, Donetsk People's Republic 🎄
Drone footage of thousands-strong May Day march in Lugansk in 2016
Massive student festival in Lugansk 2016-
Huge lines at Donetsk polling station during 2nd referendum on separation in November 2014 -
Rally for Independence in March 2014 directly after coup - Massive crowd chants "Russia, Russia"
Videographer walks the entire long referendum line in November 2014 -
The following link leads to a post where I personally placed 9 videos of the 2014 referendum lines proving that voter turnout was massive. The link now shows that You Tube has removed all 9 videos from 9 separate accounts.
https://www.democraticunderground.com/10024944357
Screen shot of removed videos I had uploaded at the above Democratic Underground link in 2014 during the time of the referendums in Donbass -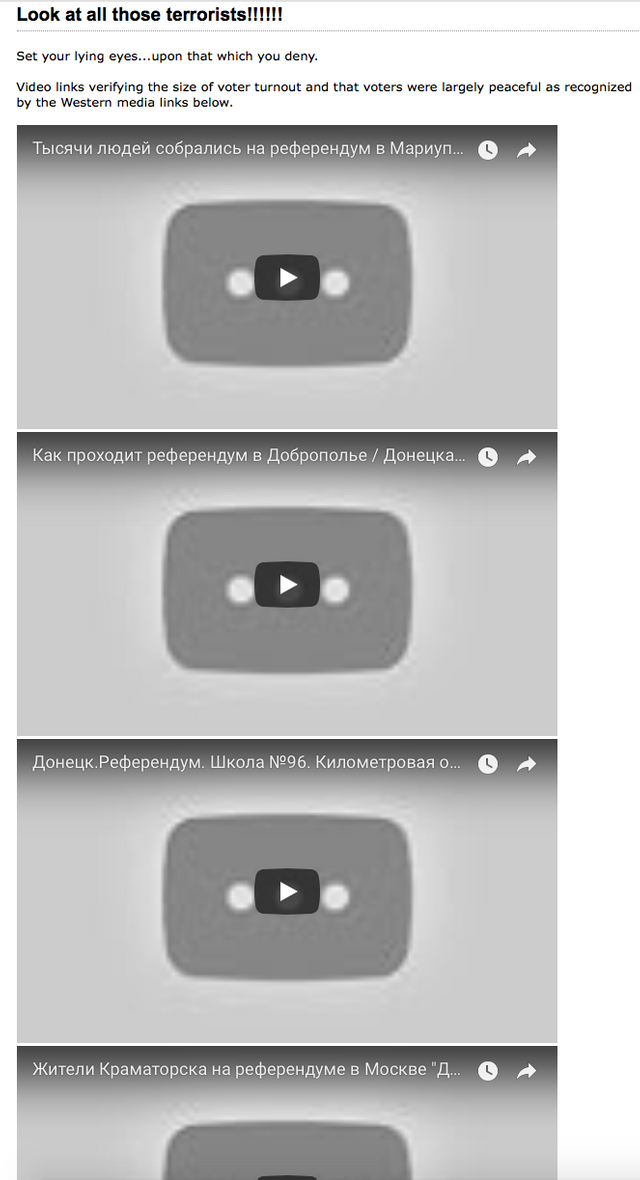 I was stalked, harassed and banned from Democratic Underground for revealing the above information about the war -
Additional evidence related to the Ukraine war is at my Clarity of Signal Wordpress site -
https://clarityofsignal.com/2017/01/28/videos-of-massive-crowds-in-breakaway-republics-in-former-ukraine-and-crimea-prove-western-media-lied-about-the-war/
For daily accurate 1st person video reports and information, I also highly recommend following the daily war reports from Donbass of American investigative reporter Patrick Lancaster who also maintains a Steemit blog:
https://steemit.com/riseup/@freebornangel/news-from-the-ukrainian-frontlines
Patrick is the only American reporter actually reporting from the breakaway republics and has been consistently doing such for the past 4 years without fail, unlike the mainstream American media which sent relatively few reporters to Donbass, and currently doesn't have any reporters assigned there and providing accurate real time information from the region.