Terrorists Get Free Pass While Censorship Runs Amok - White Helmets Exposed Gets ShadowBanned By Twitter Admins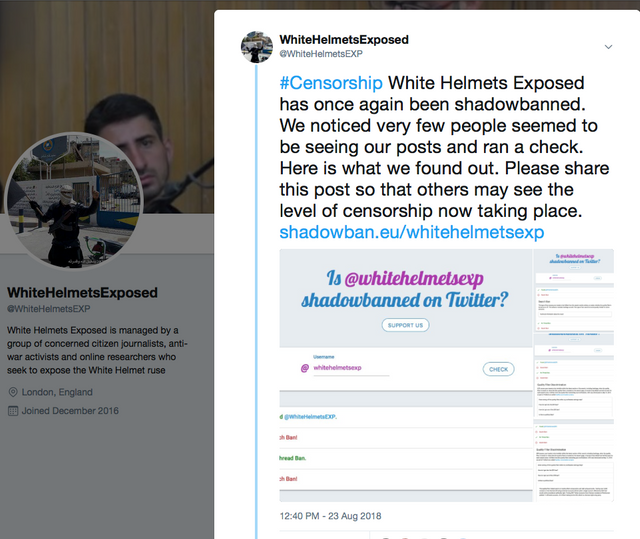 Link to post - https://twitter.com/WhiteHelmetsEXP/status/1032714292162908161
Images from link: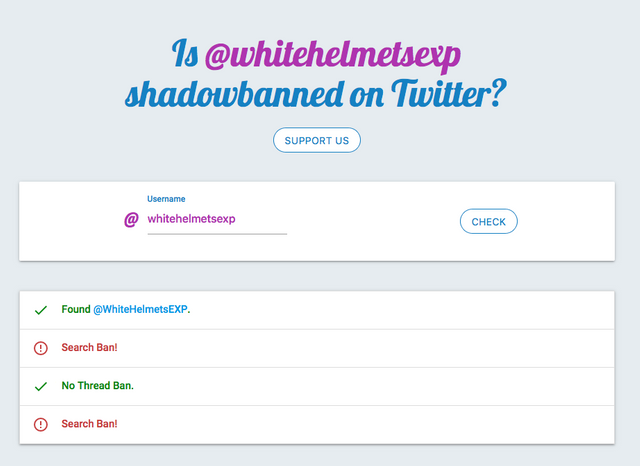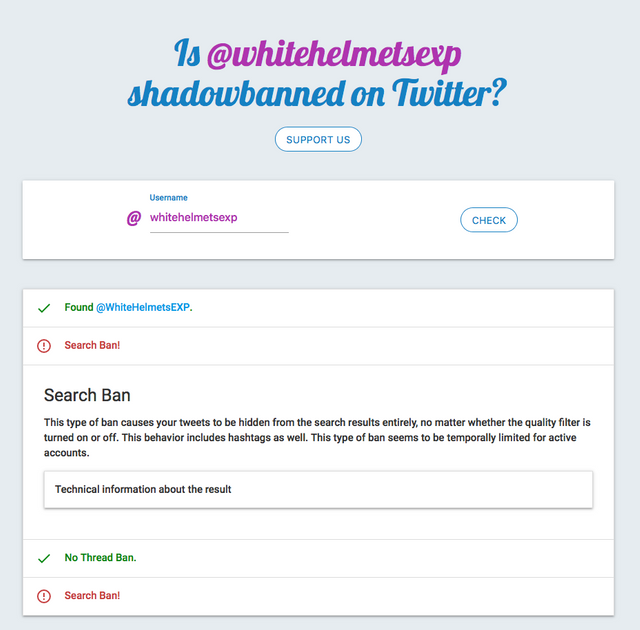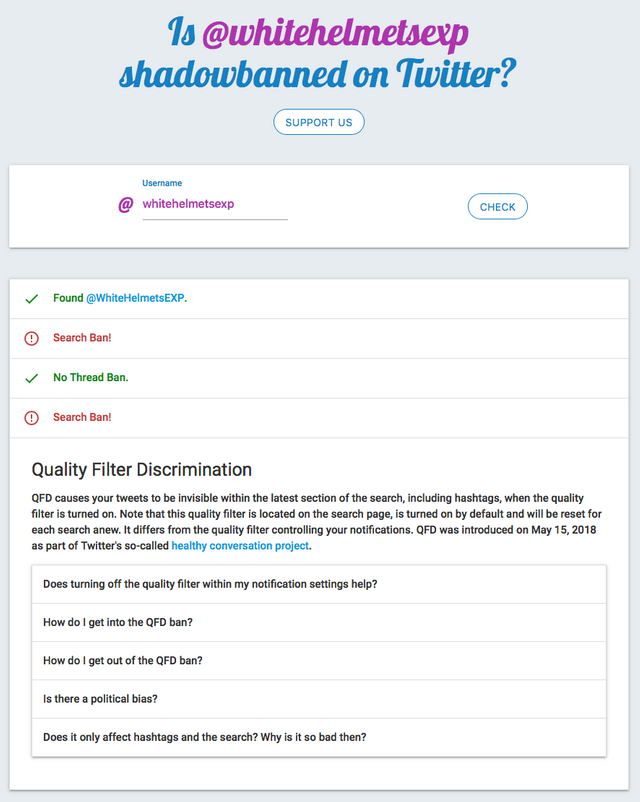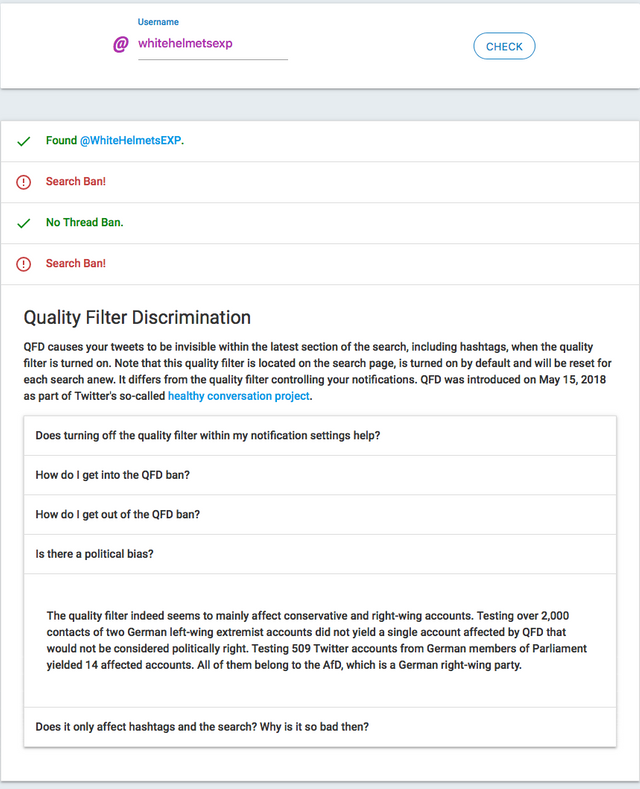 2nd Tweet from White Helmets Exposed reveal more info on the shadow banning techniques and their application: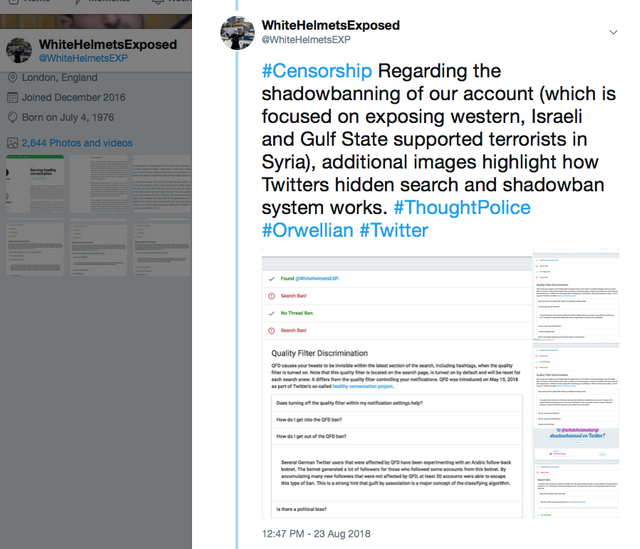 Images from Tweet: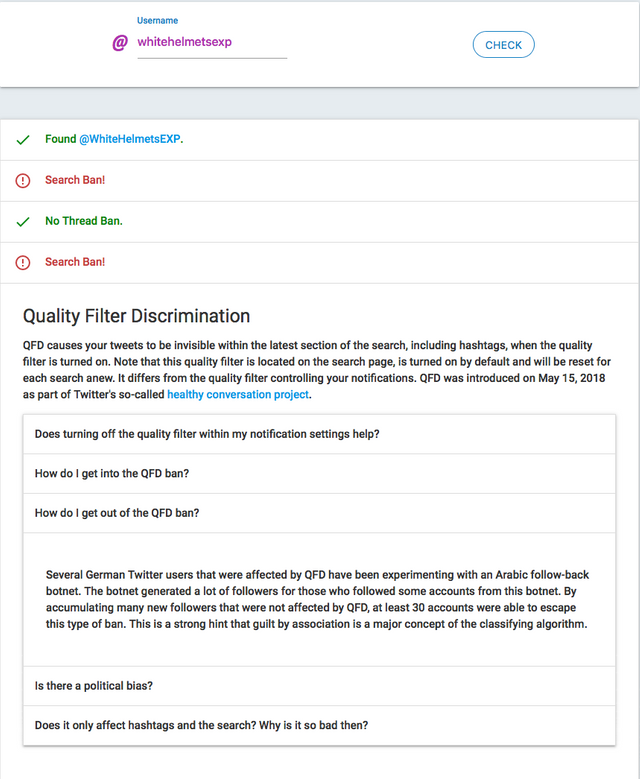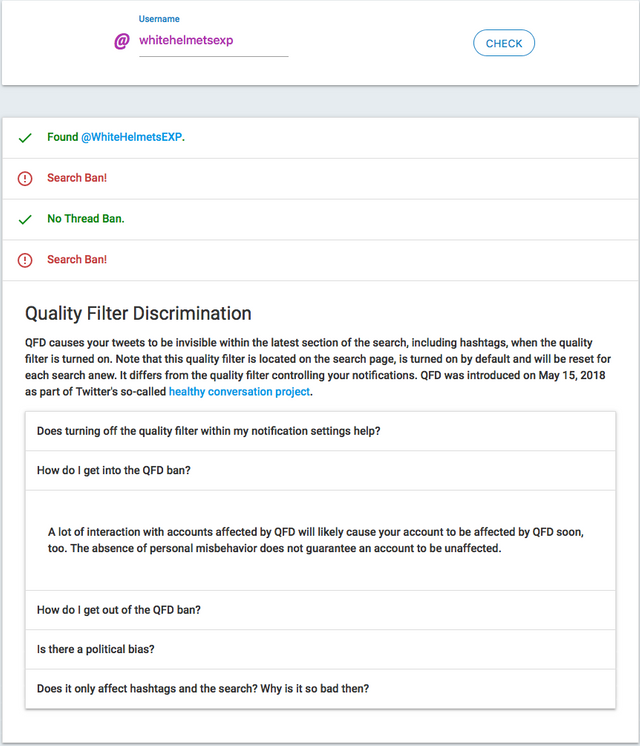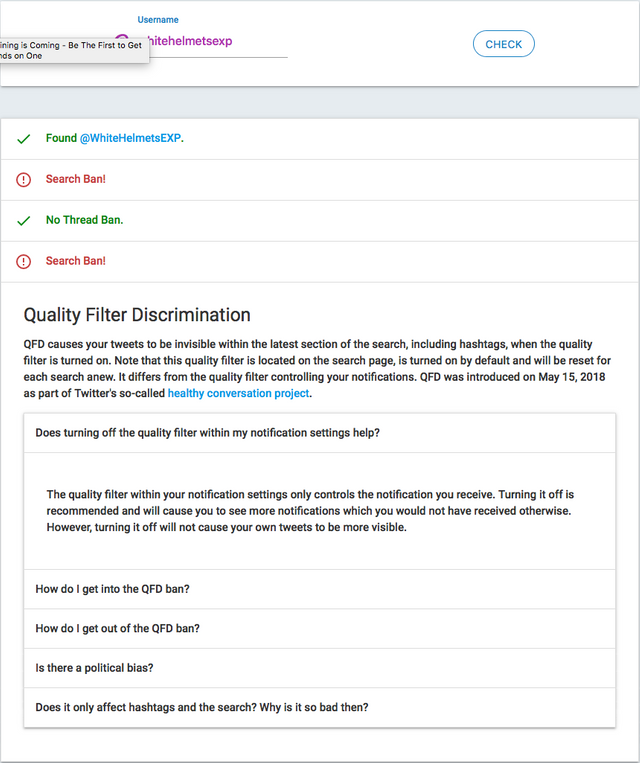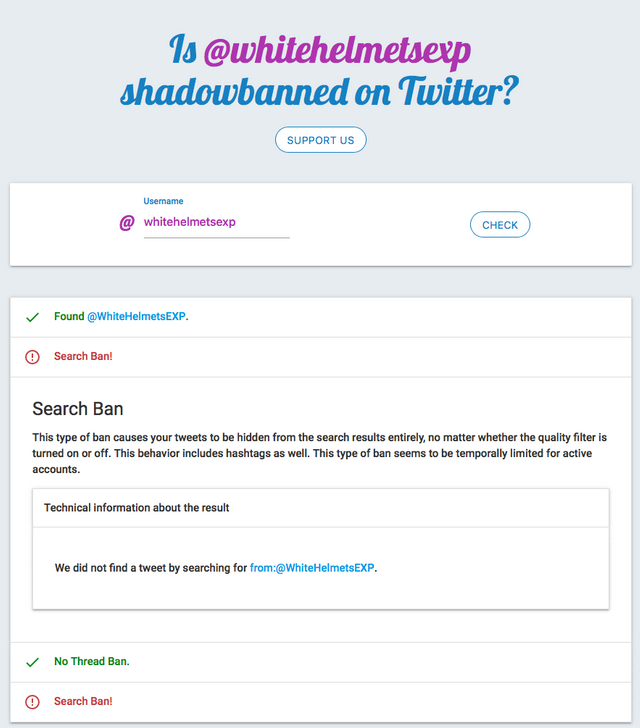 3rd Tweet reveals that Twitter admins believe that White Helmets being exposed as terrorists is an "unhealthy" conversation to have and partake of.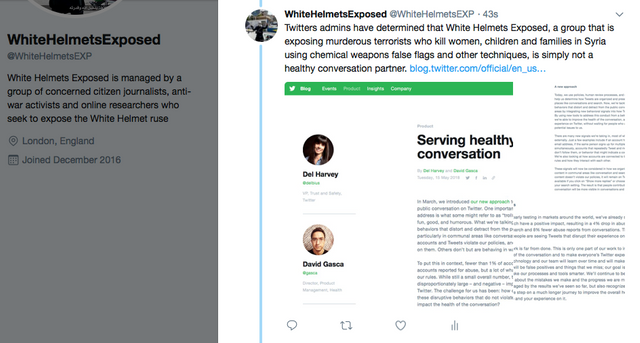 Images from Tweet: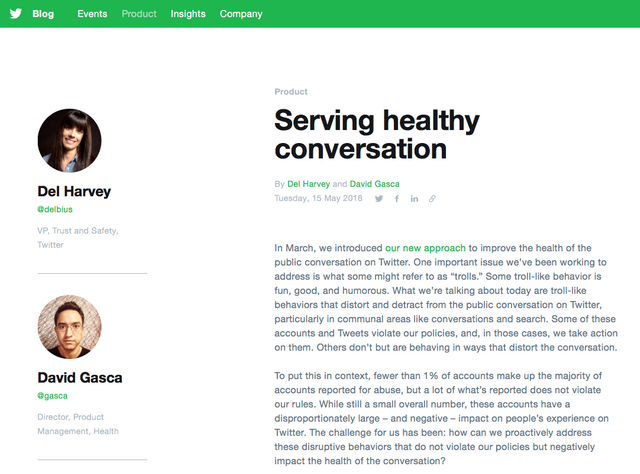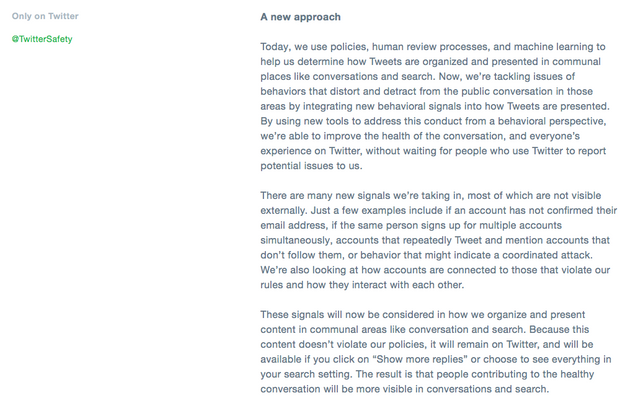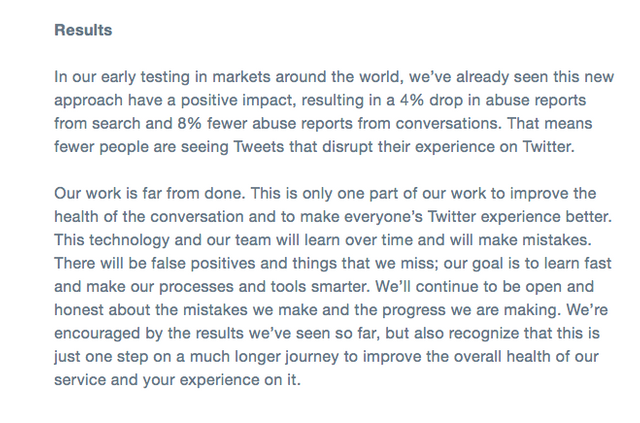 Link to Twitter admin healthy conversations page and descriptions.
https://blog.twitter.com/official/en_us/topics/product/2018/Serving_Healthy_Conversation.html
Alas, one has to wonder why Twitters admins find it unhealthy to expose terrorists that chop off peoples heads and conduct false flag attacks on innocent civilians. Does this have to do with protecting and covering up those who would be aiding and financing the terrorists?
Now Playing on DTube and Bitchute: Newly Released Video Reveals White Helmets and al-Qaeda Working Directly Together in Jisr Shoughour- Idlib Syria in 2015 (N.S.F.W.)
https://steemit.com/news/@clarityofsignal/now-playing-on-dtube-and-bitchute-newly-released-video-reveals-white-helmets-and-al-qaeda-working-directly-together-in-jisr
Massive White Helmets Photo Cache Proves Hollywood Gave Oscar to Terrorist Group
https://clarityofsignal.com/2017/02/27/massive-white-helmets-photo-cache-proves-hollywood-gave-oscar-to-terrorist-group/
Direct Terrorist Collusion: Over One Dozen Videos Capture White Helmets Working Side-By-Side With Terrorist Groups in Syria
https://clarityofsignal.com/2017/05/08/direct-jihadist-collusion-over-one-dozen-videos-capture-white-helmets-working-side-by-side-with-terrorist-groups/
White Helmets Funded By US, UK, EU and Qatar governments
https://21stcenturywire.com/2016/10/10/white-helmets-funded-by-us-uk-eu-and-qatari-governments/
SYRIA: AVAAZ, PURPOSE & THE ART OF SELLING HATE FOR EMPIRE
http://www.wrongkindofgreen.org/2014/09/17/syria-avaaz-purpose-the-art-of-selling-hate-for-empire/
Huge Cache of White Helmets Exposed Links All In One Massive Volume For Sharing and Red Pilling - Over 400 Images in 22 Files
https://steemit.com/news/@clarityofsignal/huge-cache-of-white-helmets-exposed-links-all-in-one-massive-volume-for-sharing-and-red-pilling-over-400-images-in-22-files
Thus, one can easily see that truth revealers are being censored and meanwhile, the White Helmets (terrorists/jihadists posing as rescuers) are free to post anything they like at Twitter and all their accounts are up and running (as shown here):
1st account -
Link: https://twitter.com/scdaleppo
Current image from link: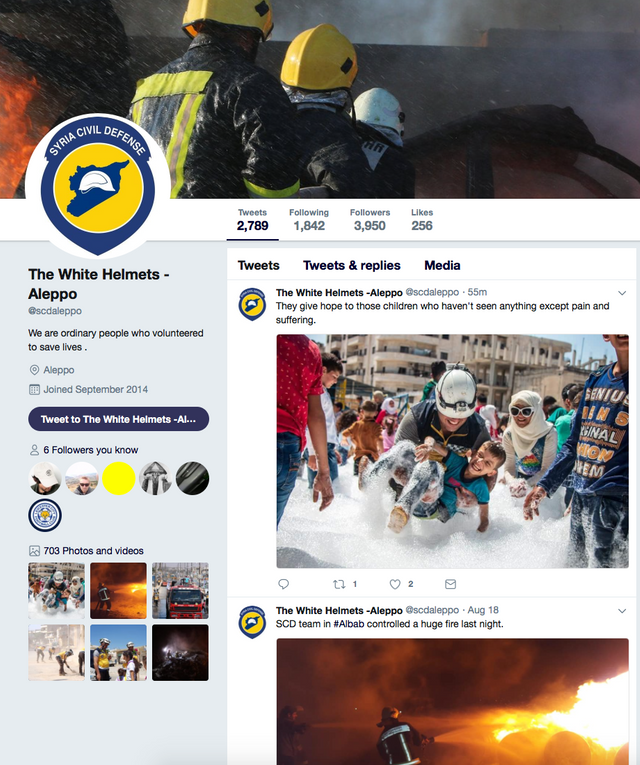 2nd account -
Link : https://twitter.com/SCDrifdimashq
Image from link -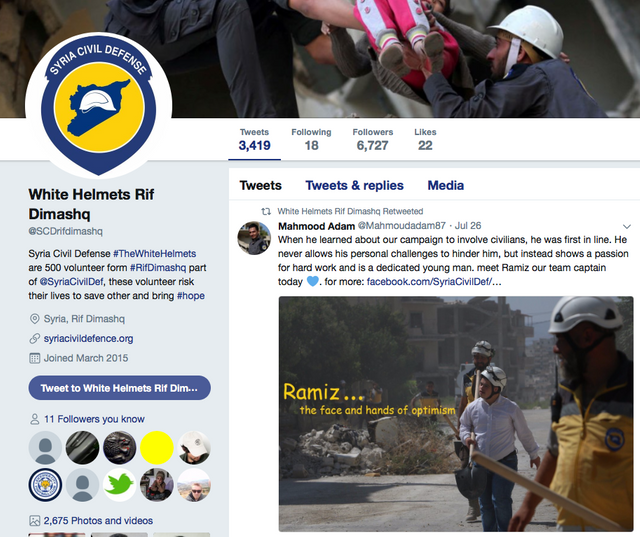 3rd account -
Link:
https://twitter.com/majdkhalaf1993/status/1032705767936335872
Image from link: