"PropOrNot" Disgustingly Mocks The Death of Robert Parry of Consortium News After Revealing Article is Published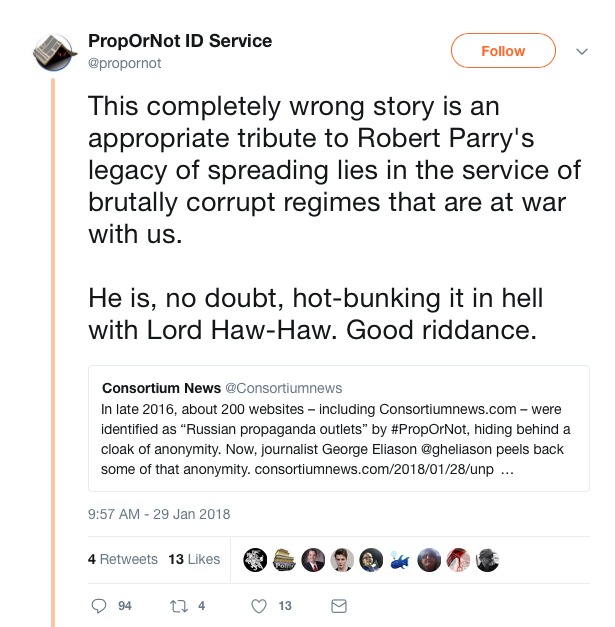 On December 28th, 2018, just days after the death of reporter Robert Parry, Consortium News published a highly revealing expose' on the dubious website PropOrNot and its shadowy previously undisclosed staff. That explosive story fully exposes the elusive group that worked with the Washington Post and CIA to label over 200 US alternative media sites as "Pro-Russian" sites in November 2016, and has now led to the personnel behind the PropOrNot Twitter page openly mocking the death of Robert Parry, one of the most professional reporters in the history of the United States.
The highly revealing Consortium News article by George Eliason is here:
Unpacking the Shadowy Outfit Behind 2017's Biggest Fake News Story
January 28, 2018
https://consortiumnews.com/2018/01/28/unpacking-the-shadowy-outfit-behind-2017s-biggest-fake-news-story/
Excerpt:
In late 2016, about 200 websites – including Consortiumnews.com – were identified as "Russian propaganda outlets" by the dubious website PropOrNot, hiding behind a cloak of anonymity. Now, journalist George Eliason peels back some of that anonymity in this article originally posted at Washington's Blog.
Editor's note: In November 2016, Consortiumnews.com was listed with about 200 other websites at the shadowy "PropOrNot" website, which was claiming to serve as a watchdog against undue "Russian influence" in the United States. The PropOrNot blacklist was elevated by the Washington Post as a credible source, despite the fact that the neo-McCarthyites who compiled the list hid behind a cloak of anonymity. As an article at Consortiumnews explained at the time, the Post granted PropOrNot anonymity "to smear journalists who don't march in lockstep with official pronouncements from the State Department or some other impeccable fount of never-to-be-questioned truth."
Now, George Eliason, an American journalist living in Ukraine, has published an article at Washington's Blog – one of the other 200 blacklisted websites – examining the cast of characters who may be behind the PropOrNot endeavor. As explained in a disclaimer at the original article at Washington's Blog: "A leading cybersecurity expert has publicly said that Mr. Eliason's research as presented in this article does not violate the law. Washington's Blog does not express an opinion about whether or not the claims set forth in this article are accurate or not. Make up your own mind."
More at link.....
In the Twitter screenshot below Consortium News posts about their article exposing PropOrNot.....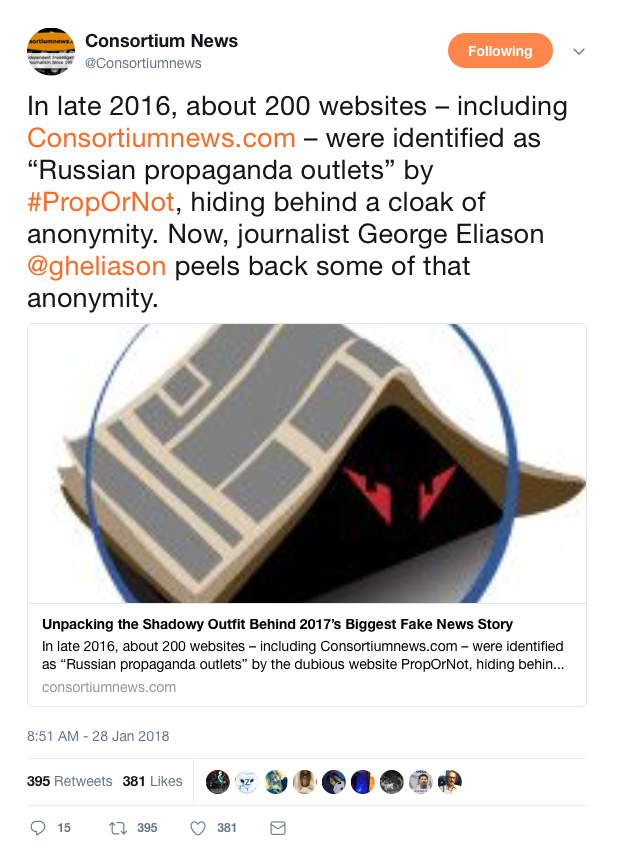 Below we see the backlash and grave dancing of the PropOrNot personnel.
From this point out I will post screenshots of the Twitter posts so people can judge for themselves the manner of professional standards of the Washington Post affiliated group PropOrNot.
Link to PropOrNot Twitter thread the screenshots are derived from:
https://twitter.com/propornot/status/958036414834270208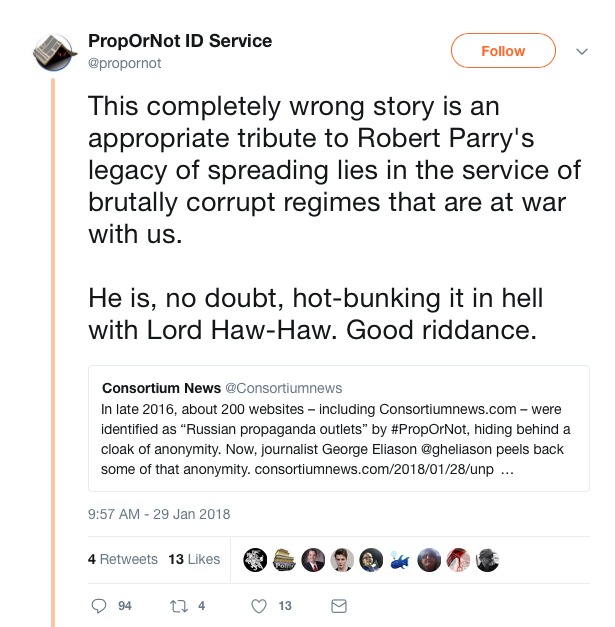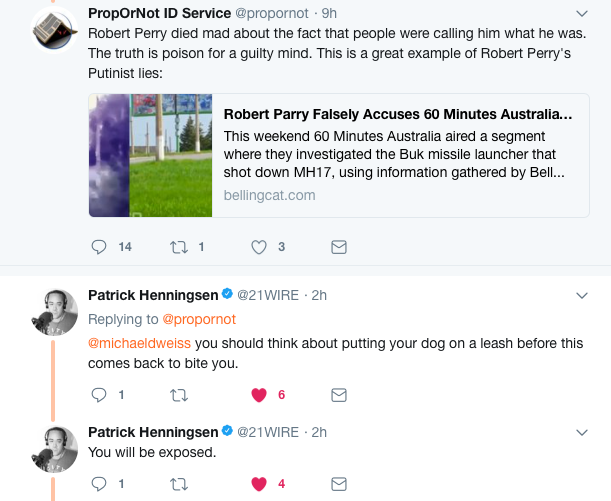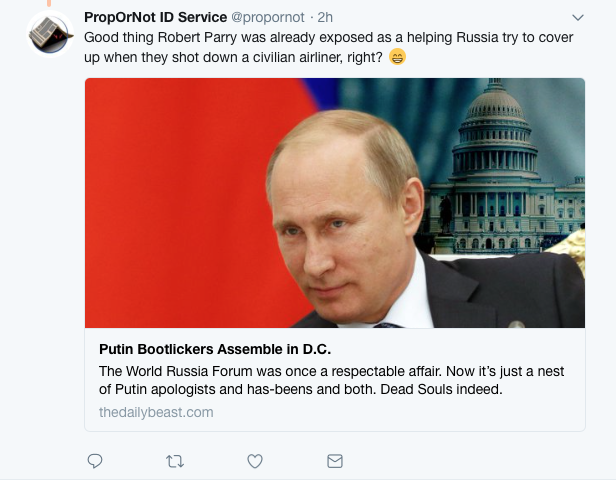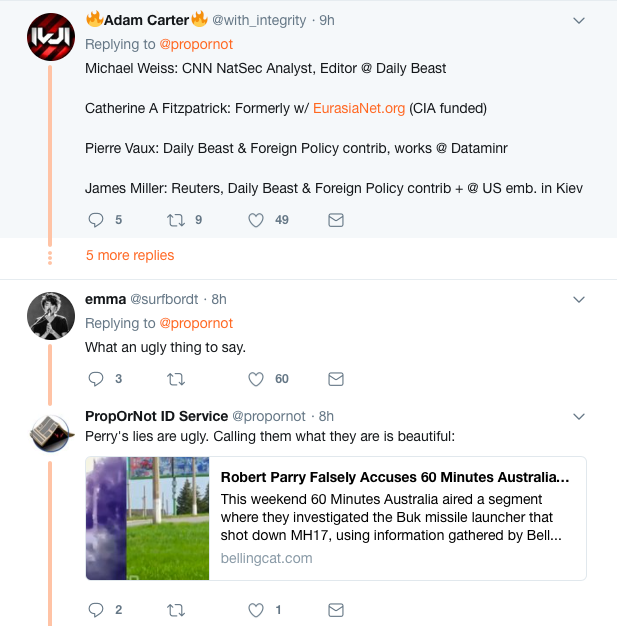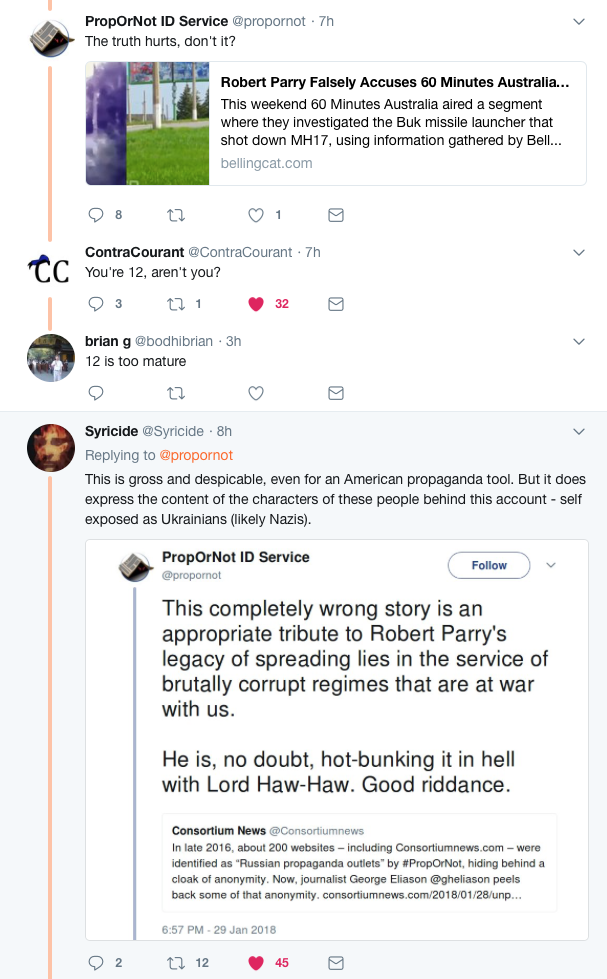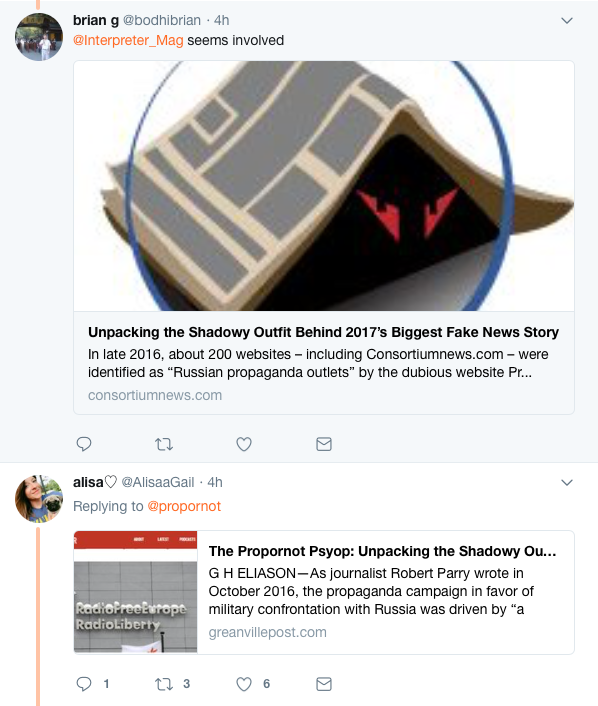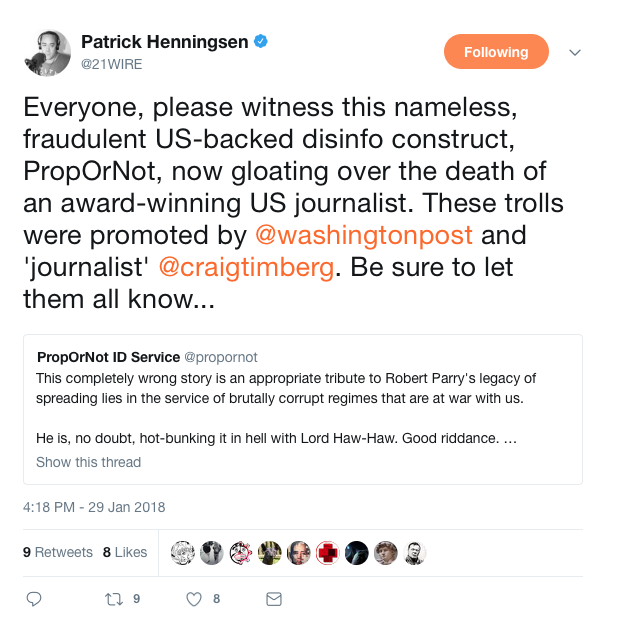 Norman Solomon of Fair and ExposeFacts.org pays tribute tonight to Robert Parry in The Nation
Remembering Investigative Journalist Robert Parry
https://www.thenation.com/article/remembering-investigative-journalist-robert-parry/
Excerpt:
After Robert Parry died on January 27, I asked another great investigative journalist, Seymour Hersh, for some words. "I ran into Bob more than three decades ago when he was the first to warn of the Iran/Contra affair, to little avail," Hersh replied. "He was widely seen over the next years as a critic of the mainstream media in America. That was not so. He was a critic of lousy reporting, be it in Pravda or The New York Times. He wanted every journalist, everywhere, to do the research and the interviewing that it takes to get beyond the accepted headline."
More at link.....
At least now people can see PropOrNot for what they really are. They are disgraceful human beings, and by their own sick-minded actions, have proven that their 'reporting' on the American alternative media is not to be trusted, nor taken seriously. The Washington Post should disassociate themselves from this group and issue an immediate apology to Consortium News and the family of Robert Parry, and Michael Weiss of the Daily Beast should be held to account for his complicity in these unprofessional and disgusting actions.
---
Disobedient Media also has more that coincides with this story and the false framing of the American alternative media by the CIA and Washington Neocon think tanks:
Meet The Cabal That Are Framing Domestic American Activism As "Russian Influence" and "Fake News"
https://disobedientmedia.com/2018/01/meet-the-cabal-that-are-framing-domestic-american-activism-as-russian-influence-and-fake-news/
Caveat: Any cryptocurrency generated from this post will be sent on to Nat Parry, George Eliason and Consortium News.