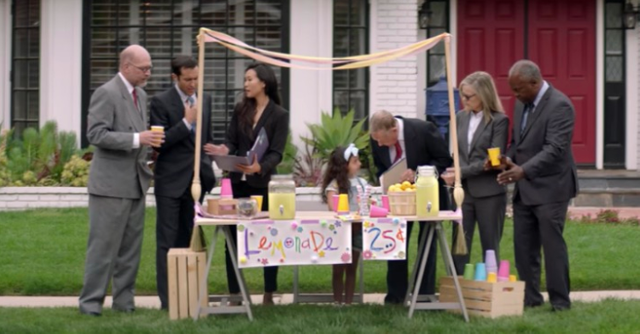 This article is a Steemit exclusive!
In a show of marketing brilliance, the Country Time lemonade company launched a campaign this week to help children who have had their lemonade stands shut down by local governments and police.
Though lemonade stands have long been a popular way for kids to engage in entrepreneurship, in recent years city governments around the country have started to crack down, sending cops to inform them they require permits or licenses.
According to a Thursday tweet from Country Time:
"Kids across the country are getting busted for operating lemonade stands without a permit. We're taking the lead to #SaveLemonadeStands by paying for kids' fines + permits this year. For every RT this gets we'll donate $1 (up to $500,000) to help kids next year + beyond."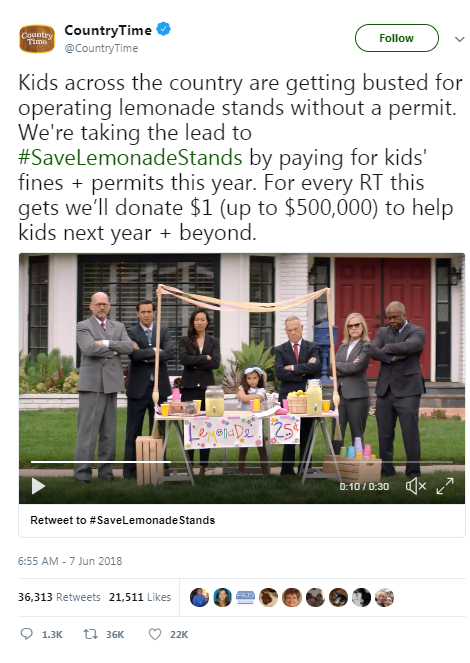 The company has launched a website where children can apply to be reimbursed for fines and fees they incur while operating lemonade stands.
Over Memorial Day weekend, vendors in Denver, called the police on three young brothers nearby who were operating a lemonade stand to raise money for a child's advocacy organization. In 2015, two sisters in Texas had their stand, which they set up to save money for a Father's Day present, shut down because they did not have a $150 permit. Further, they were in violation of the state's regulations on sales of refrigerated beverages. Eventually, they beat the system by offering their drinks for free and taking donations.
Red tape and regulations surrounding business permits and public health are present around the country. As CNBC noted in 2015:
"A 7 year old in Oregon folded her stand in 2010 because of concerns from a county health official about public safety and sanitation. In order to comply with the local health codes she would have had to purchase a $120 temporary restaurant license.
"The fee for this type permit varies by state and town. In New York, a one-year permit costs $70, but businesses must also pay $114 for a food protection course and another $25 if they're selling frozen desserts.
"In Mississippi, however, food permits costs are associated with risk factors. The higher the likelihood that a food-borne illness, the higher the fee. The lowest risk level costs $30 annually, while the highest will run you $200."
Though Country Time's plan to pay for permits and licenses may help children carry out their entrepreneurial dreams, the funds won't do much to fight the increasingly excessive regulations, fines, and fees limiting innocent, voluntary exchange between consenting individuals.
---
My Links:
Steemit: https://steemit.com/@careywedler
Patreon: https://www.patreon.com/CareyWedler
Anti-Media: http://theantimedia.com/author/careyw1/
Youtube: https://www.youtube.com/channel/UCs84giQmEVI8NXXg78Fvk2g
Instagram: https://www.instagram.com/careywedler
Facebook: https://www.facebook.com/CareyWedler/
Twitter: https://twitter.com/careywedler