~~"NOT NEW DEFENCE BUT THE BOLD OF THE OLD."~~
UK Column News YouTube Published Wed 19th December 2018
Your hosts for today is the founder Brian Gerrish and the editor and Anchor Mike Robinson dissecting and disseminating the news that hides between the mainstream media's headlines.

'GAVIN WILLIAMSON (Secretary of State for War): "In July, I made a statement setting out headline conclusions from six months of work on
the Modernising Defence Programme
(MDP). Since then, work has continued apace."
"To help achieve these goals we will establish a permanent Net Assessment Unit, as well as a Defence Policy Board of external experts***, to bring challenge to Defence policy and to Defence strategy."
'GOV.UK MOD (Ministry of Defence: Mobilising, Modernising & Transforming Defence) A report on the Modernising Defence Programme No Publish Date given Page 19: Contribution to the Fusion Doctrine.
Our adversaries are using a wide range of nonmilitary methods to target UK interests. Defence is working ever more closely with our intelligence agencies and the National Crime Agency to deter and disrupt hostile state activity, and to deal with threats posed by organised crime.
At home and overseas, we support the Home Office in delivering the Government's counterterrorism strategy, CONTEST. We provide specialist manpower to help deal with domestic contingencies, from flooding and severe weather to chemical weapons attacks.
Page 17: Six years ago, we created Joint Forces Command (JFC) to work alongside the single services. We are now reviewing JFC to improve how we operate in an era of constant competition. A stronger JFC will help us out think our adversaries and to innovate and operate faster. It will integrate and orchestrate our strategic capabilities within the Armed Forces, across Government and with our allies. The stronger JFC will better position Defence for future conflict, galvanising our ability to think, train and operate. And it will improve the integration of offensive cyber across our Armed Forces and the rest of Government, providing advantage in the new information-rich environment. We will provide further details next year.
Page 17: Looking ahead, conflict and competition will increasingly hinge on smarter, better informed decision making. We are building a Strategic Net Assessment capability for this purpose, run by a permanent Net Assessment Unit. Strategic Net Assessment looks across all dimensions of military competition to assess how the capability choices of both friends and foes may play out over the short, medium and long-term.
Its conclusions can be used to develop more nuanced and better-informed defence strategy, so we can better anticipate our adversaries' actions and counter them more effectively. To test the potential of the capability, we undertook a pilot study into the military strategic balance in the High North, and are developing an Arctic Strategy for Defence as a consequence.
Page 17: In parallel, we will create a Defence Policy Board of external experts, to bring fresh perspectives and challenge as the department makes policy and strategy. Combined with a reorganisation that has strengthened the department's Security Policy and Operations area and sharpened the strategy area, these steps will help us to improve our performance in
this crucial area of our business
. (1/28 pdf link follows)
https://assets.publishing.service.gov.uk/government/uploads/system/uploads/attachment_data/file/765879/ModernisingDefenceProgramme_report_2018_FINAL.pdf
.'
'ONE PUBLIC ESTATE Invitation to Apply April 2016: The One Public Estate programme received a double funding boost in 2015: £6 million from the Summer Budget, and a further £31 million from the Autumn Statement. This will enable us to extend the programme to more councils and continue to support current members.
This prospectus:
• invites areas not currently part of the programme to apply to join
• invites existing partnerships to apply for additional support and funding
to expand their current programmes and deliver greater benefits
• provides an outline timetable for future application and funding rounds. (1/10 pdf link follows)
https://www.local.gov.uk/sites/default/files/documents/one-public-estate-invitat-f7b.pdf
.'
Neds Cartoon say for the day Artwork Ned Pamphilion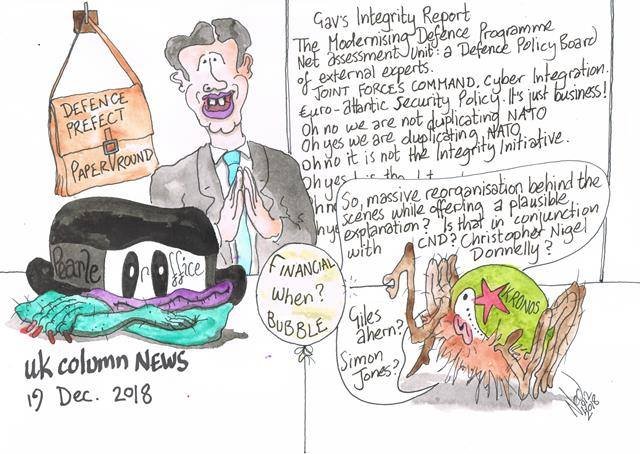 All this and much more in depth analysis, Listen In 'n' Find Out.