Sisterspeaks237 will on March 30 at the Djeuga Palace Hotel in Yaounde organise the first ever Fashion Show for Women living with disabilities in Cameroon.
According to Comfort Mussa Founder of the women's rights advocacy platform and initiator of the thematic Fashion Show Christened ACCESS 2019, the event has as objective to highlight the need for accessibility in stores and change rooms, adaptive clothing design and more diverse and authentic representation of people with disabilities in the fashion industry in Cameroon.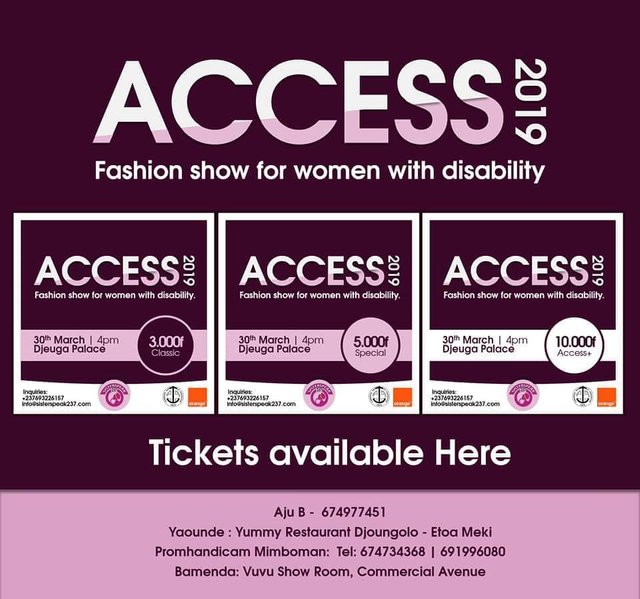 Apart from the spectacle to be generated on the runway by these women with special abilities Sisterspeak237 authorities say there is more to it than just the fun from a fashion show. "#ACCESS2019 is more than just a fashion show for women/girls with disability. We are creatively using the platform to amplify the voices of women with disabilities on issues that matter most." Comfort Mussa told to The Focus 237.
Organised in collaboration with fashion designers and the fashion community, national disability organisations in Cameroon including the Cameroon Baptist Convention Health Services and other cooperate sponsors like Orange, ACCESS 2019 will allow for the creative use of the runway according to Sisterspeak237 founder to tell the stories of women with disabilities and "how we can all make the world a better and safer space for every woman."
From what we have gathered this far, celebrated fashion designers Vuvu, Aju B, Dware out and others will designing the adaptive clothing designs.
Tickets for the event are available at Yummy restaurant Djoungolo-Etoa Meki, promhandicam Mimboman and Vuvu Show Room Commercial Avenue Bamenda.