DON'T REJECT THE POSSIBILITY OF MALAYSIA TO BE THE COUNTRY CHRISTIAN. HISTORY PROVES SO.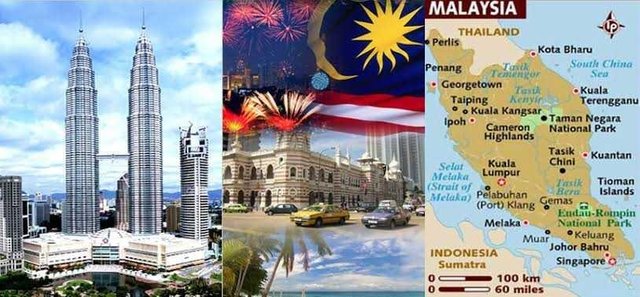 What happened to the Philippines?
Once Manila was ruled by King Solomon. Mindanao was ruled by Sultan Muhammad Kabungsuwan. Now it Kristian. The dozens of religions in it again.
What happened to Vietnam?
First name is the kingdom of Melayu Islam Campa (Panduranga, Kauthara, Vijaya, Inderapura, Simhapura). Now it is so Buddhist countries. The people of Malaysia do not know any Vietnamese that a past is the kingdom of Melayu Islam.
What is so to Thailand?
Some were in the region of Malay Islam and the place of birth of bustling scholars from among the Malay Islamic clump of the archipelago. Now it is already so the state of the Buddha. Malay people there already not fluently speak Malay and do not know Jawi writing. Slave school low Malay been manipulated from the fact the truth and believe the fraud that the Kedah/ Kelantan is his native Thailand colonized by Malaysia.
What happened to Singapore?
Once he has his own name which was the Temasek, the trading of various Malay. Berths the Malay Sultan of Riau Lingga. Now that name has been lost from the map of the world and so what country either... the Child in the Malay world, we are the new generation of Johor did not know Singapore is a Malay Islamic independence formerly.
What also will be so to the Island of Batam and more regions in Indonesia?
Isn't the movement Kristianisasi in there now has entered gear 5, inappropriate and smoothly they convert the Malays?
Thus... is impossible very if Malaysia will also fall into a state of Kristian and indeed in the agenda of the Kristianisasi Malaysia is the target so on?
They acah us with the issue of the kalimah Allah sahaja.... uncovered there among the Malay people that support and so apostate.
Do you know tuan puan through COMANGO they require institutionalization of the halang adherents of the other religions spread their religion on the people of Islam dimansuhkan. They ask children Malay new born so as not to put religious status.
What is the kingdom we create? Still apologetics and no action aftershock opposed, denied and insulate as well as take action the law proclaiming that no longer demands their savage it. Mr. puan have to realize maybe we will die in faith, but that we leave behind will not necessarily guarantee the safety of generations of children and grandchildren great-grandchildren our.
Said some qil i.e.: "a Little bit of attitude hazar (be careful) is better than selamba forever..."
Inscription :
Ustaz Fauzi Asmuni
Viralkan let our young people know and understand.