Turkish Illegal Military Base in Iraq Bombed with Missiles
A Turkish occupation illegal military base in the northern Iraqi province of Nineveh came under a barrage of grad missiles, the Turkish war ministry is not releasing proper data on the casualties among its troops in the base.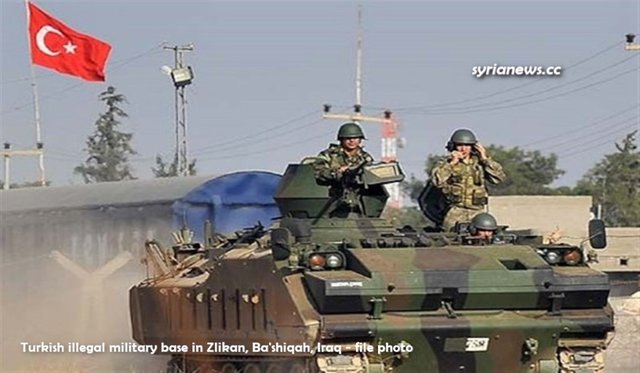 The Turkish illegal military base is named Zilkan and is built not far from Ba'shiqah to the northeast of the city of Mosul, the base houses Turkish forces unapproved by the Iraqi government, thus they are a legitimate target by all and any other force in the oil-rich Iraq.
Erdogan, the Turkish madman, Caliph wannabe, Zionist faithful servant (in his own words and condemned by his mentor late Erbakan for that), and NATO's 2nd top leader commanding the alliance's second-largest army, in addition to commanding tens of thousands of terrorists of al Qaeda and its affiliates, took on his shoulders the task to replace the American troops withdrawing from the region with his own, the troops have only one goal: to secure Israel, the task which caused the USA to be bankrupt financially, morally, and exhausted militarily, and humiliated in the battlefield.
Erdogan will not be bothered about any loss of Turkish army soldiers, for him, those are a threat due to the secular nature of the Turkish army which he's trying hard to radicalize, he will get upset only if his al Qaeda terrorists are slaughtered, that hurts him more.
More about this report: Erdogan Forces in Northern Iraq Bombed with Grad Missiles.
----
Your objective comments are always welcome.
---
Follow @ArabiSouri:
Twitter: Arabi Souri
Syria News: www.syrianews.cc
---
Donations are highly appreciated, just click on the Donate button via PayPal or Credit Card: Donate.
You can also donate with Steem/ Tron or SBD or even delegate some much-needed SP.
#Nusra #ISIS #Terrorism #USA #EU #Wahhabism #Zionism #alQaeda #FSA #Saudi #Qatar #Israel #Net #Neutrality #Mainstream #MSM #Control #WarOfTerror #kurdistan #sdf #kurds #RegimeChange #Syria #Iran #Russia #InformationWar