Syrian and Russian Air Forces Destroy Near 6000 Hospitals in Idlib!
If you feel there's something wrong with the title you are smart, if you can tell that the number is impossible then you're among the 1% of the westerners who do not fall victims for the Pentagon and its mainstream propagandists, as a reference, the entire number of registered hospitals in the USA is about 6000, all of Syria is the size of North Dakota, and all of Idlib province is about 1.25% of the size of Syria, do the math.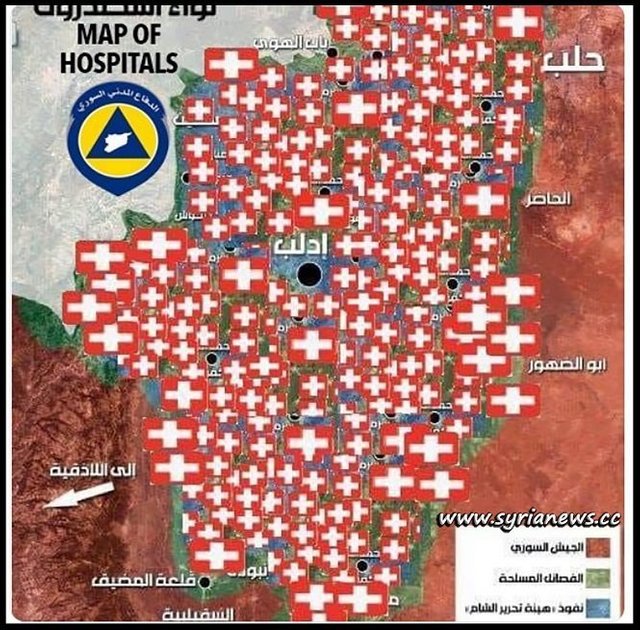 There are no Terrorists in Idlib Only Hospitals, the White Helmets, the 'civil' arm of Al Qaeda Levant claim!
In the real news, the Syrian and Russian air forces carried out a targeted series of bombings over the past 2 nights after Syrian intelligence spotted terrorists from the Chinese and Uzbek Uighur heading with their weapons and munition toward the liberated areas under the control of the Syrian Arab Army in northwestern Hama countryside and southeastern Idlib countryside.
In addition to the movement of the terrorists who wanted to 'surprise' the Syrian forces and the civilians in the liberated areas with their attacks, there was a synchronized campaign of terrorist attacks targeting the Syrian troops and the villages and towns across all of the country's northern provinces with the Turkish army directing members of the assorted terrorist groups of the Nusra Front (Al Qaeda Levant) and its affiliates in the Turkestan Islamist Party (the Uighurs in Syria).
The Syrian Russian air forces sorties killed and injured dozens of the terrorists and foiled their attempts to advance in the southern Idlib countryside, destroying 12 quarters in 5 different locations.
Details in this report: Syrian and Russian Air forces Destroy 12 Quarters of the Uighur Terrorists.
----
Your objective comments are always welcome.
---
Follow @ArabiSouri:
Twitter: Arabi Souri
Syria News: www.syrianews.cc
---
Donations are highly appreciated, just click on the Donate button via PayPal or Credit Card: Donate.
You can also donate with Steem/ Tron or SBD or even delegate some much-needed SP.
#Nusra #ISIS #Terrorism #USA #EU #Wahhabism #Zionism #alQaeda #FSA #Saudi #Qatar #Israel #Net #Neutrality #Mainstream #MSM #Control #WarOfTerror #kurdistan #sdf #kurds #RegimeChange #Syria #Iran #Russia #InformationWar