Syria Entered the Earthquake Era - New Minor Earthquake strikes Northeast
The 'Earthquake era' is a term coined by Dr. Ballani, the former director of the National Seismic Center in Syria in the year 2000 when he was referring to the tectonic changes expected to occur during the foreseen future that time which we are living through now.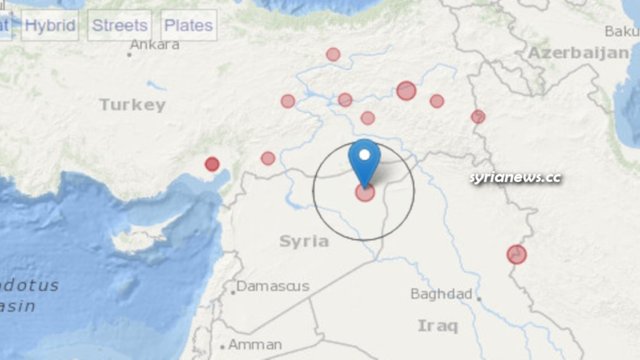 A minor earthquake struck about 5 kilometers deep in the ground in the southwestern countryside of the Hasakah province, in Syria's furthest northeast, the quake registered 3.4 degrees on the Richter scale.
This earthquake is one in a series of earthquakes the region witnessed since the beginning of this millennium, as predicted by the former director of the Syrian National Seismic Center, the culprit he referred to is the Arab-African subversive fault that extends from the Iskenderun Strip in the north to the Gulf of Aqaba and the Red Sea and then to the southern outskirts of the African continent with a length ranging between 3-4 thousand kilometers.
Details about this last earthquake and a link to a brief of Dr. Ballani's prediction in this post: Minor Earthquake of 3.4 Degrees Strikes Southeast of Al Hasakah City.
----
Your objective comments are always welcome.
---
Follow @ArabiSouri:
Twitter: Arabi Souri
Syria News: www.syrianews.cc
---
Donations are highly appreciated, just click on the Donate button via PayPal or Credit Card: Donate.
You can also donate with Steem/ Tron or SBD or even delegate some much-needed SP.
#Nusra #ISIS #Terrorism #USA #EU #Wahhabism #Zionism #alQaeda #FSA #Saudi #Qatar #Israel #Net #Neutrality #Mainstream #MSM #Control #WarOfTerror #kurdistan #sdf #kurds #RegimeChange #Syria #Iran #Russia #InformationWar