It's a war crime without any doubt to burn agriculture crops of a group of people, NATO has been systematically doing just that first stealing what they could of the Syrian wheat crops produced in the northern regions of the country where NATO troops (Turkish Army TSK - Trump forces US Army - al Qaeda) have military presence, and what they couldn't steal they burn.
This has increased recently after NATO exhausted all methods to subjugate the Syrian nation and could only do what the 'western civilization' represents: heinous war crimes of all sorts and especially the low-level ones.
More reports of large areas of wheat crops have been burned this past week, the latest in Ash Shaddadi area in the northeastern province of Hasaskah, Syria's water, agricultural and oil reserves, and also the main base of Trump forces near the Iraqi borders.
Meanwhile, the Syrian children in addition to all sufferings during the past 9 plus years of US-led War of Terror waged against them, continue to suffer massively from bombs left behind by NATO's non-government forces of al-Qaeda and its derivatives.
More in this report: Turkish Madman Erdogan Stealing Syrian Wheat, Kids Injured by Bomb.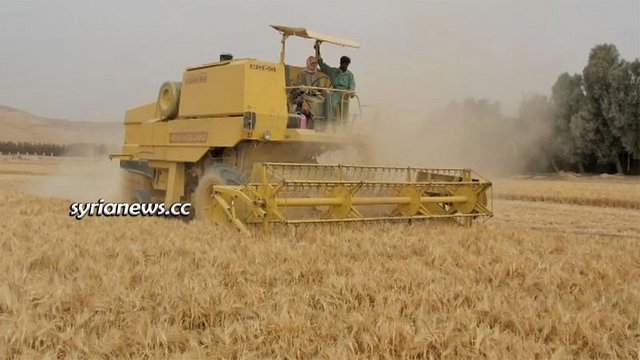 ---
Your objective comments are always welcome.
---
You might find this site useful to buy and sell Bitcoins using your PayPal account, I get a tiny commission and so can you when you introduce others: https://paxful.com/?r=RVd28WA4pkb
---
Follow @ArabiSouri:
Twitter: Arabi Souri
Syria News: www.syrianews.cc
---
Donations are highly appreciated, just click on the Donate button via PayPal or Credit Card: Donate
You can also donate with Steem or SBD or even delegate some much-needed SP here :)
#Syria #Iran #Russia #InformationWar #Wahhabism #Zionism #alQaeda #FSA #Nusra #ISIS #Terrorism #Saudi #Qatar #Israel #Net #Neutrality #Mainstream #MSM #Control #WarOfTerror #kurdistan #sdf #kurds #RegimeChange