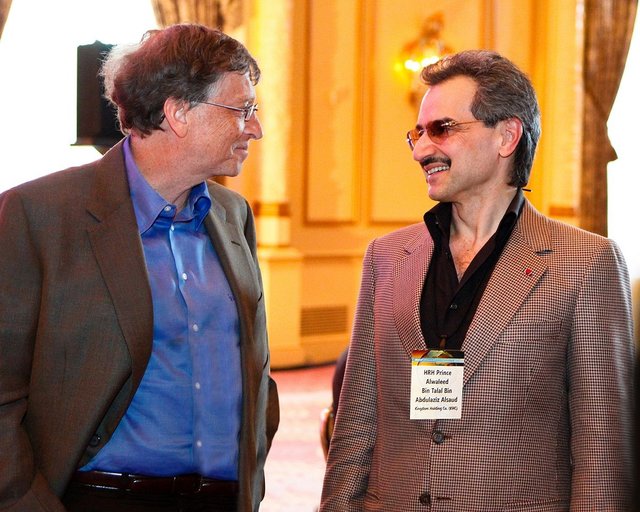 Prince Alwaleed bin Talal, the 45th wealthiest man in the world with net worth estimated at between $12 and $20 billion, is being held captive together with 200 Saudi royals and businessmen in what the Saudi Government calls an "anti-corruption" probe.
He has been held hostage for more than four weeks now and, according to insiders, is likely to have been tortured by American private security contractors (mercenaries) in that time. The "corruption probe" seems to be more akin to a simple cash grab as captives have been able to buy their freedom back together with a full pardon if they were to pay the ransom.
And with low oil prices, Saudi Arabia needs the money. The probe has also allowed the Crown Prince to consolidate his power, holding on to more radical members who might oppose him for extended periods - perhaps breaking them into submission. In that time a helicopter crash killed one of the princes, an act that was promptly blamed on Iran.
Talal, a man who has friends in high places including Bill Gates and Rupert Murdoch, is a well-known figure among the financial elite who once rushed to the aid of Citigroup and Euro Disney, bailing out the former and refinancing the latter. He backed Rupert Murdoch during the UK phone hacking scandal. In 2015, he even pledged to donate his entire $32 billion (at the time) fortune to Bill Gate's charity.
Interestingly, though, the financial elite and the mainstream media have mostly kept their silence - not much has been said of his captivity and most coverage has actually put a positive "anti-corruption" spin on the whole affair.
Bill Gates called him an "important partner in my foundation's work", but had nothing else to say about his captivity. Citigroup CEO Michael Corbat called him a "consistent, loyal supporter." Radio silence beyond these powerless and markedly neutral statements.
What could prompt the elite to sacrifice one of their own?
More money of course.
5% of Saudi Aramco will be going to IPO later this year - and everyone wants a piece of it. It is a Saudi Arabian national petroleum and natural gas company based in Dhahran with a market value estimated at between $2 trillion and $10 trillion, making it the most valuable company in the world and one of the most valuable by revenue.
While 5% seems like a small proportion, this is a company that will be valued at around $2 trillion based on the IPO price. That's $100 billion up for sale, the world's biggest IPO which dwarfs the previous record-holder, the 2014 Alibaba IPO of $25 billion- and at a price that is at the lower end of the estimated value. Perhaps that explains the purposeful lack of interest in this man's captivity... and the support he has received from some very vocal politicians.
https://twitter.com/realDonaldTrump/status/675523728055410689
https://twitter.com/realDonaldTrump/status/927672843504177152
https://twitter.com/realDonaldTrump/status/927673257230327808